Google has doubled-down its efforts to bridge the digital gender divide in India and around the world
Google has doubled-down its efforts to bridge the digital gender divide in India and around the world. On the occasion of the International Women's Day 2021, Google hosted a Women Will event where it made a series of announcements that will empower women in rural India along with adding some specific features on Search and Maps for entrepreneurs.
"When women have equal access to opportunity, we all benefit from their perspectives, creativity and expertise, and this is true all over the world. Yet, when it comes to accessing opportunity, deep inequalities persist. Building on the Internet Saathi program success, we're making a new commitment to help 1 million women in rural villages in India to become entrepreneurs through business tutorials, tools, and mentorship," said Sundar Pichai, CEO at Google.
Google also gave a low-down on its Internet Saathi program and how it has benefitted in connecting several women of rural India to the Internet since its launch back in 2015. From over 2 million women across 60,000 villages by 2017 to over 30 million women across 300,000 villages in India, the Tata Trusts-backed initiative today boasts of over 80,000 women ambassadors or Saathi's (companion) as they are generally referred to.
These women ambassadors train and educate other women in their villages on how to use the Internet, smartphones, searching online and much more. Google provides all the hardware including the devices and the training to Saathi's and now is training them to create an "ecosystem of entrepreneurship enablers". To this effect, Google has announced some key additions to its Search and Maps services along with grants to social and non-profit organizations that are working towards empowering more women and girls across the world.
Google announces Women Will platform and new Search, Maps and GPay features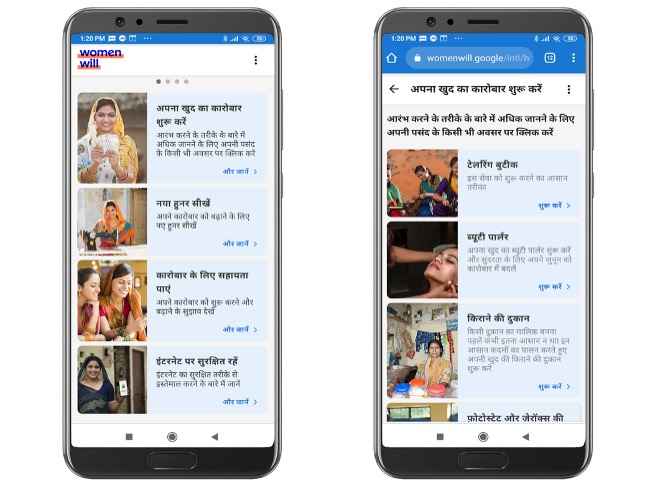 Google has introduced a new Women Will platform that has been designed for women interested in pursuing entrepreneurship. The company will be working with over 2,000 Internet Saathi's so that more and more women can be aware across villages in India.
The Women Will website has lots of resources for women who want to earn an income, learn a new skill, get support for starting a business and tools to stay safe on the Internet. Through this website, Google wants to help potential women entrepreneurs to turn their interest into a business.
Google has also announced that it will enable searches for women-led businesses on Search and Maps. Users will be able to search for "women-led restaurants", "women-led stores" and more allowing them to purchase and extend their support to women entrepreneurs. This particular feature is available on Google My Business where women-led businesses can identify as such on their business profile.
Moreover, Google is also introducing Business Pages on Google Pay, allowing them to create product and services catalogues that users can see and place an order.
Google pledges $25 million grant with Impact Challenge for Women and Girls
Google has launched a Google Impact Challenge for Women and Girls under its non-profit Google.org. Under this challenge, Google will offer over $25 million in funding to social organizations and non-profits in India and around the world. "Selected Impact Challenge grantees will also receive mentoring from Googlers, Ad Grants, and additional support to bring their ideas to life," says Google.
Additionally, Google is also committing $500K in funding to NASSCOM Foundation that it plans to use for digital and financial literacy reaching over 100,000 women Agri workers across Bihar, Haryana, Himachal Pradesh, Rajasthan, Uttarakhand and Uttar Pradesh.