Google has released a massive feature drop enhancing messaging, entertainment, and more. As part of these updates, Android gets a boatload of features that are either entirely new to the OS or were earlier exclusive to Pixel-line of phones. This comprise of iMessage reactions on Messages, grammar correction on Gboard, entertainment feeds on the Google TV app, Parking fee payment through Google Assistant, and bulk send facility within Nearby Share, and offline support for Live Transcribe.
That looks like a lot of exciting treats to make the whole Android experience better. Here's a brief explainer of what each of them means and how they function:
Top 8 Google Feature Drop March 2022 Goodies
1. Google Messages get iMessage reactions
iMessage Tapbacks will now be delivered as emojis and not as separate messages explaining the reaction. Besides this, Google Messages also get emoji mashup option, missed message reminder, discrete tabs for personal and business communications, birthday reminders, better video sharing and playback through this app.
2. Gboard gets Grammar Correction
You may not need to rely on a third party solution like Grammarly as Google's own keyboard Gboard is offering corrections to your grammatical errors. This could be nifty.
3. Live Transcribe now works offline
Specially abled folks who are deaf or hard of hearing can now benefit from real-time speech-to-text captions even without Internet as Live Transcribe tool from Google starts to function offline too.
4. Google Photos get Portrait Blur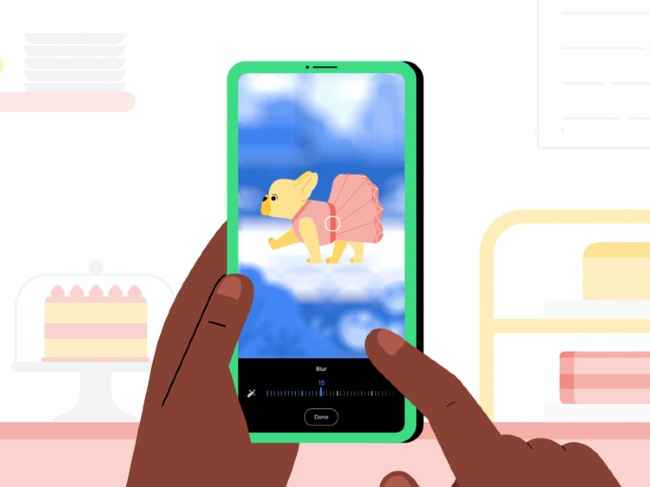 You can now enable portrait blur on regular photos even if they are old or post snap or consists of pets, food and plants, and of course people.
5. Google TV gets a dedicated entertainment news section
Within the new Highlights tab on the Google TV app, you can view and read a personalized feed of entertainment news, reviews, and other types of articles.
6. Google Assistant can be used for paying parking fees
In select cities of the US, the Google Assistant users can just say, "Hey Google, pay for parking", "Hey Google, parking status" and "Hey Google, extend parking" for the smart assistant to take care of respective actions with help from other Google apps like Google Pay and others.
7. Digital Wellbeing has a new Screen Time Widget
The Screen Time Widget shows three of your most-used apps and tapping the widget takes you to Digital Wellbeing for setting Focus Mode, Bedtime mode, and daily timers for apps.
8. Nearby Share gets bulk share
On smartphones with Android 6+, simply tap and choose more recipients during a transfer.
Google hopes these new features would make Android "more helpful all the time." We can find some of these prove useful to us and people in our life. It will be hence interesting to test them out.
You shall too. As for more such useful news, reviews, feature stories, buying guides, and everything else tech-related, keep reading Digit.in.