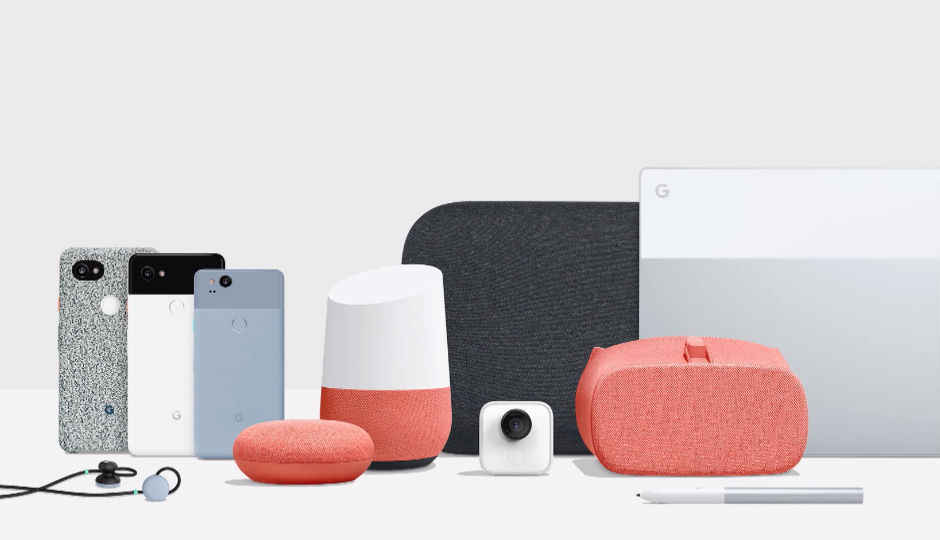 HIGHLIGHTS
Here's everything that was announced at the Google Pixel 2 launch event. Know more about Google's next-gen Pixel smartphones, two new IoT enabled smart speakers, a camera that automatically captures photos, a new pair of Bluetooth in-ears with built-in Assistant, a refreshed VR headset, and a premium laptop/tablet hybrid.
Google made yet another hardware splash yesterday at the launch of the new Pixel smartphones. While the Pixel 2 and Pixel 2 XL are obviously getting the most attention, Google also unveiled a bunch of upgrades to its other gadgets.
The company launched two new Internet of Things (IoT) enabled smart speakers, a camera that automatically captures photos, a new pair of Bluetooth in-ears with built-in Assistant, a refreshed VR headset, and a premium laptop/tablet hybrid. Google also officially announced its rumoured "Made for Google" programme for certified accessories.
There's a lot of catching up to do, so here's a quick recap of all the key announcements from Google's October 4 hardware event.
Google Pixel 2 and Pixel 2 XL are everything we expected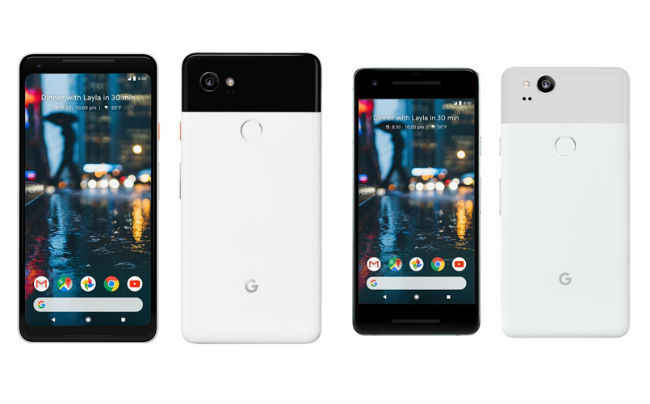 Thanks to multiple leaks, the last one being just a day before the new Pixel phones were made official, we already knew everything there was to know about the devices.
As expected, the Pixel 2 sports a 5-inch FHD AMOLED display, 12.2MP rear camera with f/1.8 aperture and dual-pixel phase detection along with Optical and electronic image stabilization, an 8MP front camera with 1.4μm pixels, f/2.4 aperture lens and fixed focus, Qualcomm's Snapdragon 835 platform, 4GB RAM, 64/128GB storage, Active Edge squeezable sides to bring up the Google Assistant, USB-C port, dual front-facing speakers, Bluetooth 5.0, 2700 mAh battery and lastly, no headphones jack.
The Pixel 2 XL shares all the same specs as the Pixel 2, with the exception of a few. The Pixel 2 XL comes with a 6-inch 2880 x 1440 pOLED display and a larger 3520mAh battery. It also weighs in heavier at 175 grams as compared to the Pixel 2's 143 grams weight. Everything else on the Pixel 2 XL remains the same.
The Pixel 2 is manufactured by HTC, while the Pixel 2 XL is manufactured by LG. Both the new Pixel phones will be the first to feature a preview of Google Lens, an app that will allow users to capture images of places and objects to get relevant information about them. The Pixel 2 and Pixel 2 XL will also allow users to add animated AR stickers to videos and pictures. The Pixel 2 and Pixel 2 XL are once again the highest rated smartphone cameras ever, with a DXOMark score of 98.
Once again, the Pixel 2 and Pixel 2 XL house the AI-enabled Google Assistant. The phones also feature fast charging. The Pixel 2 comes in three colors: Just Black, Kinda Blue, and Clearly White. The Pixel 2 XL comes in black or a white/black option.
Android Oreo is the software that resides in both the Pixel 2 and Pixel 2 XL, which have been confirmed by the company to get two OS updates – Android P and Android Q – in the future.
The Google Pixel 2 and Pixel 2 XL will go up for pre-orders in India from October 26. The Pixel 2 will be sold in the country from November 1, while the Pixel 2 XL starts selling from November 15. The Pixel 2 will be available for Rs. 61,000 for the 64GB variant, while the 128GB version will be priced at Rs. 70,000. The Pixel 2 XL, on the other hand, will start at Rs. 73,000 for the 64GB variant, while the 128GB version of this device will cost you Rs. 82,000.
New Google Daydream View VR headset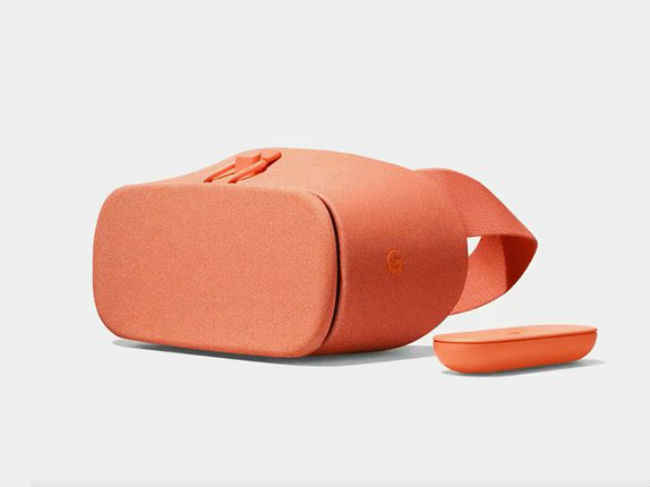 Both the Pixel 2 and Pixel 2 XL are VR-ready smartphones and add support for Google's refreshed Daydream View headset. Google says that the new version of its VR headset has wider field of view and image clarity, with higher performing lenses.
The new Daydream View headset from Google will also house a separate slot thart fits its controller. This was missing from the first generation Google Daydream headset. Apart from Google's new and old Pixel smartphones, the refreshed Daydream View VR headset will also support Galaxy S8/S8 Plus, Galaxy Note 8, ZenFone AR, Axon 7, Mate 9 Pro, Moto Z, and Moto Z2.
The new headsets will be available in three colors: Charcoal, Fog, and Coral. Like the Pixel 2 smartphones, the Daydream View will also be sold on Flipkart, from November 1. As predicted, the headset is pricier this time around and is priced at Rs. 7,999.
Pixelbook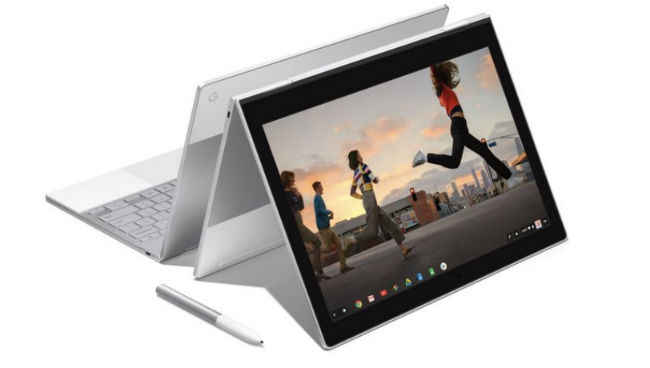 Google is "re-imagining the laptop experience," with the new Pixelbook after its Chromebook Pixel didn't really make the mark. The new Pixelbook runs on Chrome OS and offers Google Play Store support for apps. It also houses the voice-based Google Assistant.
As far as the design of the Pixelbook are concerned, it weighs in at 1Kg, is 10mm thick and has a 4-in-1 hybrid design which can make it function as a laptop, table stand, a tablet, and a tent. In terms of specifications, the Pixelbook has a 12.3-inch touch screen, Quad HD LCD display, Intel i5 and i7 processor options, 16GB of RAM, and up to 512GB of SSD storage. Google claims the laptop can give up to 10 hours of battery life and charges using a USB Type-C port.
The Pixelbook comes with a Pixelbook Pen which can be used to point and make selections on the laptop. It has 2,000 levels of pressure sensitivity, 10ms of latency and a 60 degree angular awareness.
The Pixelbook comes in three different variants with different configurations. Prices start at $999 (Rs 65,056 approx), however, Google has not announced the laptop for India yet. There is no clarity if and when Google will be bringing the Pixelbook to India.
Pixel Buds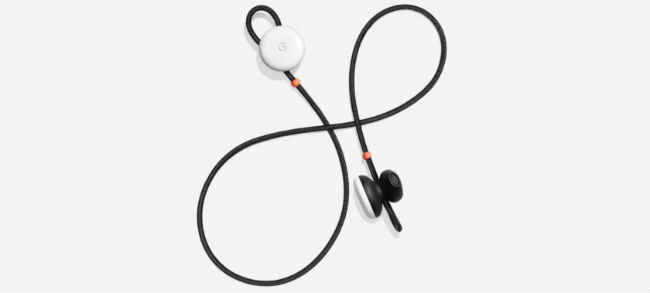 We finally have a pair of wireless (although not truly) earbuds from Google that come with the Google Assistant built into them. Called the Pixel Buds, the earphones are tethered together with a wire but connect to the new Pixel phones using Bluetooth. Google claims that the Pixel Buds are capable of providing 5 hours of active listening time. They also come with a charging case, much like Apple's AirPods, which can charge the Pixel buds for upto 24 hours of battery life. The case itself has a 620 mAh battery. The right bud on the Pixel Buds is touch sensitive and can be used to bring up the Google Assistant.
One of the coolest feature of the Pixel Buds is its active translation ability. The buds can translate 40 different languages in real-time, great for those who travel constantly.
The Pixel Buds are priced at $149 (Rs 9,702) and have to be bought separately. Google has not announced the availability of the Pixel Buds for India just yet.
Google Home Mini and Google Home Max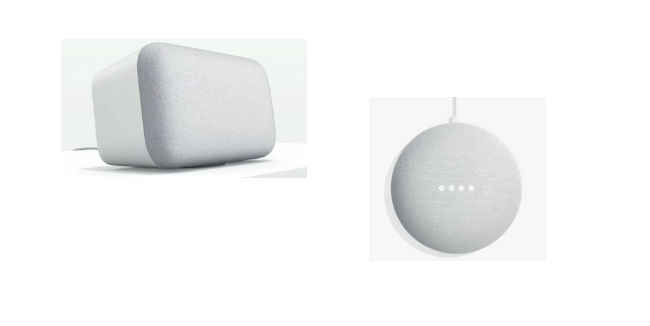 Two new AI-enabled home IoT speakers have been launched by Google. The Google Home Mini is a smaller, button-shaped version of the existing Google Home, while the Home Max is the new tabletop smart speaker.
The Home Mini can do everything that the existing Google home can, including setting timers and adding reminders, checking the weather, reading the news, searching the web and more. It is priced at $49 (Rs 3,190 approx) and will be made available in light red, white, and black colours.
The Home Max is a larger, tabletop speaker from Google. It is supposed to be 20 times more powerful in terms of sound output than the existing Google Home. It features an auto-tune feature called Smart Sound, which auto tunes the speaker based on the music and space that the user is in. Again, it can perform all the Assistant based functions and also features a 3.5mm headphone jack. The Home Max is priced at $399 (Rs 25,981) and will only be available in the US starting December. India availability has not been announced for both the speakers.
Google Clips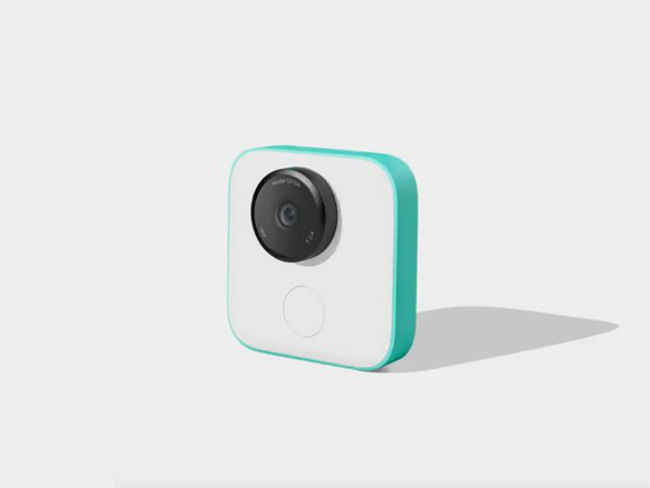 Clips is a tiny square-shaped camera from Google which is designed to capture photos automatically using artificial intelligence to find the perfect moments. Images can be captured as stills, videos, or GIFs, and can also be exported to a phone over Wi-Fi. Google Clips is priced at $249 (Rs 16,213 approx) and will not be available in India, at least at the time of launch.