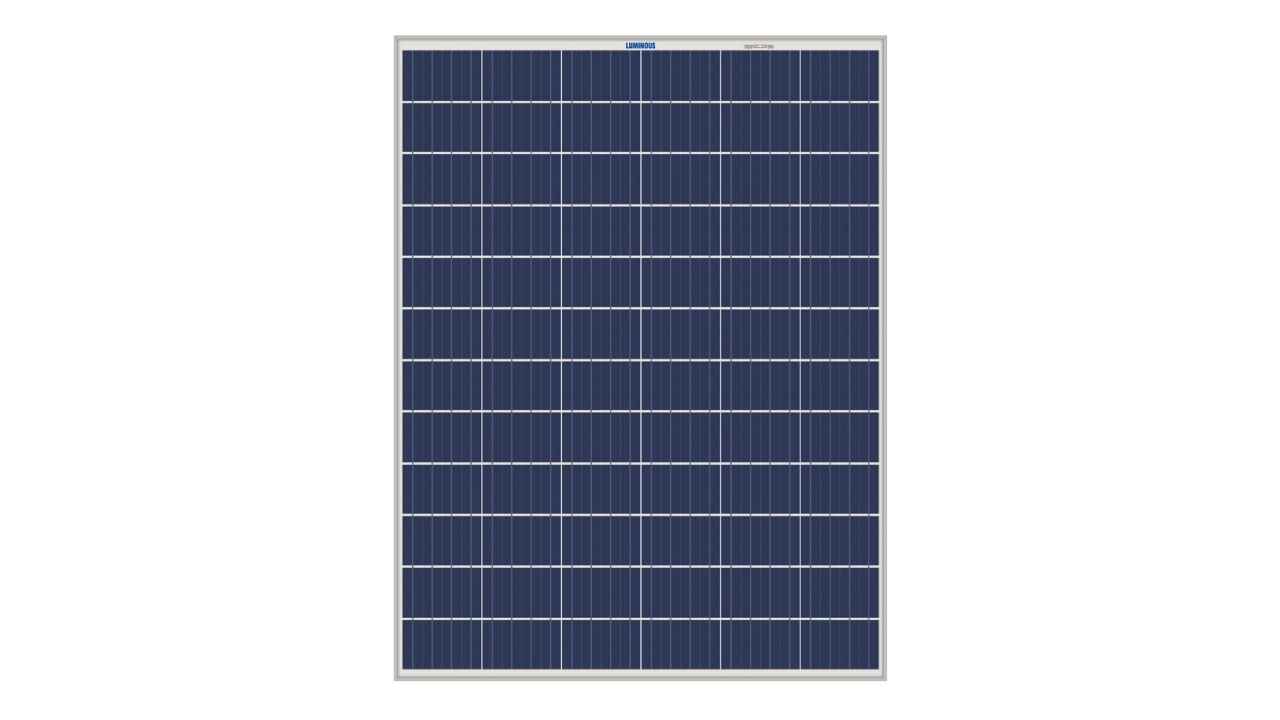 The Indian Government has been giving a great push to renewable energy, especially harnessing solar power. As a citizen of this country and as individuals who have enjoyed the bounties that planet earth has to offer, it is our moral obligation to lead a more environmentally sustainable lifestyle. Check this list of good-quality solar panels to harness the power of the sun that will help you do just that!
Luminous 160 Watt – 12V Poly Crystalline Solar Panel
Weighing just 11.5 kilogrammes, the Luminous 160 Watt – 12V PolyCrystalline Solar Panel offers a performance warranty of a quarter of a century. With dimensions of 4.8 feet x 2.1 feet, it requires 12 feet for installation. It can be used to charge lead-acid tubular batteries during the day between 9 am to 5 pm. When the sun is at its peak, the panel generates an 8.7 amps current. It has a good low light performance and an anti-reflective coating that makes it more efficient in sunlight absorption. The product is also torsion-resistant against both wind and snow loads.
Bluebird Solar 165 Watt – 12 Volt PolyCrystalline Solar Panel
Bluebird Solar 165 Watt – 12 Volt PolyCrystalline Solar Panel is known for its high-efficiency A+ Grade 5BB Cell Technology, ensuring good outdoor performance. It is built with heavy-duty silver anodised aluminium frame and tempered glass, making it rigid and durable. It can also resist higher wind and snow loads, adding to the number of years to its life. Additionally, it is both salt mist and ammonia corrosion resistant. Its per-unit efficiency is good, reducing the costs in the long run and guaranteeing a better return on investment. It is virtually maintenance-free, and its long-term safety is guaranteed by the IP67 rated Junction box and MC4 Connectors.
Luminous Solar Panel
Luminous Solar Panel is a 165-watt polycrystalline solar panel made of unbreakable 3.2 mm toughened glass made with high-quality silicon cells. The frame is made of silver anodised aluminium that can withstand higher wind and prevent moss or dirt build-up. It has IP67 water and dust-proof junction box that will increase the product's life by a few years. This solar panel has wide applications and can be used for large rural areas and urban houses.
LOOM SOLAR Mono PERC Panel
Made of A-Grade Mono perc cells, the LOOM SOLAR Mono PERC Panel gives higher efficiency even in low light and cloudy weather. It uses a 12 Volt design and has 4 bus bars along with 36 cells. It offers a higher value for money with its Anti-PID Mono Cells features. The product has space requirements of 16 square feet, and an IP67 rated junction box is given with an MC4 compatible cable connector for higher module efficiency.