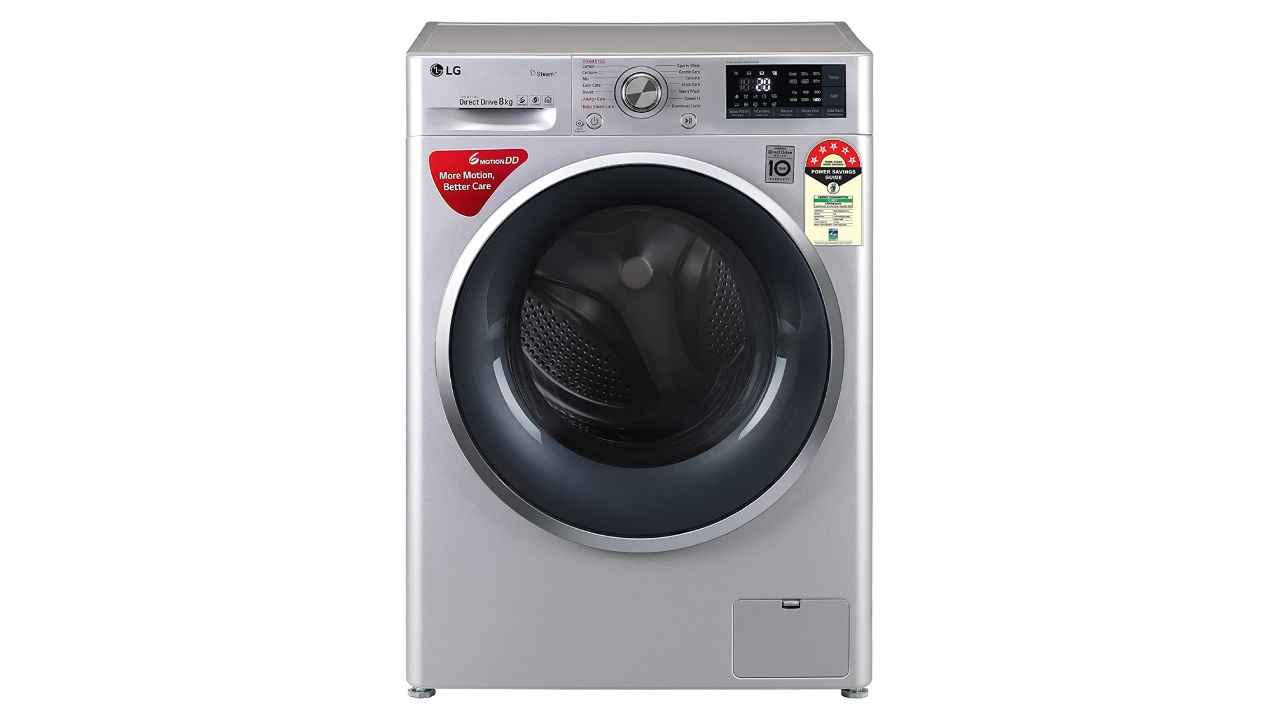 There are many reasons to choose front load washing machines. For starters, they're better at removing stains. Additionally, they're more energy-efficient in their washing performance. However, this efficiency is further improved when they feature an inverter motor. That's because an inverter motor is designed to optimise power usage according to the washing load requirements. Hence, with a fully automatic front load inverter washing machine, you're truly getting the best option available. Here are some models available on Amazon from leading brands that pack the right mix of great specifications and unique features to choose from.
LG 8 kg 5 Star Inverter Wi-Fi Fully-Automatic Front Loading Washing Machine
The Allergy Care mode on the LG washing machine aims to remove up to 99% of harmful microorganisms from your laundry using steam. It has the TurboWash technology that can reduce wash cycle durations greatly. The JetSpray feature pushes clean tap water onto your clothes during a wash cycle to increase its efficiency. With a combination of six different types of motions, the washing machine can ensure optimal care for every type of fabric – rough or delicate. Its Inverter Direct Drive Motor delivers a washing performance that is quieter and more reliable. Support for LG ThinQ technology lets you use smart features like remote control and downloadable wash cycles.
Samsung 7.0 kg / 5.0 kg Inverter Fully Automatic Washer Dryer
For your regular lightly soiled laundry, the Samsung Washer Dryer comes with a 59 minute Wash and Dry cycle that gets them ready to wear in an hour. The model also uses EcoBubble technology, which is designed to give cleaner results even at lower temperatures. This improves detergent penetration while also saving energy. Its Digital Inverter Motor keeps noise levels low and enhances the durability of the model. With the innovative Air Wash technology, the Samsung Washer Dryer uses hot air to remove unpleasant odours and bacteria from your clothes. Additionally, for easy maintenance of the machine, the effective Eco Drum Clean feature informs you when the drum needs cleaning. When activated, it acts to remove all dirt and microorganisms from the drum at the press of a button.
Bosch 8 Kg Inverter Fully-Automatic Front Loading Washing Machine
Typically, using a washing machine results in wrinkled clothes. The Bosch washing machine handles that problem through its Anti-Wrinkle wash mode, which takes extra care of your special laundry to give you wrinkle-free clean clothes. The model's design uses Anti Vibration Side Panels to increase the body's stability during any wash cycle. The SpeedPerfect feature is great for effectively cleaning lightly soiled clothes up to 65% faster. The Bosch washing machine uses an EcoSilence Drive for the motor, keeping its wash cycles quieter and reducing friction for a longer motor lifespan. With extra care for your health, the model features an Anti Bacteria wash program to remove harmful microorganisms.
IFB 8.5 kg 5 Star Inverter Fully-Automatic Front Loading Washing Machine
The hot water rinse at the end of every wash cycle on the IFB washing machine ensures germ-free clothes every time. You get the freedom to adjust the temperature between four levels to deliver adequate harm-free washing performance for various fabric types. After every 40th wash cycle, the machine will remind you to run the Tub Clean programme. This shows a focus on cleanliness and hygiene. Additionally, the nine unique drum movements on the IFB washing machine are designed to mimic the diversity of hand-washing techniques for effective results. It also uses the Floating Ball Valve technology to improve detergent retention for reduced wastage.