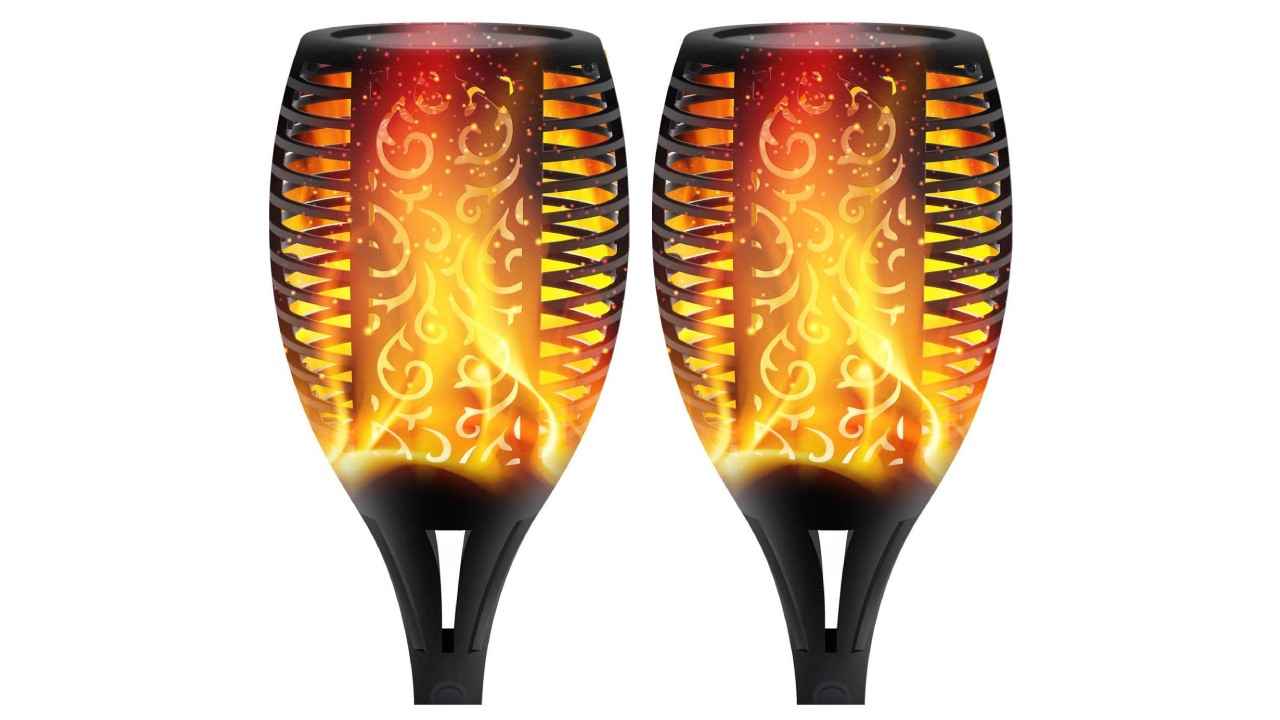 You can add as many plants as you want in your garden, but it would still look dull if it doesn't have vibrant elements or décor. While you could place ornaments or pottery in and around the corners, it would not make your outdoor space bright. The ideal way to make your garden look more aesthetic is through solar lights! These devices can give your garden bright illumination without resulting in any running costs. In case you are planning to buy solar lights for your garden, make it a point to only go for those variants that offer a weather-resistant body and a powerful battery. Here are four types of solar lights on Amazon for decorating your garden.
XERGY Solar Lights
The XERGY Solar Lights is a multi-purpose lamp used as a torchlight, firelight, landscape light, or ground light. Powered by a total of 96 LED bulbs, these solar lights can illuminate every corner of your garden aesthetically. With three lighting modes, these lights ensure the ambience matches the mood. This includes the torch mode, breath mode, and normal mode. So, be it a home BBQ or a casual get together, you can rely on XERGY Solar Lights to set the mood! Featuring a certified IP65 body, these solar lights can work even in the harshest weather conditions, including heavy downpours. It is mounted with a solar panel and a daylight sensor, allowing the lights to charge automatically during the day and work at night. Hence, it won't require any manual intervention!
WIDEWINGS LED Bright Outdoor Lights
The WIDEWINGS LED Bright Outdoor Lights is made of high-strength ABS material. This gives the solar lights heat and water-resistant properties, enabling them to work even in terrible weather conditions. Using stellar PIR motion sensors that can detect movement within a range of 3-6 meters, these solar outdoor lights also act as a security measure. It sources its power from a 0.55 kW solar panel and a 1200 W lithium-ion battery, giving it a runtime of several hours. The WIDEWINGS LED Bright Outdoor Lights don't require any tools for installation and can be fitted onto any surface, such as wood, glass, metal, and bricks. Rain, ice, or dust; these solar lights can work without issues, thanks to their IP65 body.
Hardoll Solar Stud Light
The Hardoll Solar Stud Light can automatically charge during the daytime and can turn itself on after sunset. This ensures that there is no need to switch it on manually! It is powered by 6 premium LEDs that can radiate super-bright light for up to 10 hours continuously. Since it comes with a high-quality aluminium alloy casting frame, these solar lights can easily withstand rain, snow, and harsh sunlight. The Hardoll Solar Stud Light delivers a seamless installation experience, as all you have to do to get it up and running is screw it onto the ground, and that's it! Apart from these, some of its other notable features are a mono-crystalline solar panel and an efficient runtime.
Solar Firework Lights
The Solar Firework Lights leverages the flexibility and durability of copper wires to give a stellar user experience. As these solar lights are based on copper wires, you can conveniently twist them into your favourite shape, including spheres, spirals, and even hearts! This allows you to set the mood, whatever the occasion! They are also durable and can work in any kind of weather, such as heavy rains, snow, or duststorm. Using a monocrystalline silicon solar panel, the Solar Firework Lights can absorb sunlight more efficiently and charge even on cloudy days. In addition to these features, these lights also boast two lighting modes and an integrated chip that ensure optimal energy consumption.