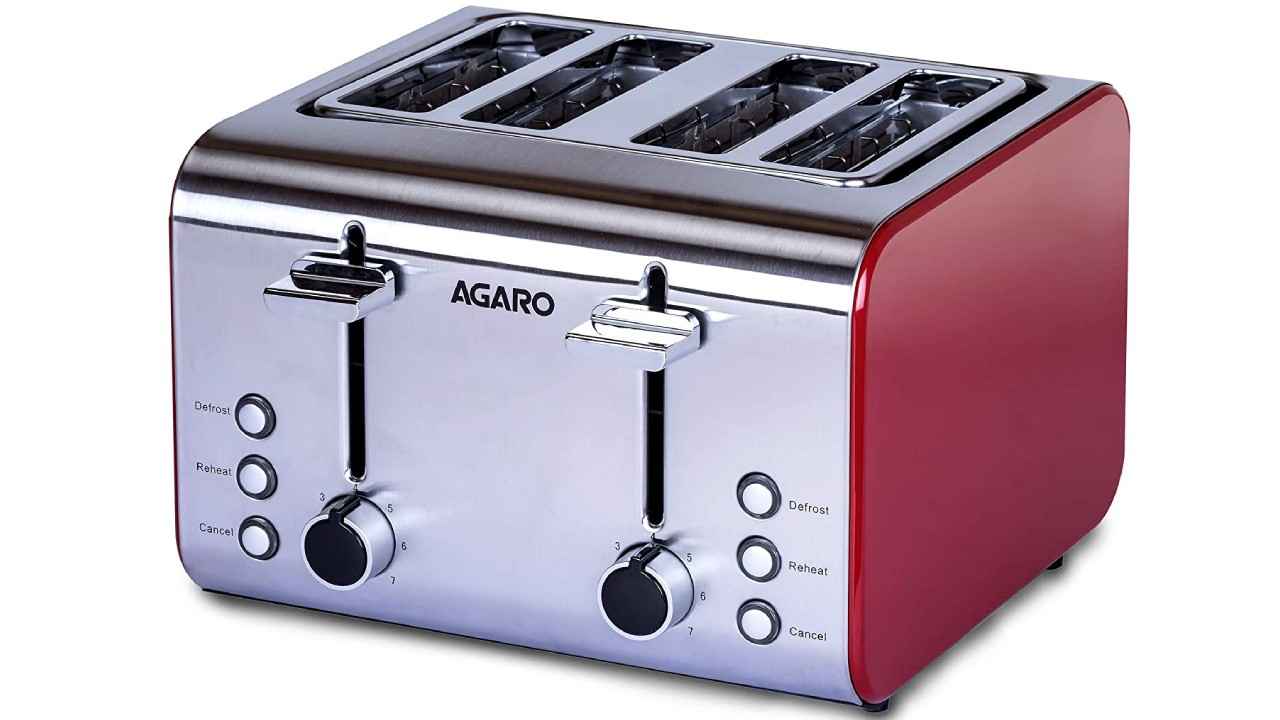 They say a healthy breakfast is a cornerstone of leading a fit lifestyle. For breakfast, toasts are very popular, and whatever your preference for the accompaniments, there's no denying that most people find toast easy to fix and tasty to eat. Often, toasting just two slices of bread at once isn't enough for large households, which is why you need a toaster that can handle up to 4 slices of bread at once. A toaster should also serve other purposes, such as reheating toasted bread and defrosting bread directly from the freezer. So, here are the top four-slice pop-up toasters with reheat and defrost functions that you can get on Amazon.
AGARO 33504 1400-1600W 4 Slice Pop Up Toaster
Here's a quite stylish pop-up style toaster from Agaro, which has space to heat 4 slices of bread at once. Apart from the toasting function, it also packs in a defrost and a reheat mode, allowing you to be more versatile in how you use the appliance. As for the toasting function, it is equipped with 4 slots for bread and a dial with which you can select a toasting level – it goes from 1 to 7 for different browning preferences. Not only does the dial work for toast, but also for varying levels of defrosting and reheating. Furthermore, the entire process is automatic – so you needn't wait around while your bread is toasted.
Borosil 1500W Pop-Up Toaster
This toaster from Borosil takes a different approach to the 4 slice pop up operation – it features only two slots that are large enough to accommodate two slices of bread each. Since it has a power wattage of 1500 watts, you can expect perfectly crisp and golden slices of toast. These look not only good but also taste incredible – no matter what kind of bread you put in. The toaster has a dial with which you can set the level of crispness that suits you, making it optimal for use with market bread or homemade bread. Apart from that, the toaster is fully automatic- you simply have to push it in, and the toaster will work its magic on the bread in no time. For families that love toast, this is the pop-up toaster to meet all requirements.
BLACK+DECKER BXTO0401IN 2300W 4 Slice Pop up Toaster
If you've stopped buying market bread and mostly bake your own, then this is the toaster that you need. It has wide slots for thick and fluffy slices of bread such as those made at home and can toast them evenly on either side. Since it has a total of 4 slots, you can get more toasts in less time and have everyone fill up on toasts to face the day with ample energy. You can add some eggs or butter to enhance the taste of crisp homemade toasts. Furthermore, it has Reheat and Defrost functions which come in handy if you're making cold cuts or other frozen snacks for the family.
American MICRONIC – AMI-TSS2-150Dx- 4-Slice – Stainless Steel Pop-up Toaster
Here's a heavy-duty, durable stainless steel pop-up toaster from American Micronic. It has a power rating of 1500 watts, which means that it can more effectively heat slices of bread in the reheat mode and defrost them. Since it has slots to accommodate 4 slices of bread, you can get more toasts out of it in a single run. To ensure that the toast is to your liking, you get 6 stages of crispness which you can set using the dials at the front. Since there are two different dials, you can have slices of varying toasted levels simultaneously, depending on household preference. Furthermore, it looks stylish and durable.