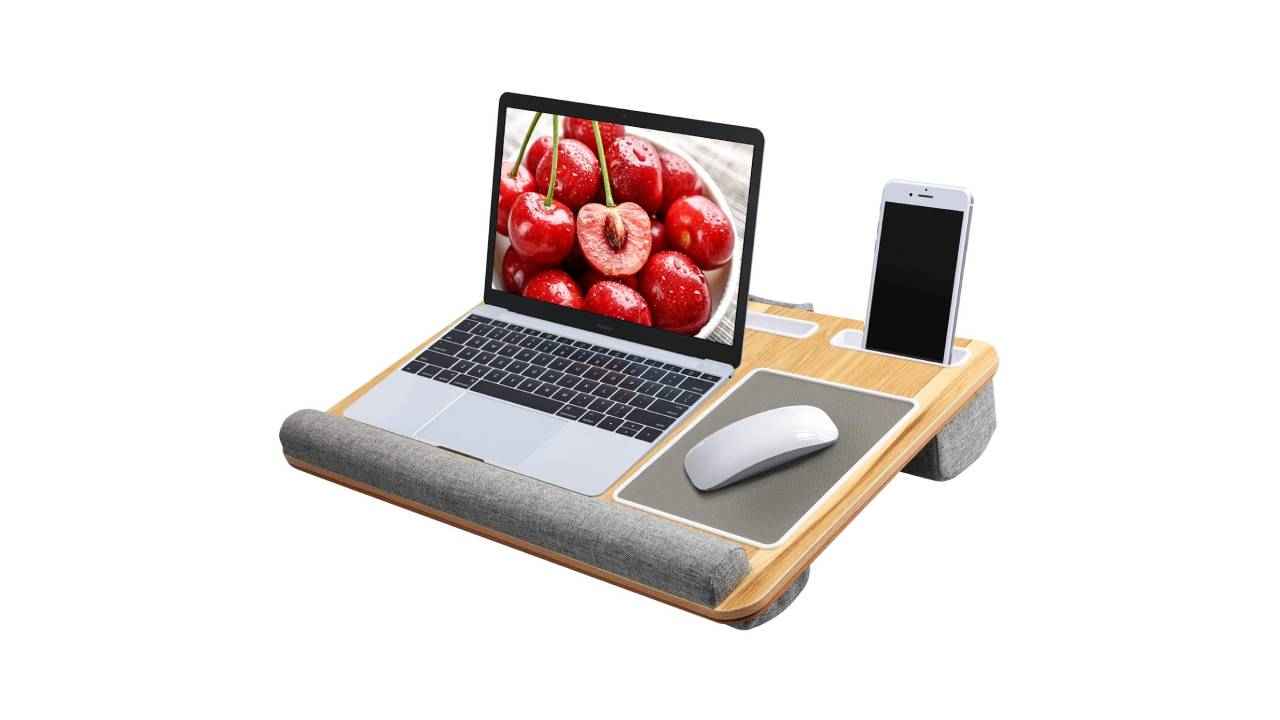 Not being able to keep the smartphone securely on your laptop desk to watch videos or make a video call is a common problem faced by many people around the world. Citing this issue, manufacturers now have started building laptop desks with a dedicated phone holder in it. Another feature you should look for in a laptop desk is a compact design, which makes it easy to carry around and store, when not in use. Keeping these two things at the core, here are four foldable laptop tables with phone holders that you can buy on Amazon. Note that these products have been selected based on their listed features.
Callas Adjustable Laptop Table
The Callas Adjustable Laptop Table has legs that fold inwards, enabling you to use it as a flat board to place your laptop while watching movies, and as a table while working. Apart from this, you can also adjust the angle of the top (between 0-30-degrees) to improve your viewing experience. The table comes with a holder for your laptop and smartphone so that even when you're using it at an angle, your devices won't slip off. It can support laptops that are 17-inch and below. Finally, the smooth top is quite easy to clean.
Artikel Multi-Purpose Laptop Table
Here is an ergonomically and smartly engineered laptop table with a phone holder from Artikel, which can turn out to be a good option for most working professionals out there. It is made of high-grade pressure laminate and high-quality engineered wood, which can withstand heat and humidity to improve its durability, as per company claims. Furthermore, it has W-type stands with anti-slip rubbers on the four corners, which should make it significant enough to stay put at a place, even when you use heavy laptops. The phone holder is long enough to hold a smartphone and a tablet at the same time, which should help you in having all your essential devices on one table. Finally, the laminate is both scratch-resistant and spill-proof, as per company claims, which should not only make it durable but easy to clean as well.
Decostyle Multipurpose Portable Folding Table
Here is a minimalistic portable folding table with a phone holder from Decostyle, which you can use on a bed or a low-lying table while using the laptop at home. It is made of engineered wood and powder coated stainless steel legs, which should make it a durable table. It has a color gradient of sappy ebony, which gives it a premium wood-finish, which should make it ideal for users who love such finishes when it comes to furniture. The phone holder in the table has dimensions of 11x2x1.5cm, which should enable you to keep a smartphone of any size in it. Furthermore, it has round edges on all four corners. Finally, when not in use, you can completely fold the legs and store the table in a small space.
HUANUO Laptop Lap Desk Stand
If you are looking for a laptop desk with multiple different sized holders for you to keep your smartphone and your tablet, then this model from HUANUO should not disappoint you. This makes it possible for you to keep your smartphone, tablet and laptop with you at the same time. The top panel also has a built-in mouse pad as well, which should again improve your user experience. The table has an intelligent user-friendly design with dual bolster cushions at the bottom, which should enable you to keep it on your lap with ease and use it for long hours, as per company claims. On the top, it has a line cushion, which works as both the laptop stopper and wrist support, making it one of the most ergonomically designed laptop desks in the segment. Finally, it has a lightweight body design, which should make it easy to carry around.