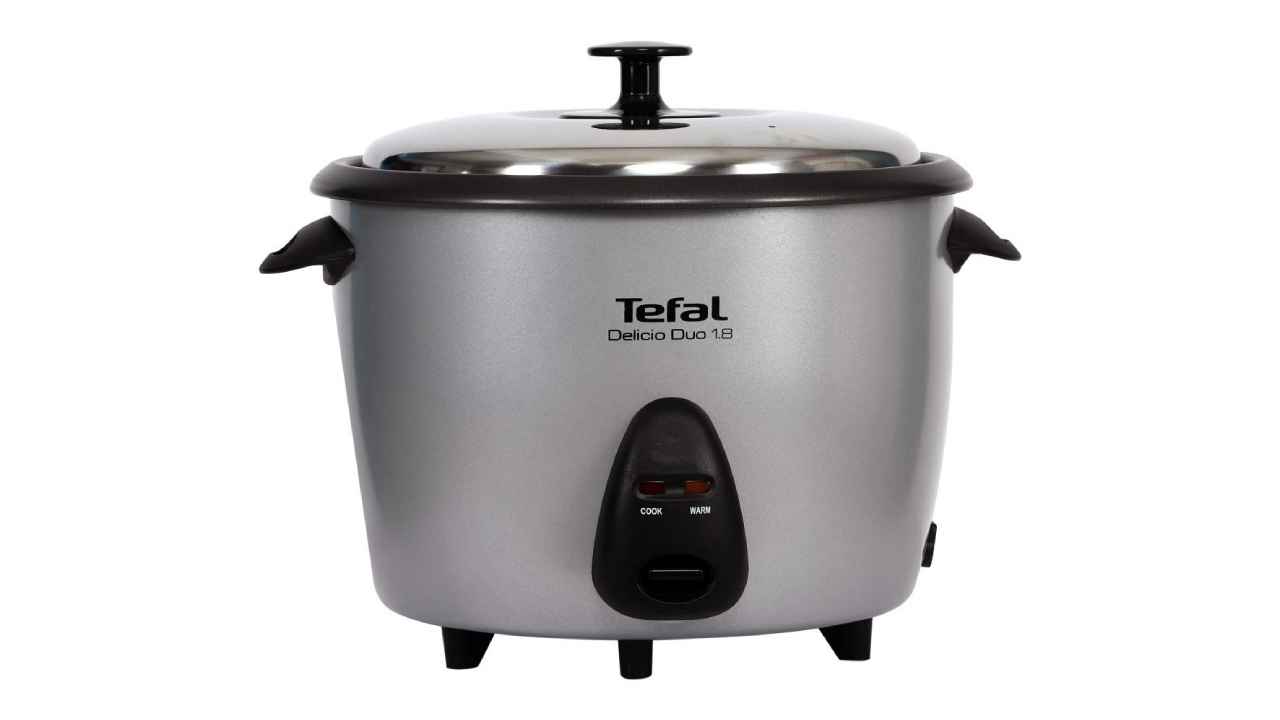 Cooking requires time, effort, and, most importantly, undivided attention. A slight diversion can result in food getting undercooked, or worse, burnt. If you want to manage your time better in and around the kitchen, you must look at electric rice cookers. These appliances can take a major task off your hands and allow you to focus more on other cooking. In case you are on the lookout for an electric rice cooker, make sure to keep a few things in mind: buy only a variant that can keep your food warm after it's cooked and also offers two pots for cooking separate items. Following are a few good options of electric rice cookers on Amazon that feature two pots for swift cooking.
Prestige Delight Electric Rice Cooker
The Prestige Delight Electric Rice Cooker comes with cool-touch handles that make its handling convenient and safe. It has a high-quality, stainless-steel lid that has a built-in steam vent. This allows the steam to escape, preventing any unnecessary condensation. The Prestige Delight Electric Rice Cooker features a total of two cooking pans, both of which are aluminium. It makes sure heat is uniformly distributed throughout the cooker, allowing for efficient and even cooking of rice. Equipped with a control switch lever, this appliance also has a keep-warm functionality that can keep your food fresh for hours after it has been cooked. Apart from rice, you can also cook porridge, soup, stew, and idlis in the cooker.
Panasonic SR-WA18H (YT) Automatic Cooker
The Panasonic SR-WA18H (YT) Automatic Cooker's cooking pan has been crafted with high-quality anodised aluminium material. This equips the cooker to keep corrosion and rust at bay while also giving it a refined finish. Featuring an additional cooking pan and two dish separators, this Panasonic Automatic Cooker allows you to cook multiple items simultaneously. To eliminate the need to manually check whether the food has been cooked or not, it also has an auto shut-off function. Thanks to its keep-warm functionality, this electric cooker can also keep your cooked food warm for up to five hours.
Tefal Delicio Duo Rice Cooker
The Tefal Delicio Duo Rice Cooker has a power rating of 700 Watts, which means it can heat up quickly in little to no time to give efficient cooking results. With a large capacity of 1.8 litres that comes from its two non-stick pots, this kitchen appliance can cook not only rice but also grains and hot cereals. Made out of food-grade material, the Tefal Delicio Duo Rice Cooker supports healthy cooking as it helps preserve the natural taste and nutrients of the food. It also has an auto cut-off feature that ensures it doesn't consume excessive electricity. Plus, it also has a cool-touch handle that makes sure you don't burn off your hands accidentally. With high performance and efficiency, this electric cooker would be the perfect addition to your kitchen!
AGARO 33308 Electric Rice Cooker
The AGARO 33308 Electric Rice Cooker offers a cooking capacity of 1.8 litres, allowing you to cook up to a kilogram of rice in a single go. It comes equipped with two modes- the 'cook' mode for preparing dishes and the 'warm' mode for keeping food fresh. Both of these options help in automating the process of cooking rice! Its cooking pots are aluminium that helps make them durable and easy to clean and maintain. It has a close fit lid that prevents the steam from leaking and lathering. In addition to these features, the AGARO Electric Rice Cooker also boasts cool-touch handles for convenient handling and a detachable power cord for optimal portability.