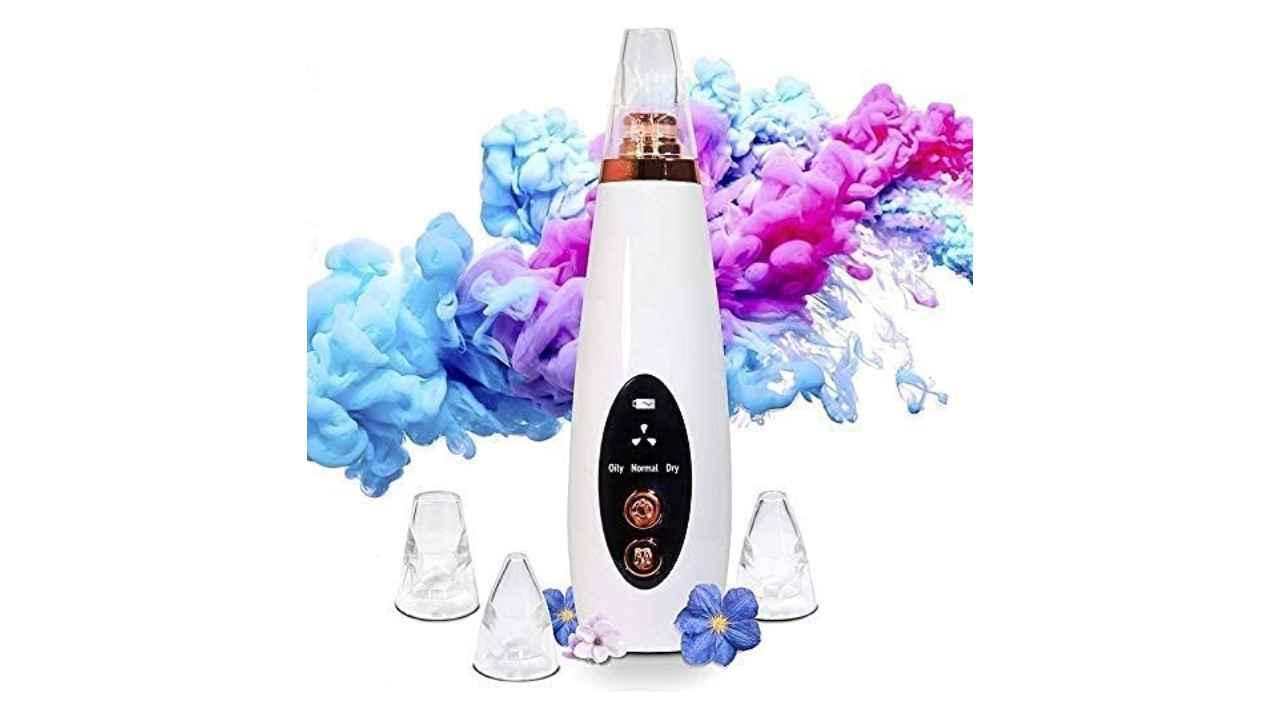 Blackheads are amongst the most irritating bumps that can occur on your skin. Since they get formed due to clogged pores and are rooted deep into the skin, they are difficult to remove. Since you can't remove blackheads manually with your hands as it could lead to irreparable skin damage, the best way to get rid of these little buggers is through electric blackhead removers. These devices can suction the blackheads out of their pores without causing any damage, ensuring you get smooth and blackhead-free skin. If you are looking for electric blackhead removers, make sure it comes with an ergonomic design and sturdy build. Here are a few good options of electric blackhead removers on Amazon that are ideal for both men and women.
RYLAN Blackhead Remover Kit
The RYLAN Blackhead Remover Kit can gently remove impurities and blackheads from clogged pores, ensuring no skin damage in the removal process. You can easily adjust the suction levels in this blackhead remover, thanks to its adjustable strength settings. It offers a total of two power settings to make sure you can pick the one that suits your skin type. Coming along with four different head caps (small, large, oval, and silicone head), the RYLAN Blackhead Remover Kit can perfectly exfoliate your skin. Some of its other notable features are a good battery backup, an ergonomic design, and a durable build.
Suratware Blackhead-Whitehead Remover
The Suratware Blackhead-Whitehead Remover offers a total of four multi-functional replaceable heads- a microcrystalline head, a big circular hole head, a small circular hole probe, and an oval hole head. All of these heads help in making sure that the device is suitable for different skin types. The Suratware Blackhead-Whitehead Remover has an ABS body, which means the device can resist heat and stand the test of time to give a long service life. Since it has different probes, it doesn't only help in removing blackheads but also assists in exfoliating the skin and increasing its elasticity. The blackhead remover also has two modes – normal and dry – to match neutral, mixed, and dry skins.
Xiqarn Blackhead Remover
The micotti Vacuum Blackhead Remover functions so that its operations help improve blood circulation and skin tightening. Since it has been explicitly designed to effectively remove oil, impurities, and dust particles from the clogged pores, this device is ideal for blackhead removal. It features four different heads for different skin types. In addition to the different suction heads, it also has two power settings to ensure you can give yourself the perfect blackhead removal experience.
WALVIA Vacuum Blackhead Remover
The WALVIA Vacuum Blackhead Remover makes blackhead removal easy and simple. It can remove impurities and blackheads from clogged pores without any squeezing, which means your skin won't get damaged during the removal process. It has an adjustable strength knob through which you can switch between different modes. The blackhead remover also has four replaceable beauty heads: an oval probe, a small circular probe, and a big circular probe. This ensures that the device can be used to address different facial problems efficiently. You can use this blackhead remover to reduce acne, dead skin, dirt, and oil.