DJI, one of the world's leading drone makers, has launched its flagship drone Phantom 4 in India today. Also launched was the Osmo RAW motion camera, a successor to Osmo X5R, also known as the Osmo Pro, with several advanced features.
The Phantom 4 drone comes with several improvements over the Phantom 3, along with a host of features and changes that are completely new. For instance, the controls are a lot friendlier on this one. The Phantom 4 now allows you to control it's movements directly from the mobile screen where you are viewing the camera feed, in contrast to just the controller in the previous models. There are a couple of new ways to control the drone as well. The previous follow me mode, that required a physical device to be present on you with GPS capabilities to track you has been upgraded with a feature called Active Tracking. This allows you to select an object on screen by drawing a box around it and the drone follows the object, adjusting its movement as well as camera angle and pan dynamically, while keeping the subject at the centre of the frame. The demonstration provided was flawless and the Phantom 4 excelled at this feature. If you do not have a specific subject to track, you can set the drone to move in a specific direction continuously, while it detects obstacles on the way (at a distance of 15 metres or less). It then figures out a way around or over them or stops completely.
There have been a number of hardware upgrades as well. DJI has kept the same design language while making the device sleeker, with thinner arms. The battery life has been extended to 28 minutes. The camera now has improved stability and provides stable shots even with a lot of action. On the resolution front, the camera can take 12MP RAW JPEG and while 4k videos will be shot at 30 fps, it can shoot FHD videos at up to 120fps. There are two processing units on the drone out of which one is dedicated for obstacle avoidance.
Another new addition is the sports mode, which does off obstacle avoidance and ground detection, but in its place boosts the maximum speed up to 44mph for when you need that extra speed in your shot.
A point to be noted is that drones aren't publicly legal in India right now. You are allowed to own one and use it in your own private premises but the exact regulations and permits are still being worked upon. DJI is confident about a positive outcome and is working closely with the government to ensure that their product adheres to whatever regulations are set regarding height and private property.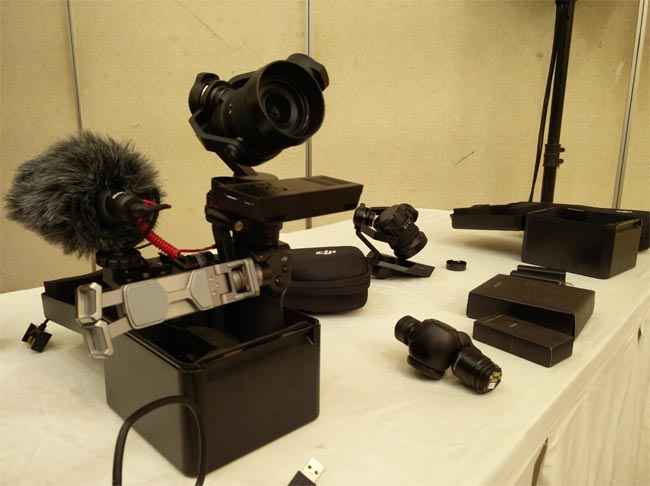 Osmo withe the X5R lens displayed at the launch
The Osmo RAW is part of the Osmo lineup of action cameras with the added ability to shoot raw pictures. DJI's expertise in camera stability prompted them to develop handheld cameras with stability centric designs. The Osmo itself is a stabilisation system that works with a number of lenses. Here, DJI has brought the Zenmuse X5 RAW lens to be compatible with the Osmo, along with 5 lens models from third party manufacturers like Olympus and Panasonic The camera allows you to shoot 16MP stills as well as 4K videos at 24-30fps. The RAW model comes with a 512 GB SSD. The Osmo comes with a wide range of accessories like a vehicle mount, a tripod, an extension arm, a bike mount. You can connect your smartphone to the camera and place it in the phone slot to have a screen for your shots, which is otherwise not provided. Hence the smartphone is also used as a controller for the various shooting modes and direction changes. The direction changes can also be done by a physical button on the Osmo grip. The grip also has a mode in the app using which you can tap one button to take a 360 degree rotating panorama shot. An upgraded power management solution is also available for the OSMO which increases battery capacity both for the X5 and the X5R cameras.
Both of these devices work with the DJI GO app as well as their own control systems. The DJI Phantom 4 will be priced at 1.21 lakhs plus taxes while the Osmo RAW will be priced at 3 lakhs plus taxes. Both will be available with several distributors in India and you can check this page to find out more about that. AVCS Systems India Pvt Ltd., one of DJI's distributors in India, will provide after-sales service for the products.
For more technology news, product reviews, sci-tech features and updates, keep reading Digit.in or head to our Google News page.