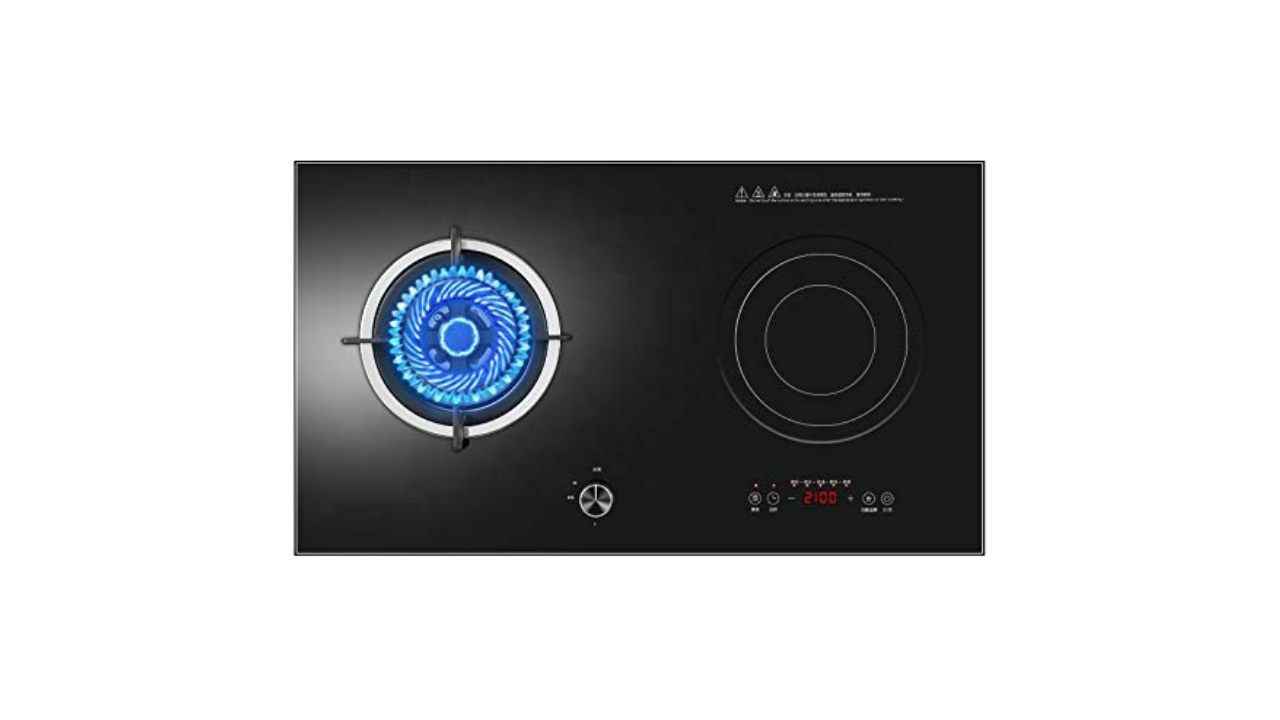 If you are looking for a modern cooktop for your modular kitchen, getting one with both a burner and induction top would be a great idea. This helps you save energy and fuel, as you have the option to choose either the burner or the induction top in accordance with the need of the hour. Furthermore, the stylish design of such cooktops adds to the elegance of your kitchen. To help you find the right fit, here are four such cooktops with induction and burner that you can get on Amazon. Note that they have been selected based on their listed features.
Meneflix Portable Induction Cooktop Electric/Gas Countertop
Here is an elegant and stylish cooktop that would be ideal for your kitchen. The induction allows you to use utensils or cooking pots made of various materials like aluminium, copper, cast iron and others, which is not the case with most induction cooktops. The complete cooktop uses stainless steel and crystalline glass to make it lightweight and compact so that you can easily carry it while moving to a new house or just shifting its place. The burner uses modern brushed stainless-steel housing with anti-slip legs to keep your pots on it safely. The controls of the induction are seamlessly built-in and displayed on the glass top with no bulges. This helps in prolonging its life span.
Mixen Double Induction Burner Cooktop
Here is a cooktop with both the induction and burner setup from Mixen that comes with multiple modern features, making it ideal for your kitchen. To start with, it is compact in size, which should be of great help if you do not want your cooktop to take up a huge chunk of your kitchen's countertop. The burner has high-raised legs so that it has enough space to deliver a larger flame when required. The induction can operate in 15 different heat levels, ranging from 140°F to 460°F with an increment of 20°F each time. This enables you to pick the heat setting according to the food you are cooking. Furthermore, the whole cooktop is easy to clean as it is made of crystalline glass. Just a wipe with a semi-wet cloth would do. Finally, it also has a child lock feature to prevent kids from changing the settings of the induction using the touch controls on the cooktop.
Meneflix Portable Gas Induction Cooktop
Here is a 1800W portable gas induction cooktop that you can use to cook your food using the burner as well as the induction top. Since this cooktop is portable, it is not only ideal for your kitchen but also for RVs and while camping outside. It operates at 15 different heat levels (140°F to 460°F) so that you can simmer, deep-fry, sauté, boil, steam and perform several such cooking techniques according to your needs. Furthermore, the glassed panel has touch controls to manage your induction cooktop. It also has an auto-timer off mechanism that you can set up to four hours, enabling you to perform other activities while cooking and not worrying about overcooking or spillage. Finally, the burner has high-raised legs and a starter knob to gives a large flame easily.
Jukmen Portable Burner Induction Cooktop
The Jukmen Portable Burner Induction Cooktop operates at 1800W, powering up the induction half of the cooktop to give good heat output. You can perform different cooking activities like boiling, deep-frying, steaming, simmering and others using the 15 different levels of heat output that this cooktop offers. With an increment of 20°F in each level, you can go from 140°F to 460°F. The child lock button makes the touch controls go inactive so that even if your child accidentally pressed some buttons, it won't have any serious repercussions. Furthermore, it has a stylish and classic design, which should be a good fit for all modern households. The compact size makes it a top choice for small kitchens that have smaller shelves.