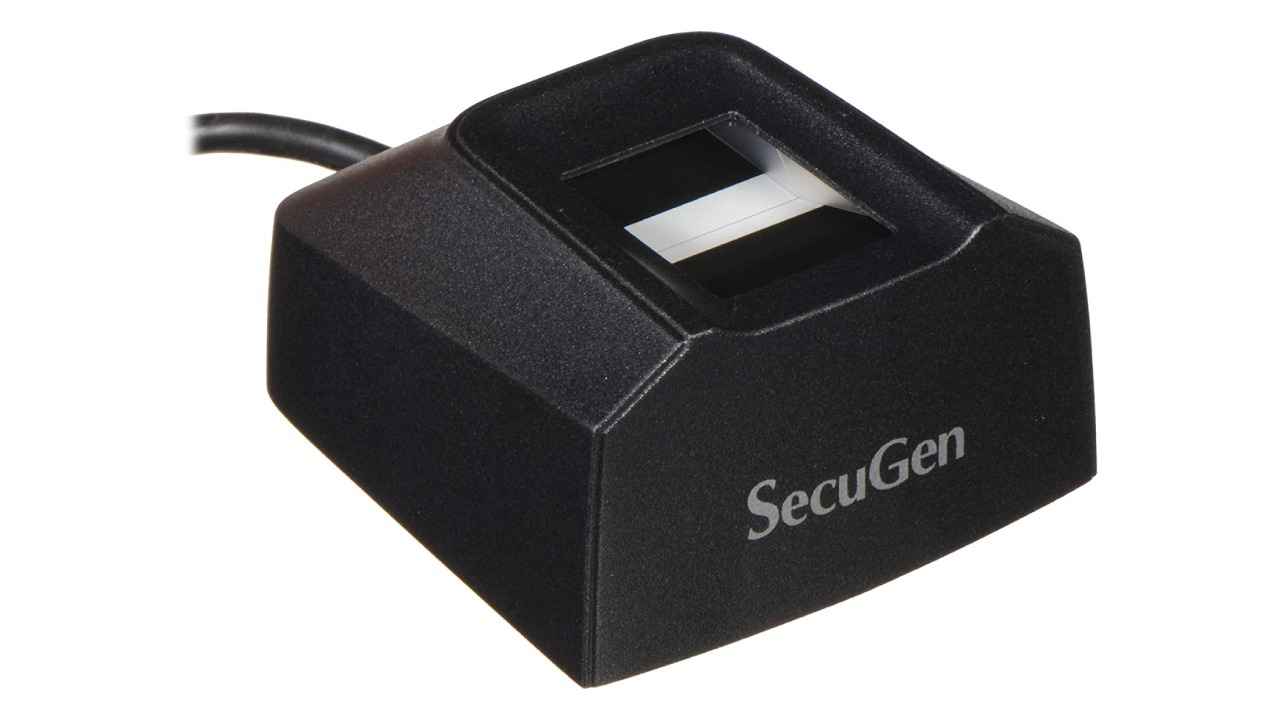 Far from being a high-tech novelty, biometric authentication has become a vital part of our daily lives. Fingerprint-based authentication is used by several companies and services, and a fingerprint scanner is now found in almost all smartphones and many modern laptops. However, if you're using older hardware or a desktop PC, you can still make the most of it by getting a separate fingerprint scanner to connect to it. Along with this functionality, some of them offer impressive specifications and features particularly useful for advanced authentication. Here are some great options that are available on Amazon.
Mantra MFS100 v54 OTG with RD Service Fingerprint Scanner
The Mantra MFS100 comes with plug and play USB 2.0 functionality, which makes it easier to use it with any new device whenever you need to. The model comes with a 500 DPI optical fingerprint sensor, which helps in keeping the accuracy of the authentication high enough. In addition to that, the scanner surface has been built to be scratch resistant to increase durability as well. At 14mm by 16mm, the scanner has a very small footprint and can be easily placed on any surface next to your device. The operating temperature range of 0-50 degrees celsius allows it to be used outdoors as well.
Radium Box Tatvik TMF 20 Fingerprint Scanner
The Radium Box Tatvik TMF 20 Fingerprint Scanner gives you flexibility for different use cases. You can use it as a standalone or embedded device for enrollment and authentication purposes, depending on your needs. Its CMOS-based optical scanning technology promises high-speed results with great accuracy. The black plastic exterior keeps it lightweight and easy to relocate. It also makes it easier to keep the body clean and smudge-free. The scanner is compatible with Windows, Linux and Android devices. It uses encrypted USB communication to keep biometric data secure. With FAP20 certification, it meets the criteria for providing ample area and quality for scans.
SecuGen Hamster Pro 20
The Hamster Pro 20 is built to be rugged with a water-resistant design. This is certified by its IP54 rating. It aims to deliver great accuracy with features like Fake Finger Detection. This feature can detect spoofed fingerprints to keep access limited to authorised people. The sensor on the Hamster Pro 20 ensures durability against scratches, impact, vibration and electrostatic shock. To reduce wait times for authentication, the device features an Auto-On technology that activates it when someone places their finger on the sensor. The Smart Capture functionality aims to improve accuracy with difficult fingers and challenging environments.
Safran Morpho Icons MSO 1300 E3 Biometric Fingerprint Scanner
The Safran Morpho fingerprint scanner comes with a one metre long USB cord, making it easy to keep it connected even when the scanning point is away from your PC. The plug and play system allows you to start using it by simply plugging it in. The red and black outer body features an ergonomic design for convenient usage. It also looks aesthetically appealing. The model weighs 120g which keeps it lightweight and easy to move around as required. At just 1.5cm thick, the build is also slim enough for easy storage.
Yukonics Startek FM220U
The complete white exterior of the Yukonics Startek FM220U makes it an aesthetic authentication device. The long USB cable allows you to use the device at a distance from the connected system. This allows you to maintain separation from the people being authenticated. Additionally, the wire itself is reinforced on both ends to prevent wear and tear over time. The model promises fast scanning and non-distorted image quality. It aims to accurately scan smeared, scarred, stained and smudged fingers too.
Futronic USB 2.0 Fingerprint Scanner
The Live Finger Detection on the Futronic fingerprint scanner can reject fake fingerprints from silicone, rubber, play-doh or other materials. This feature can be disabled from the controlling software. The model uses infrared illumination, which lets it detect wet, dry, blurred and other unclear fingers. Four infrared lights are used to deliver the best results. The design ensures durability by using a thick 14mm glass for the scanning plate. The USB 2.0 connectivity makes it easy to use the scanner with most computers and laptops.