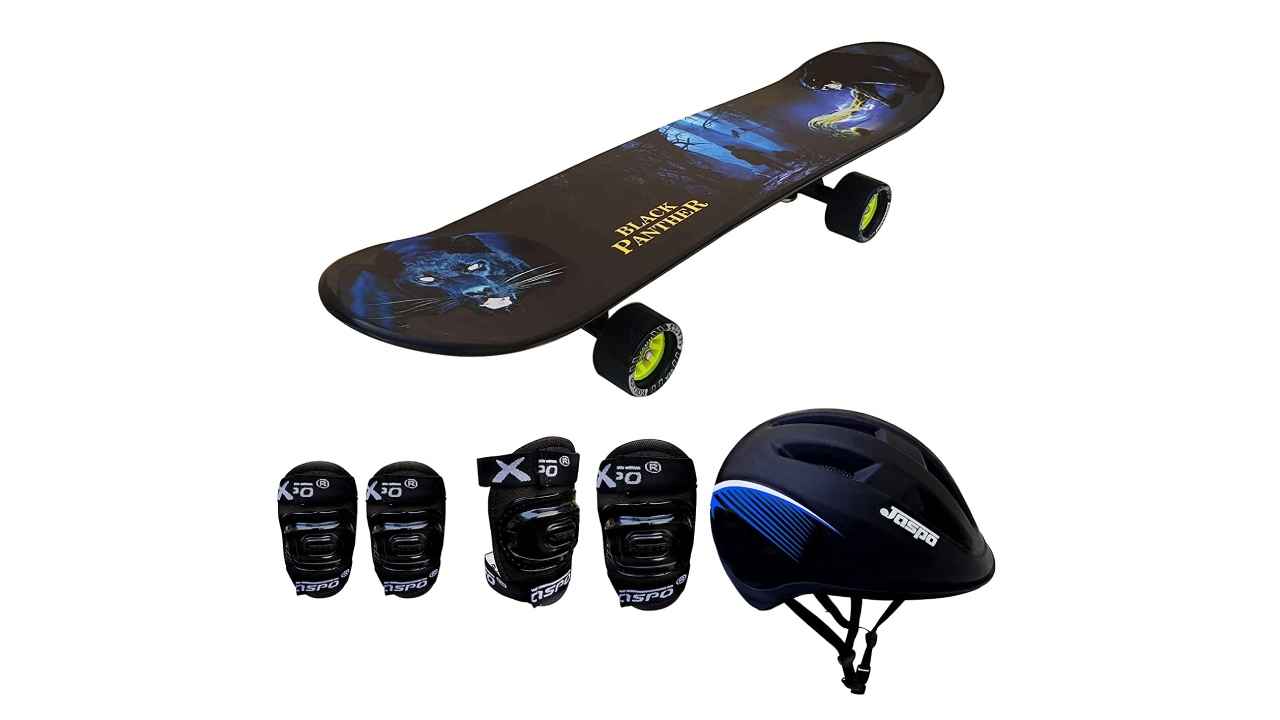 Your child has been pleading with you for a skateboard for ages and you have deferred it with a whole range of excuses. But now that her birthday is approaching, you can't think of a more apt gift for her to brighten up her day. Then why wait? Check out this list of the best skateboards for beginners available on Amazon right away!
Jaspo Dragon Fire Fibre Skateboard Combo
Jaspo Dragon Fire Fibre Skateboard Combo is a durable skateboard that is made from quality carbon fibre material. It is flexible, non-slip and water-resistant. The product is safe for long-distance riding and can take up to a weight of 90 kilograms. The product works with the help of 55 x 30 mm 85A TPU wheels with ABEC-7 precision bearings and PU bushings. It also has a high angle gravity cast truck that allows for aggressive riding. The helmet is made out of a hard PE shell that easily absorbs external pressure with its aerodynamic design. The product, with its concave design, allows for better control and performance of tricks.
sefulim 31"x 8" Complete Skateboard
sefulim 31"x 8" Complete Skateboard is a great outdoor tool that has a professional street design pattern that has been put through the heat transfer method. The skateboard comes fully assembled with a 7 ply maple wood deck with coloured bushings, tough wheels, ultra-smooth bearings, aluminium metal trucks, and shock pads. The deck can withstand heavy twists and sudden impacts and can carry a lot of weight. The deck has a high-density grip tape and is anti-slip, making it easy to glide around the streets.
Complete 22 inches Cruiser Skateboard
Complete 22 inches Cruiser Skateboard has a 3.8 inches deck with a low centre of gravity improving the balance. It has 2.3" x 1.7" PU frosted wheels that are friction and abrasion-resistant. The product is suitable for kids and beginners and can be used for a long time thereafter as it is made of quality aluminium–magnesium alloy. The ABEC 7 bearing provides a quiet riding environment. The skateboard is light and easy to carry and use. The product also comes with a number of accessories such as two wenches, four bearings, etc.
VAGHASIYA SALES ® Portable Handheld Skateboard
VAGHASIYA SALES ® Portable Handheld Skateboard has high rebound bushings and 3.2-inch magnalium trucks with durable 80A PU skateboard wheels and ABEC-7 skateboard bearings that provide good performance. The product absorbs shock and provides more comfort to the user. The wheels have LEDs attached to them that work without any batteries or charge. The deck is made of bendable and sturdy Polypropylene and can support a maximum of 220 lbs. The product has an anti-slip surface and is completely safe to use.