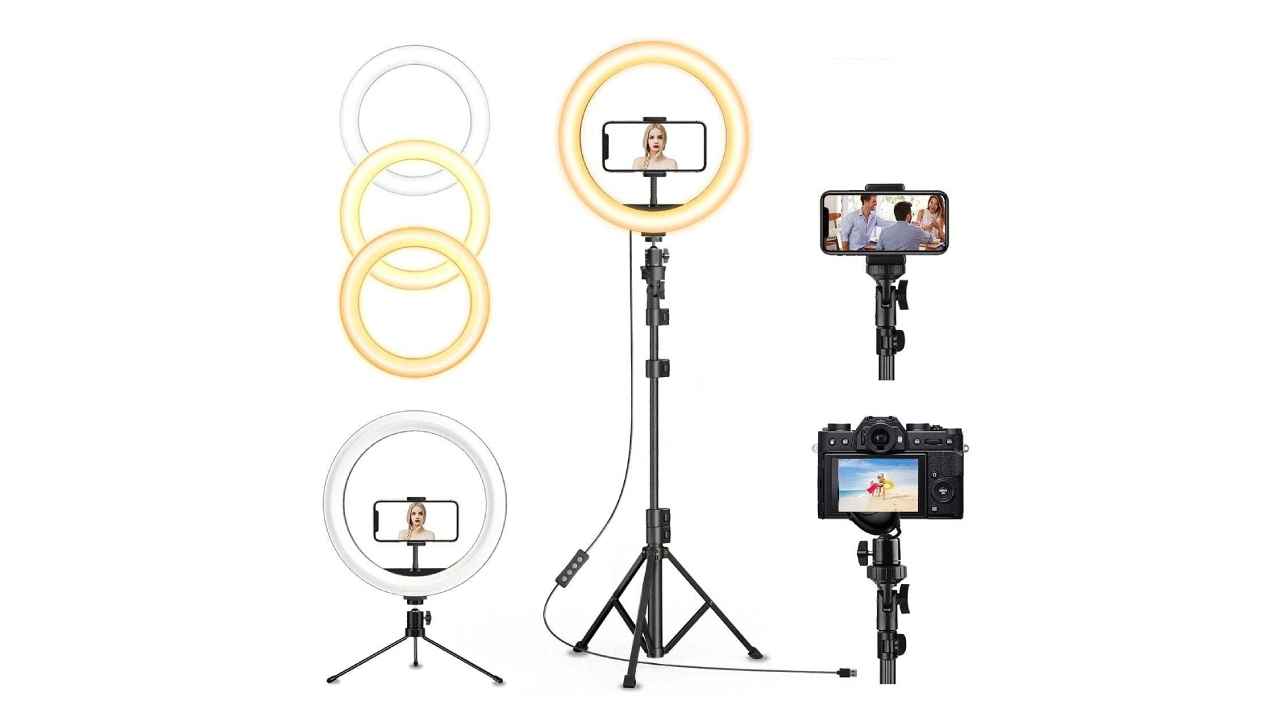 Whether you are an Instagram influencer making reels on the hottest trends or a Youtuber creating unboxing videos of the latest tech, creating fine quality content is nothing short of an art. But to ensure your videos are of top quality, you must invest in decent lighting. Why? Well, low light can make your videos look grainy as there is a loss of detail in the shadows and highlights.
In contrast, good lighting can diffuse light evenly, paving the path for perfect close-up shots. If you are looking for ways to enhance lighting, you must consider buying a ring light. They can give a significant boost to your video quality and also make shooting hassle-free. But make sure only to shortlist those ring lights that come along with a tripod stand for enhanced convenience. Following are a few good ring lights on Amazon that come along with a tripod stand.
DIGITEK® (DRL-18H C) Ring Light
The DIGITEK® (DRL-18H C) Ring Light features a 360° rotatable smartphone holder that allows you to achieve the ideal angle for both photography and videos. With colour temperatures variable from 3200K to 5600K, rest assured you won't need any other equipment to enhance your lighting. Its height-adjustable stand incorporates shock absorption springs, a flip lock, and a total of three sections, making it widely compatible with other attachments. The DIGITEK® (DRL-18H C) Ring Light also has built-in intensity and colour temperature control buttons for easy adjustments. Some of its other notable features are a lightweight design and a ¼-inch mounting thread.
Osaka LED Ring Light
The Osaka LED Ring Light is equipped with 220 high-quality SMD LEDs and 3 different lighting modes (white light, natural light, and warm light). These make the device bright enough to beautify your face! Plus, each lighting mode has 9 adjustable brightness levels, making sure it can meet all your needs on different occasions. To make things easier for you, the Osaka LED Ring Light is fitted with four buttons (brightness, lighting mode, and power switch), allowing you to change settings at the touch of a button. In addition to these features, this right light also comes with colour temperatures variable from 3400K to 5600K and a durable phone mount.
DIGITEK® (DRL-14C) Ring Light
The DIGITEK® (DRL-14C) Ring Light makes sure that you can get the perfect shot from any angle, thanks to its 4-section structure, shock absorption spring, and ¼-inch mounting thread. It is a USB-powered device, which translates to an easy setup experience! Its convenience is further enhanced with intensity control, colour temperature control, and a power button on the front panel, making it easier to operate. Offering bright white and warm yellow modes, the DIGITEK® (DRL-14C) Ring Light enables you to pick a light of your choice. It can be used for live streaming, photography, video recordings, and tutorials making this ring light a versatile device.
JBDE LED Ring Light
The JBDE LED Ring Light can be used for selfies, vlogs, YouTube videos, and studio shoots, allowing you to explore multiple facets of digital content creation. You can adjust the brightness of the ring light according to the indoor environment. Plus, you can also adjust the colour at three temperatures (white, warm yellow, and soft light), eliminating the chances of poor lighting conditions. Its tripod stand head is 360° rotatable and 90° vertically adjustable that paves the way for optimal shooting. The JBDE LED Ring Light can be operated with multiple devices, including a USB charger, power bank, and laptop.