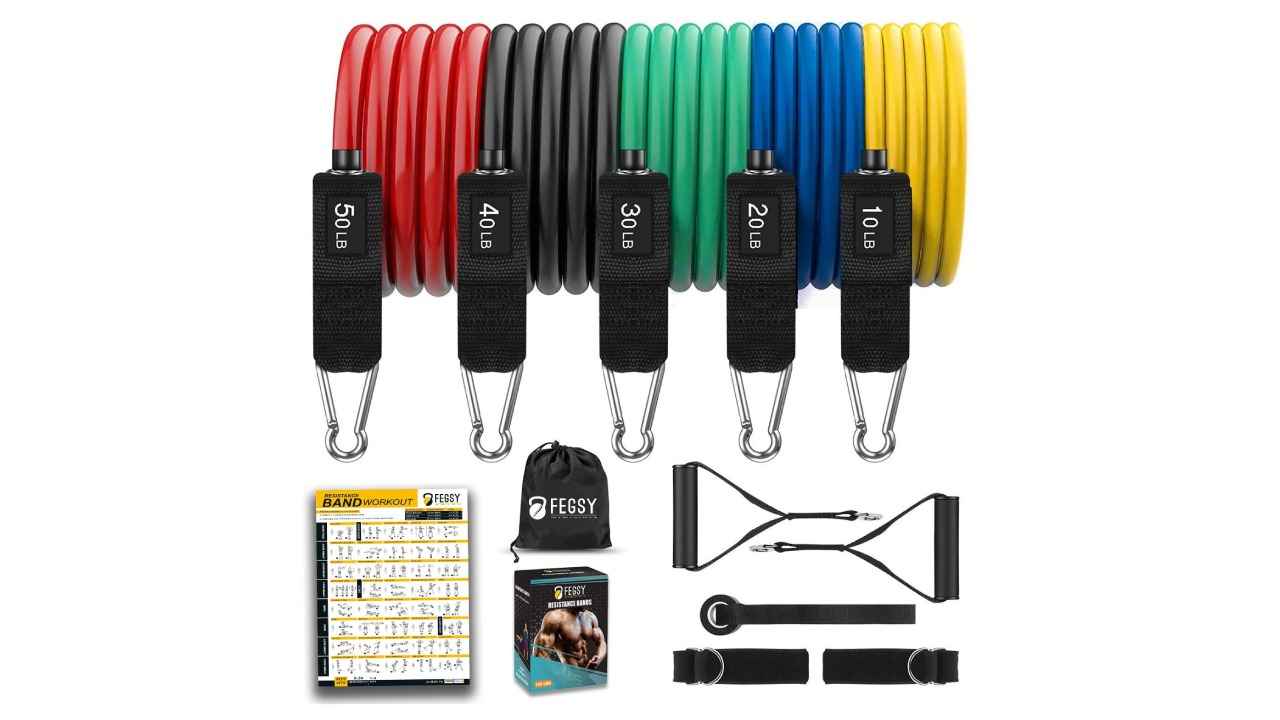 A gym is full of different types of equipment, such as weights, dumbbells, and machines. However, resistance tubes offer benefits that generic weights just can't match! They deliver the same muscle activity but with lesser chances of injuries. Moreover, they can stabilise your core, improve your strength, and enhance your mobility, making way for a toned body. If you are looking around for a resistance tube, make sure to keep a few things in mind. This includes shortlisting only those models that have comfortable handles, good quality rubber, and stellar resistance. Here are a few good options of resistance tubes on Amazon that can help you tone your entire body.
DAZIBAO® Resistance Tube
The DAZIBAO® Resistance Tube is perfect for different fitness goals, such as muscle building, fat burning, and weight loss, making it a versatile piece of equipment. Offering a resistance of 15 to 30 lbs, the tube is suitable for beginners and experts alike. Coming equipped with ropes made of TPR Foam and superior-quality rubber, you can rely upon the DAZIBAO® Resistance Tube for optimal core training. It also features pre-attached soft foam D-handles that can provide comfort during repetitive movements. Plus, as they are anti-skid, you won't have to worry about slippage when your hands get sweaty!
Reebok Resistance Tube
The Reebok Resistance Tube is ideal for both upper and lower body exercises, enabling you to carry out a wide range of movements. As it comes along with foam grip handles, the resistance tube ensures that your hand doesn't tire out during prolonged workouts. It brings a total of three resistance levels, where L3 or Level-3 provides the heaviest resistance. Being durable, it can deliver a long service life without any hassle! From beginners to experts, every fitness enthusiast can use this equipment for a toned body. In addition to these features, the Reebok Resistance Tube also boasts a portable design.
FEGSY Resistance Bands
The FEGSY Resistance Bands uses premium quality rubber and TPR, which are not only durable and highly elastic but also eco-friendly! It brings to you five coloured bands – a yellow band (4.5 kilograms), a blue band (9 kilograms), a green band (13.5 kilograms), a black band (18 kilograms), and a red band (23 kilograms). While you can use them separately, you could also combine them for maximum resistance! Moreover, the FEGSY Resistance Bands come with multiple ankle straps and a door anchor, allowing you to carry out workouts in the comfort of your home. Apart from these characteristics, the resistance bands also incorporate a strong metal carabiner, a carrying bag, and a workout guide.
Spinway Latex Training Band
The Spinway Latex Training Band comes along with handles on both sides of its long flexi cord. Hence, this fitness training band is the perfect accessory to use for all of those back exercises, front squats, and more! Using anti-slip handles, rest assured your hand won't skid or slip during long movements. It features soft nylon sleeves and a strong latex tubing that adds to its durability and strength. The Spinway Latex Training also offers a carry bag in which you can carry around your band, making it a portable type of equipment. This resistance tube can help you tone your muscles, build your core, and enhance your strength. All in all, the Spinway Latex Training Band can assist you in toning your entire body!