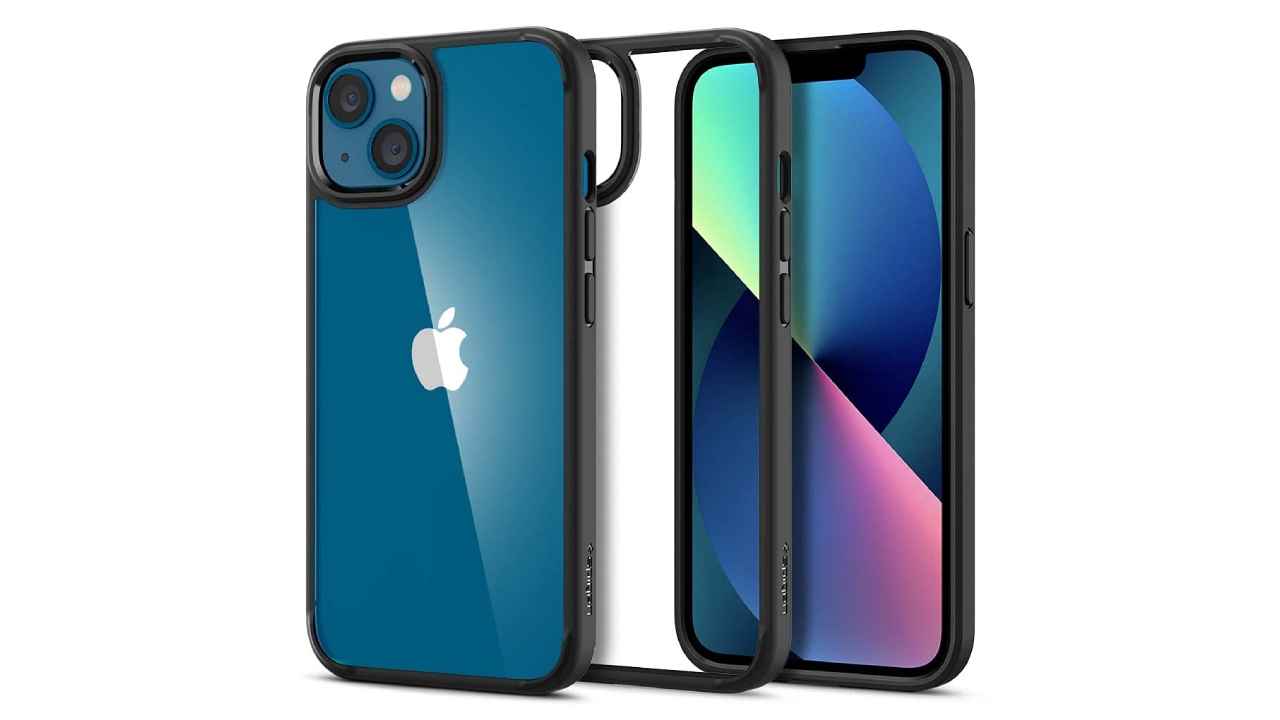 You might have read tons of articles praising the iPhone 13 mini before purchasing it. But now that you own one do you plan to risk its longevity by refusing to buy a phone cover? If your answer is no, then you are on the right article! We realise that you spend a lot of money to own a good phone and won't mind spending a small amount to ensure that the phone is well-protected at all times. So here's a list of some of the best and most attractive covers that will serve the purpose quite well.
Spigen Ultra Hybrid Back Cover
When it comes to manufacturing premium quality phone covers, Spigen is second to none, and this iPhone 13 mini cover is a case in point. With a unique design and military-grade protection, the case combines looks and toughness like none other. The TPU frame and the Air Cushion technology absorb the shock during the fall around the most damage-prone areas like the corners. Though it provides military-grade protection, the case only weighs 20 grams, so you won't feel much additional weight while carrying your phone around. The precise button cutouts don't hamper the operations, and you can also use the ports without any problems. The TPU keeps your phone safe and provides greater flexibility, while the PC plate provides a scratch-free cover for a longer time.
Spigen Liquid Air Back Cover
Here's yet another phone cover by Spigen that can protect your phone cover without preventing you from flaunting your beautiful phone. The liquid air back case has a unique design at the back and at the sides, which help you hold the phone with a firm grip. It is made of TPU, which means the cover provides a great blend of flexibility and protection around the top and the edges. It also means that you can fit the case around the phone with ease. You won't have to worry about smudging or leaving fingerprints as it is resistant to them. You won't have to remove the cover to charge the iPhone wirelessly. Moreover, the Spider Web and the Air Cushion technology will protect all four corners during any impact or fall. It has a 12 mm screen protector and 0.8 mm camera protector to keep them scratch-resistant in the long run.
ESR Hybrid Case
The ESR hybrid phone case for iPhone 12 mini is a glossy and transparent case packed with hybrid protection. It means that your phone will be wrapped in a shock-absorbing and scratch-resistant cover. The crystal clear back shows off the iPhone mini 13 in all its glory, while the military-grade protection increases the life of the phone. Its 1.1 mm slim back makes it easy to charge the iPhone easily without removing the cover. ESR has also added 1.2 mm raised edges and a 0.5 mm camera guard for added protection. Last but not least, the cover has precise cutouts and perfectly aligned buttons and spaces to ensure that the working of the speaker, ports, buttons and other functionalities aren't compromised.
Ringke Fusion
Designed in South Korea, this iPhone 13 mini phone case is manufactured by Ringke Fusion. The Ringle clear case is made of TPU and PC, which provides double strength to safeguard your phone from all angles. It is transparent and slim, so you don't feel uncomfortable while using the phone and can flaunt your device in style. The anti-static components keep away dust and dirt, while the anti-slip texture provides an excellent grip on all sides. The two newly added lanyard holes ensure greater portability as they allow you to add accessories (like finger, wrist or neck straps) and customise your phone further! You won't have to worry about the front, and the rear camera lenses as these are well-protected by raised bezels. Lastly, the 20 grams case measures 13.67 x 6.93 x 1.24 cm in dimensions and has a matte finish.