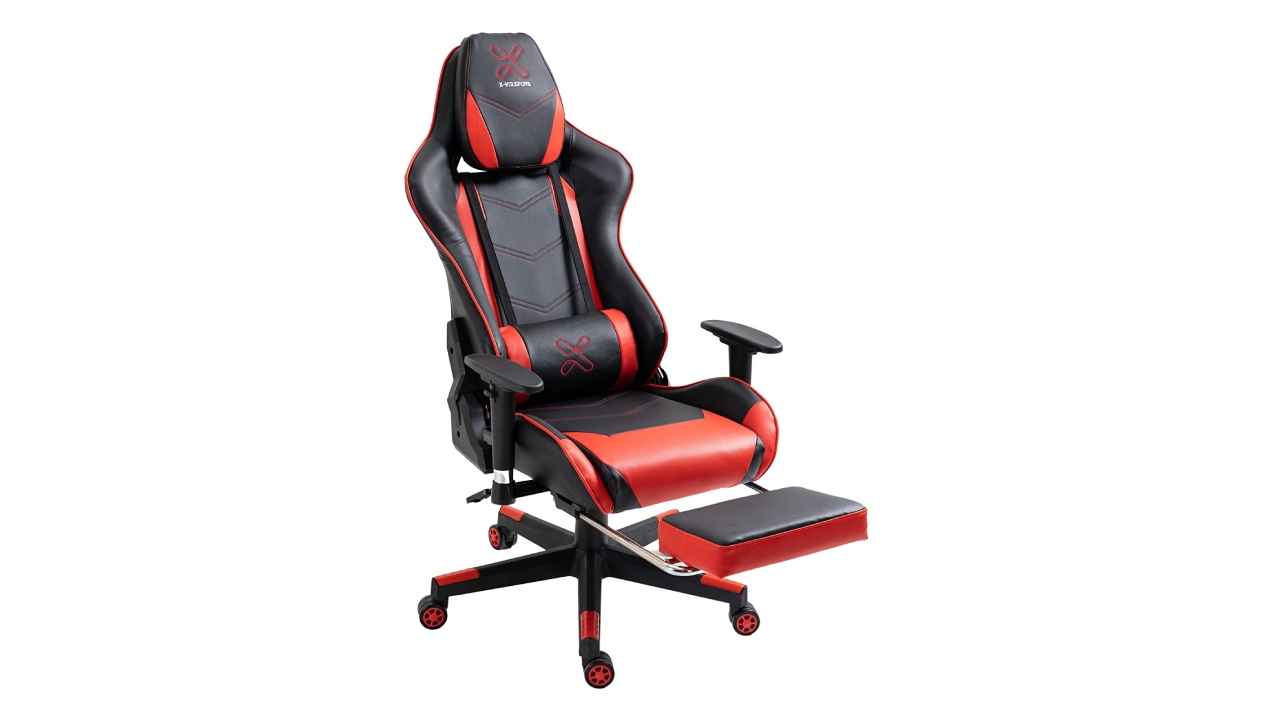 In today's times, working from home is a common phenomenon. Since most such jobs require us to sit at a desk and work on our laptops, people have slowly realised that incorrect posture can cause back pain, and that's where gaming chairs come into the picture. Initially meant for gamers, these are now in demand all, thanks to their ergonomic design and advanced features. Read on to know more about the best ones available on Amazon.
X Volsport Racing Edition Gaming Chair
This gaming chair by X Volsport is a special racing edition gaming chair as it is designed similar to a car seat. It features side bolsters for better support and waist and shoulder pads that give it a striking resemblance to car seats. You can easily adjust the headrest, lumbar pillow, armrest, backrest, height, and inclination angle (of up to 180°) for a better user experience and sitting posture. All you need to do is pull out the lever and rotate the knob and configure everything as per requirement. These chairs boast a heavy-duty base and a sturdy frame, contributing to their durability. It is equipped with a 4-level cylinder certified by SGS and has PU leather padding (with high-density shaping) and durable rubber casters. Its metal can support weights up to 150 kg, and it even has a rocking function that tilts the seat and backrest at your convenience.
BAYBEE Drogo Multi-Purpose Gaming Chair
This multi-purpose gaming chair comes with a multitude of functions that ensure a great user experience! Its armrest also has a dedicated space for a USB cable that powers the massager, which can be powered on by plugging into a USB port. While you enjoy the massage, you can even recline the chair backwards (up to 180 degrees) for a comfortable seating experience. This multifunctional gaming chair features a 360° swivel, smooth racing caster wheels, and a 20° controllable and retractable footrest. The chair's height can be adjusted as per user requirements, and it can handle weights up to 120kg. The head and lumbar pillow provide great posture for all body shapes and can prove to be a blessing in disguise for gamers and people who tend to spend hours in front of screens. It has a PU leather exterior that gives it a vintage look and is made of eco-friendly material, which adds to its durability.
Green Soul Monster Ultimate Series (T)
This highly functional gaming chair by Green Soul is part of the Monster Ultimate series. It sports an adjustable pillow for the neck and head which is made of velour upholstery that gives it additional padding and a premium look. It comes with a lumbar pillow with adjustable memory foam that ensures a comfortable user experience. The Monster Ultimate 'T' comes with a flat and spacious seat to give utmost comfort even when you sit cross-legged! The 4D armrests are adjustable and made of PU carbon texture. The neck and back support make sure you sit in a proper posture with the correct alignment, while the support for the knees and thighs makes sure your legs don't ache after long sitting sessions. The makers claim that it is more breathable and comfortable than a leather chair and can be reclined back to 180 degrees with ease. It has a heavy-duty metal base, 60mm dual caster wheels and is suitable for people with heights between 172 to 196 cm.
CELLBELL GC03 Transformer Series
The last one on the list is the CELLBELL GC03 gaming chair that helps you sit comfortably for long durations. It is a dedicated gaming chair with a spacious seat and an ergonomic design. It is made of highly durable PU leather and has a removable headrest and back support cushion. These not only support the back and the head while you work or game for long durations but also ensure proper alignment of the body to prevent pain. The chair has a sturdy metal frame (with high-quality coasters) and nylon wheelbase, which is eco-friendly and durable. The seat can be reclined back to 180 degrees so that you can easily stretch and relax in between long sitting hours. Its height can be adjusted between 5 feet to 5 feet 8 inches, and it can handle weights up to 125 kg.