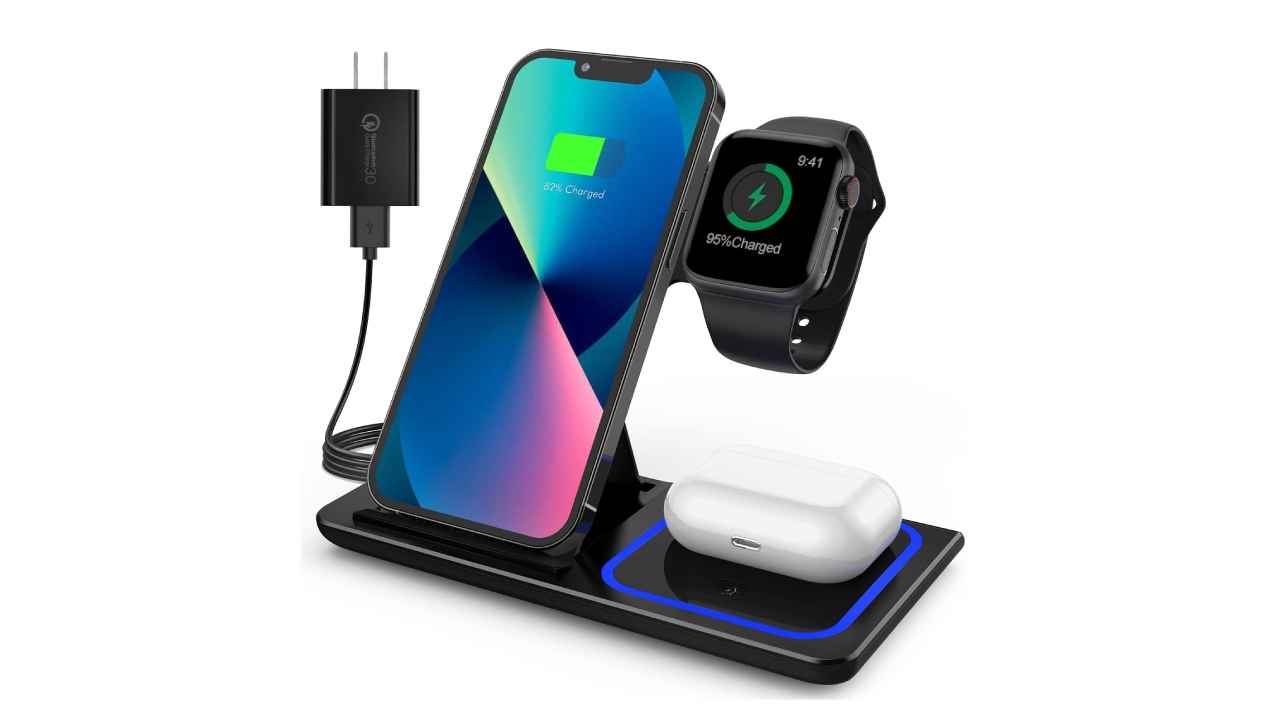 Apple devices, especially phones, tablets and smartwatches, are notorious for having fairly modest battery lives. Having all your electronics die out on you at the same time can put you in quite a predicament, and to counter that, you need a docking station on which you can charge all your Apple devices at once. This ensures that everything is charged up and ready to be used for the entire day. You can have multiple charging docks – one at home, another at the office to keep your electronics juiced up. For iPhones, Apple Watches and iPads, there are some all-inclusive chargers that can simultaneously charge your devices wirelessly or wired. Not just that, with docking stations, you can continue to use your phone while it charges.
Wireless Charger, 3 in 1 Fast Wireless Charging Station Dock
This 3-in-1 charging dock is a must for consumers who own Apple devices with wireless charging support. The dock houses three wireless chargers – for the Watch, for the iPhone and one for your Airpods. The iPhone charger can be laid down flat or lifted up to either 45° or 60°, in case you wish to use your phone. With the phone propped up, you can play YouTube videos on the phone, leaving your hands free. This can come handy in the office if you want to refer to something while working on your laptop. The best part is that it connects to the wall plug with a fast charger, and transmits ample power to enable fast charging on all docked devices.
Litvibes Wireless Charging Station 4 in 1
Charge more than just your iPhone with this 4-in-1 charging station. It comes with space to charge your Airpods, Apple Watch, and two smartphones. There's a wireless charger in the middle for supported phones, while the dock can be rotated to make use of a Lightning port or a USB-C charger. The phone is propped up while charging on the dock – ideal for playing looping visuals, videos or reference material as you work. Thanks to its small size, it is ideal for the bedside table or for your office space. It has rubber feet that firmly keep it in place. It also keeps devices secure against overcharging and electrical surges.
iCozzier 4 Slots Removable Bamboo Watch Stand with Drawer Multi-Device Charging Station
More than just a charging dock, this is an entire organiser for your gadgets and electronic cables. It has a wooden design, with 4 slots for phones and tablets and a pull-out drawer at the bottom. It has ample cutouts for cable pass-throughs, meaning you can plug in small gadgets and hide them away. The front slot has 3 charging cable pass-throughs at the bottom, which lets and clears the clutter on your desk. With the phones propped up and charging, you can play a movie or play soothing visuals. The slots themselves are quite wide and spacious, which means you can even dock larger gadgets such as tablets and bigger phones. The bottom drawer is a safe space to store all the charging cables.
COSOOS Fastest Charging Station with Power Delivery & Quick Charge 3.0
This 5 slot charging docking station is the last charging hub you'll ever need – it has partitions to keep phones and tablets, along with USB ports at one side which helps keep things neat and tidy. If you don't have enough cables to charge all your devices, fret not because you get lots of them with this docking station. It has support for all Android phones and iPhone modes, along with charging up wireless earbuds, smartwatches, and a host of other mobile gadgets. It is safe to charge all your devices at once- it has over surge protection, voltage protection and safeguards against voltage spikes as well.