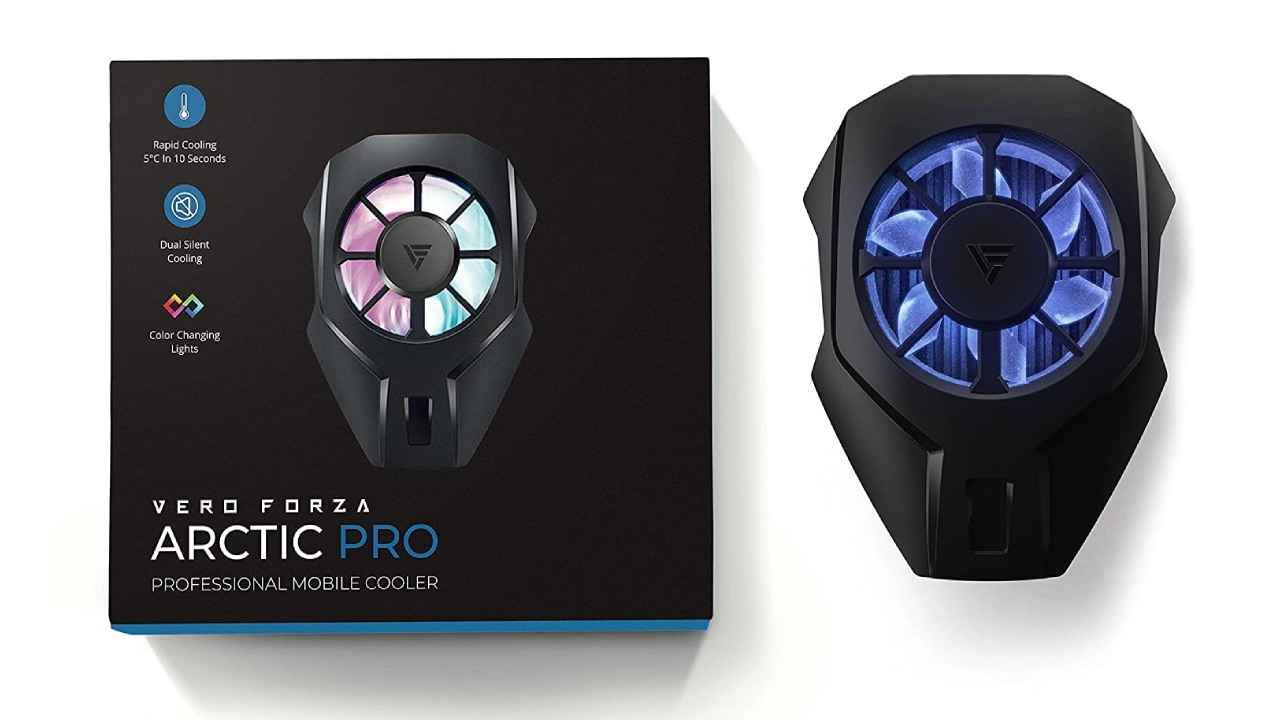 When gaming on mobile phones, it is vital to keep a check on the mobile temperature. Unlike gaming laptops, gaming phones do not house fans or cooling vents, with a few exceptions. To counter this, you can invest in a mobile cooling fan, which can help you avoid CPU and GPU throttling during extended gaming sessions. Mobile cooling fans come with a small heatsink and a fast spinning, outward firing fan. This allows the cooler to suck in heat from the back panel of your phone and expel it outward, keeping internal temperatures in check and maintaining performance by avoiding throttling. Here are some cooling fans for extended gaming on mobile phones.
Vero Forza Arctic PRO Refrigerated Mobile Cooler
Here is a lightweight mobile cooler that can fit smartphones of all sizes. It comes in a compact size that can be adjusted according to your smartphone thanks to the extendable arm. The fan housing features a USB-C power socket that powers the fan and the inbuilt RGB. The entire mechanism is very compact and silent while running. When playing PUBG, COD or Fortnite for long hours, the fan will help cool your phone down.
Apobob Black Shark 2 Pro Phone Cooler with Display Temperature
This is a highly efficient and functional phone cooler for the most serious gamers out there. It has a powerful fan, along with impressive heat absorption technology. The cooler can extend in width, which means that it is a good fit for all iPhones and Android phones. It comes with a cooling radiator to enable efficient cooling, which makes the cooling process much faster. What's interesting about this cooler is that it comes with a small display to show the backplate temperature of your smartphone. The fan has in-built dynamic RGB lighting as well, which adds some personality to the cooler.
Memo Semi-Conductor Technology Mobile Cooler
This cooling fan promises great performance on mobile phones of all sizes. It claims to be able to cool your phone all the way down to 8℃, in prime conditions. Apart from that, the cooling fan boasts fast fan rotation speed, a refrigeration module, a thermal aluminium block, a cold terminal, which combine to enhance gaming performance on your smartphone. Even if you play for long hours, the cooler won't have a negative effect on the smartphone – it latches on to the sides with padded edges, which keep your phone secure from scratches. You need not worry about battery life and can easily power this through your battery bank.
CROGIE Mobile Phone USB Cooling Fan
The Crogie cooling fan is one for users on a budget. It is cost-effective, gets the job done, and manages to work as a stand for your mobile phone as well. If your phone faces heating issues a lot, this cooling fan will help you out. You can even use it when your phone charges, which will help conserve battery in the long run. The fan comes with an inbuilt heatsink and a plastic housing, making it rather lightweight even as it does a good job of cooling your phone. The lightweight design also helps you use it without the weight being a burden.