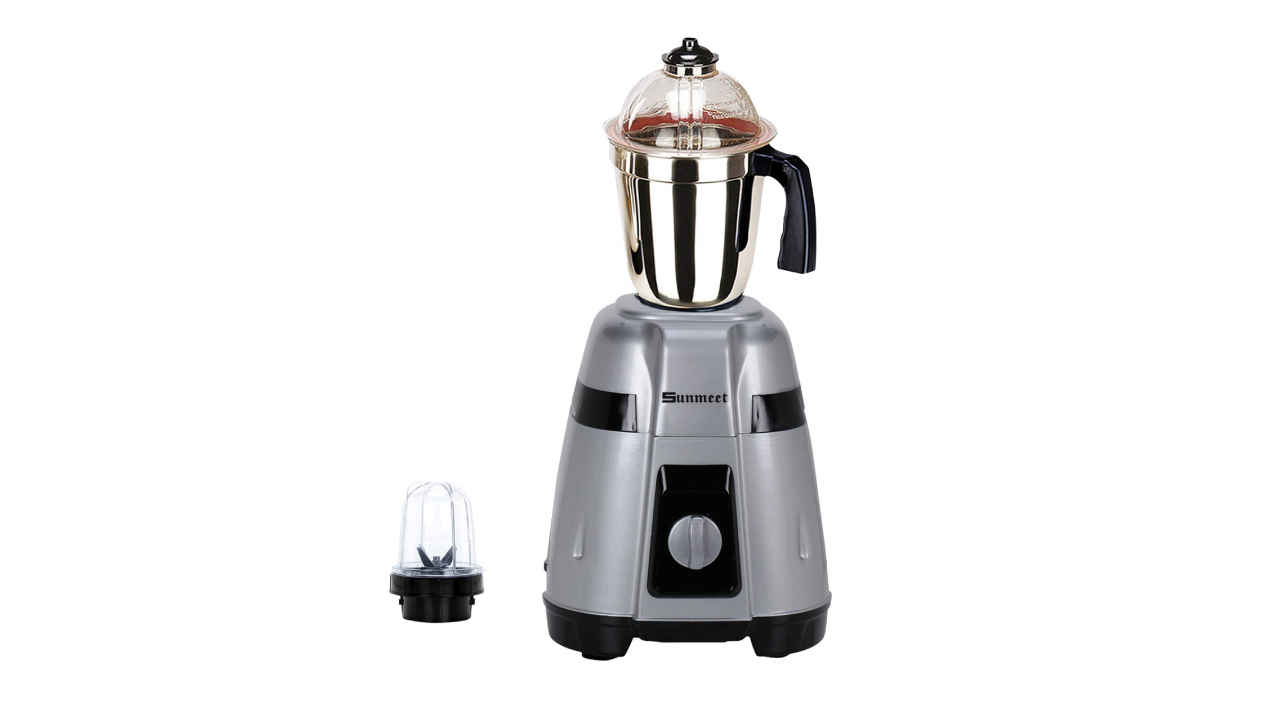 The higher the wattage of a mixer's motor, the more power it is likely to offer while grinding up ingredients. If you rely on your mixer for almost all your recipes, then you need a product with 1000W power so that you can pulverise even the toughest ingredients in no time. Not sure which mixer you should get? Here are a few good options from Amazon to check out:
Vidiem MG 567 A Jumbo Mix Pro 1000 Watts Mixer Grinder
The Vidiem MG 567 Mixer comes with three different sized jars to help with all your cooking and grinding needs. The Master Jar is sized at 1.5L and should be perfect for grinding batter for Ildi, Dosa and more. The 1.0-L Multi Jar is used for both dry and wet grinding to make your chutneys and gravies. Finally, the Marvel Jar is 0.5-L and is perfect for a variety of chutneys and masalas. It consists of a 4- Point Jar Lock System facilitating an easy pick-and-place operation, ensuring the proper seating of jars and mating of couplers. This should result in an efficient hands-free operation. It comes with a 1.5mm thick heavy-duty hardened and ribbed SS 304 Blade which dynamically balances itself, preventing any sort of wear and tear.
Sunmeet Galaxy 1000 watts Mixer Grinder with 2 Jars
The Sunmeet Galaxy Mixer Grinder comes with a newly designed powerful motor for continuous grinding. The 1000W motor should give you the perfect grinding experience even with tough ingredients such as carrots and beetroots. The advanced air ventilation system of the mixer provides faster cooling of the appliance, which ensures a longer life of the motor. This will allow you to make pastes and chutneys back-to-back without worrying about overheating the system. It also consists of a built-in overload protector for motor safety. The coupler is made of tough plastic for firm engagement between the jars and the body, which in turn ensures continuous grinding of the ingredients while you focus on your cooking. It also comes with a shock-proof body with vacuum rubber legs, which makes it safe for you to use in the kitchen.
Maharaja Whiteline MX-213 Joy Turbo HD 1000W Mixer Grinder Premium
The Maharaja Whiteline mixer is equipped with a 1000-Watt pure copper motor, allowing this mixer grinder to grind even the toughest of ingredients with ease and perfection. Along with this, the motor functions at a speed of 22000 RPM and delivers quick grinding. This should make sure that your food is made in no time when the guests arrive unexpectedly. The Maharaja Joy Turbo HD ensures longer operations and less overheating due to its air ventilation system, facilitating a longer usage time than regular mixers. The package consists of a 1.5-L Liquidising Jar for juicing, 1-L Dry Grinding Jar for grinding Indian masalas and 0.4-L Chutney Grinding Jar for preparing chutney and purees. With this, you have different jars to cater to your various cooking needs.
Butterfly Bhima 1000W Mixer Grinder 4 Jar
The Butterfly Bhima mixer comes with exclusively designed premium stainless-steel jars that are rust-resistant and made of food-grade materials. The stainless-steel material resists corrosion and makes the jars stain-proof, thus promising durability and the safe grinding of fruits and vegetables of your choice. It comes with 360-degree ventilation around the body, which keeps the motor cool by eliminating the hot air through its vent. It also comes with a Juicer Jar that has an easy-to-use pusher. The pusher is an advantage as it helps to extract more juice and acts as an enveloping cap, thereby ensuring zero wastage. The juicer Jar can be used for dual functions – it can work as an extractor and also for blending purposes. It comes with unique, strong blades that grind masalas into smooth powder and batters into a smooth paste.
Inalsa Mixer Grinder Vito Blend-1000W
The Inalsa Vito Blend Nutri Blender comes with two BPA-Free Tritan Jars (1.0-L and 0.45-L). This power blender is equipped with a 2-speed functionality. You can start with speed 1 for grinding food into soft paste slowly and gradually and then go for speed 2 for quick and efficient mixing and getting lump-free even texture. The brand claims that this product replaces up to nine appliances as it can crush, blend, chop, grind, process, puree, or liquify. It claims to help create larger servings of ice blended coffee, dips, sauce, or margaritas and might just prove to be the highlight of your house parties. The Variable Speed Control and Pulse feature of the mixer let you manually fine-tune the texture of any ingredient.