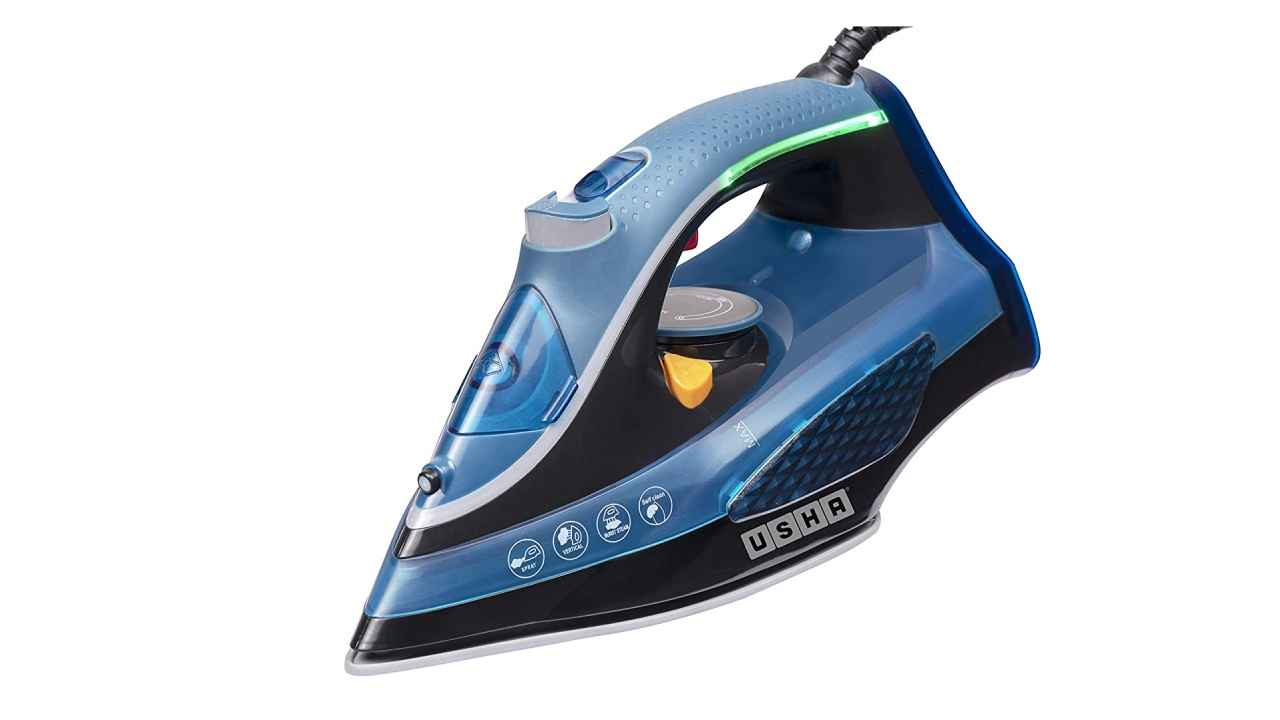 Are you losing your favourite outfits to scorch marks because of a rusty old iron? Older irons were generally hard on clothes, but now you can invest in an all-new steam iron, complete with a ceramic soleplate. This will help you keep your clothes in pristine condition for years. Say goodbye to not just scorch marks but also to wrinkles and crinkles. However, picking a steam iron can be quite a difficult task. So, here is a list of some of the best steam irons that come with ceramic soleplates, ideal for avoiding scorch marks over the years.
Philips EasySpeed Plus Steam Iron GC2145/20-2200W
This easy-going steam iron from Philips is easy to use, with a ceramic plate and efficient steam emission. The neatest part of this steam iron is its ability to evenly distribute steam for quick ironing in fewer strokes, making the process more efficient. This powerful steam also kills bacteria and removes odour from your clothes. The 30g/min continuous flow of steam makes for consistent performance throughout the usage time. It packs in up to 110g Steam Boost to address stubborn creases, leaving your clothes soft and wrinkle-free. At the bottom, it has a scratch-resistant ceramic soleplate for a smooth glide on various fabrics so that you can iron all clothes alike.
USHA Aqua Glow Smart Steam Iron 2000 W
Here is a steam iron that claims to be smart. It certainly has a few features that set it apart. For one, it has a LED strip light that indicates when the iron is heating and when it is ready for use. The iron supports a steam output of up to 20 gm/ min for quick crease removal, and it packs a large 300ml water tank for longer ironing sessions, so you are not interrupted. Incidentally, the cord on this one swivels 360 degrees so that you can get all the angles and edges of clothes. Another feature that helps eliminate stubborn wrinkles is the Horizontal and Vertical Steam Burst function.
Inalsa Flair 2200 W Ceramic Non-stick Soleplate Steam Iron
This steam iron from Inalsa offers several useful features at a very reasonable price. It can heat up fast, and the ceramic soleplate helps evenly spread the heat. It helps you get rid of stubborn creases by allowing 22g/min steam to penetrate into the fabric, which cleans out wrinkles quickly, and in a single swipe. It features an Anti-drip mode to avoid water dripping and an Anti-calc system to help remove calcium deposits. With the help of efficient steam blasters, it can iron out clothes smoothly, even with tough fabrics. It has a 350ml water tank, which is great for long ironing sessions.
BLACK+DECKER Steam Iron Press 2400-Watt with Ceramic Sole Plate Coating
The Black+Decker Steam Iron Press 2400-watt with auto shut off and ceramic soleplate coating is a neat steam ironing machine. It is quite stylish and packs in quite a lot of ironing performance. It has a 380ml water tank, which effectively releases steam via the ceramic soleplate at the bottom. Paired with the warm steam, the ceramic soleplate bottom flattens your clothes. It completely gets rid of all wrinkles and leaves your clothes soft and fresh. The middle has a knob that lets you adjust the temperature according to the fabric you're working on to get the best possible ironing results.