Autodesk University India 2016, the annual flagship event from Autodesk, was organised today on the 1st September, 2016. The event saw multiple imminent speakers enlighten the audience about the current state of the design industry as well the future where it is headed. They also spoke about some very interesting product changes from Autodesk.
Patrick Williams, Senior Vice President APAC, AUTODESK, started off the event by highlighting the importance of harnessing the latest technology when it comes to making Make in India a success. He also stated that according to findings, the local manufacturing industry is going to be worth around 1 trillion USD by 2025, and with that in perspective, it is imperative that the industry catches up to the latest technology trends and that is exactly what Autodesk aims to do. With the gradual merging of manufacturing and the design process, being able to use the easiest tools for optimizing the entire process has become very important.
Make in India
Pradeep Nair, Managing Director, Autodesk India & SAARC, highlighted Autodesk's contributions to the Make in India initiative from the Government of India. Autodesk had signed an MoU with the Government of Maharashtra to provide their cloud based CAD solution Fusion 360 at attractive costs and in some cases, even for free to small scale entrepreneurs and MSMEs. These Fusion partners were invited on stage and felicitated.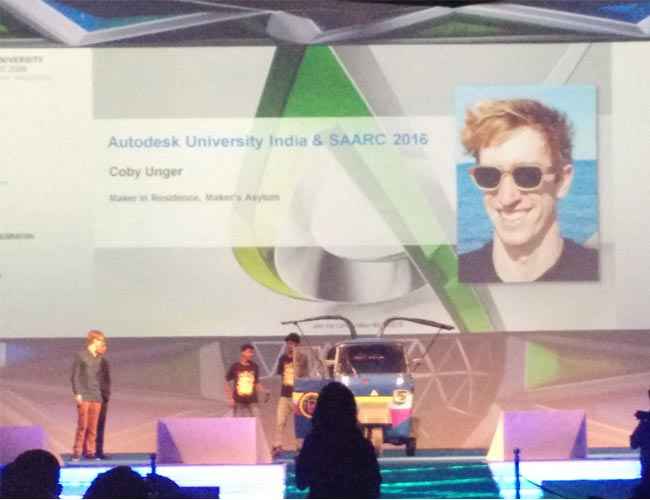 The Maker's Auto team with the Auto onstage
Also highlighted was the Maker's Auto, which was launched last month at the Maker's Asylum in Mumbai. The Auto was developed by Maker in Residence Coby Unger with his team, with the aim of promoting hands on work and development across the city.
Future of Making Things
Before we say anything else, we just have to give a hat-tip to Steve Blum for his amazing entrance into the keynote auditorium.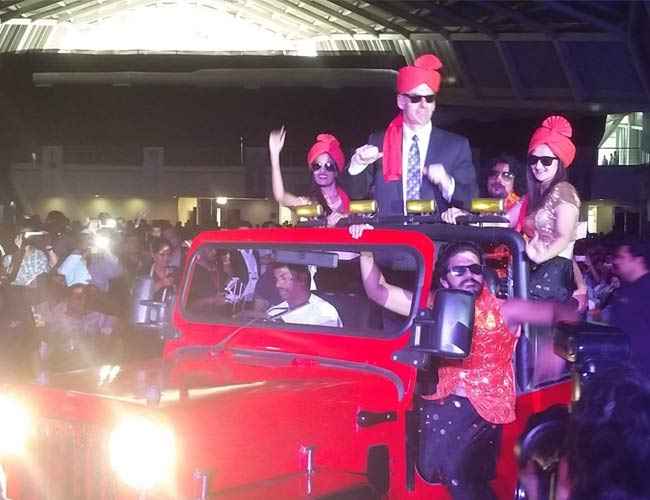 Steve Blum, Senior Vice President, Worldwide sales and Services at AUTODESK making an awesome entrance
Post that Mr. Steve Blum, Senior Vice President, Worldwide sales and Services at AUTODESK, took us through several brilliant examples of how innovation in the design process has completely changes the way certain companies are operating and solving problems. Some of the interesting ones are:
CONXTECH - A California based construction company that has modularised the construction process to bring down build times considerably - according to Steve Blum, the structure of a 10,000sq.ft building was completed in a single day.
Beasts of Balance a.k.a Fabulous beasts - A game developed as a kickstarter (now successful after raising £168,360) since January, using 3D printing to create a gameplay connected with your smartphone or tablet. The character models for the game were created using 3D printing.
Ford - the Ford Augmented Reality Lab uses VR and AR to test car design and simulate environments around them. This gives the user a complete visual experience of the car without a car actually being present around them. Potential applications are remote car demos.
Premier Deicers, Seattle - recovered from a major failure at the Seattle airport by implementing sensors onto each and every stage of their process to get better insights.
McCarthy Building Companies Inc. - Used cloud to manage scale and save more than 17000 man hours.
Atomic Fiction - Small scale Visual effects studio that has utilized cloud services to get access to top end hardware and eventually compete with big studios. They have worked on the visual effects for Star Trek, Game of Thrones, Empire and the hollywood movie The Walk.
Airbus concept plane - Using generative design algorithm to create a new design for the bionic partition on the Airbus, based on natural slime growth and mammal bone growth patterns. The redesign reduced the weight by 35kgs per seat.
Under Armour - Another example of generative design, the sportswear brand manufacture the first completely 3D printed shoes using Fusion 360 and generative design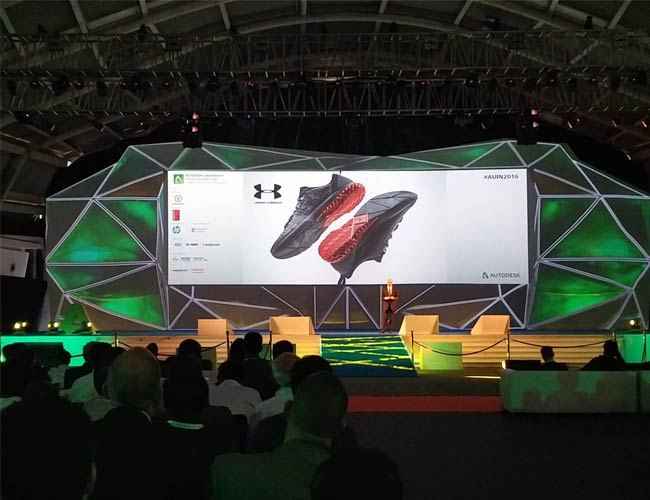 Steve Blum talking about Under Armour's 3D printed shoes
Autodesk Collections
Mr. Patrick Williams announced the new Autodesk Collections, under which Autodesk will be offering its products under 3 industry targeted suites. The suites are:
ARCHITECTURE, ENGINEERING & CONSTRUCTION COLLECTION - Revit, AutoCAD Civil 3D, InfraWorks 360 (US site), AutoCAD
PRODUCT DESIGN COLLECTION - Inventor Professional, AutoCAD
MEDIA & ENTERTAINMENT COLLECTION - Maya, 3dsMax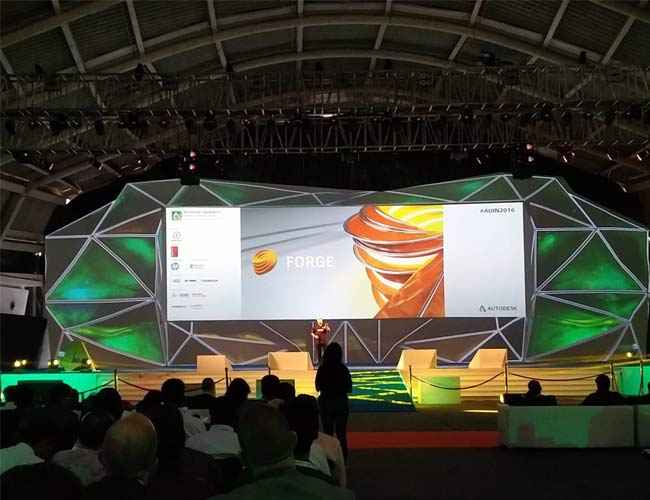 Mr. Patrick Williams talking about Forge from Autodesk
Mr. Williams also showcased Autodesk foundation, which is a CSR undertaking from Autodesk, under which they have sponsored multiple NGOs and social organisations to help them achieve their goals.
We also got to know about some really interesting and significant undertakings from Autodesk. They have worked with the Government of Rajasthan to digitise heritage structures completely, so that they can be experienced and remembered for longer. Along with that, they have also worked with NASA and the Smithsonian Museum to create a digital model of the original Apollo 11 capsule that landed on the moon. You can check it out here.
Autodesk Gallery
An entire section was devoted to stalls that demonstrated Autodesk's diverse portfolio of products, like Stingray, Autodesk's offering for 3D game development and design visualisation. There were also stalls that highlighted partner products like the Microsoft Surface.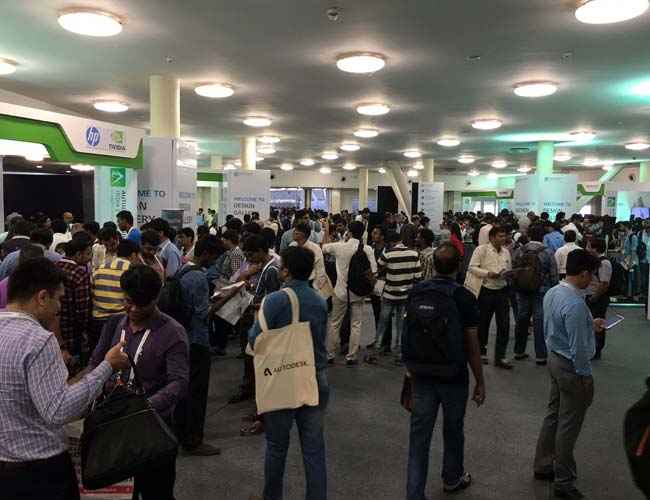 Autodesk Gallery
India Maker Movement
An entire floor at the event was dedicated to the India Maker Movement, another Autodesk initiative to highlight Makers and the Maker culture in India. We interacted with almost all the makers present and it was really exciting to see the kind of work they have done. From a fully functional mind controlled wheelchair to a physical automated chessboard, from an open source Satellite base station to a prototype for a smart ring, the ideas ranged across all possible areas and every maker was equally enthusiastic about what they had created.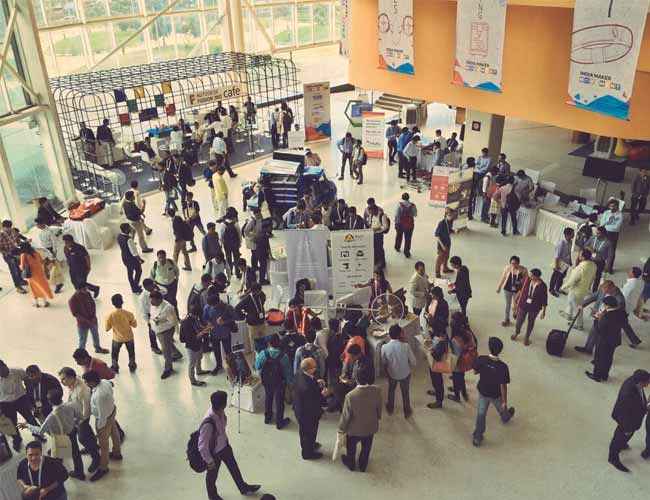 The India Maker Movement space at the event - These guys make stuff up!!
In Conclusion
Right from the beginning, it was quite evident that the event was a success, with the large crowd that had showed up at the venue and was enthusiastically attending each session. Insights from the Industry experts were really informative and we are quite sure that Autodesk did not fail to create an impression on the young students and decision makers in the crowd.