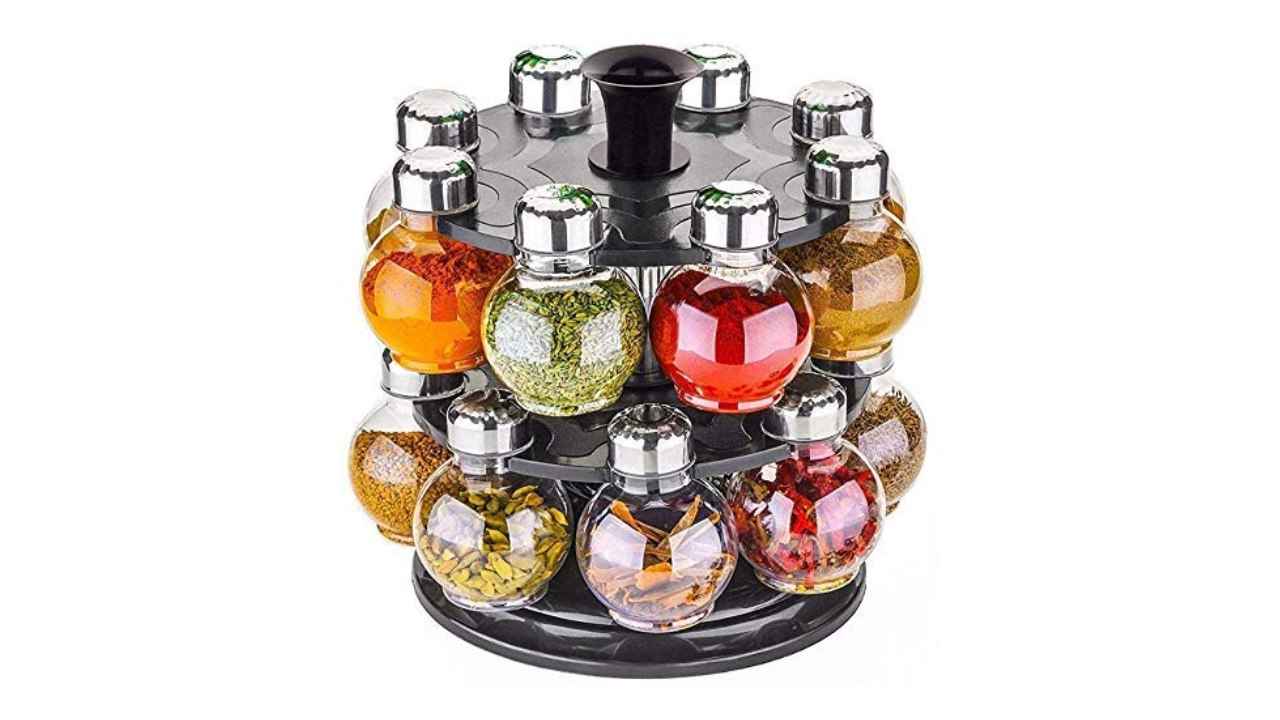 If you're fond of using a lot of spices while cooking, but hate the mess they make in your pantry, then it's time to get yourself a handy spice rack. Spice racks typically come with airtight jars that prevent the spices from losing their potency or absorbing too much moisture. With stackable jars, cute designs, and compact builds, these racks help you save space while also being super convenient. Here are four spice racks that you can buy on Amazon.
Trueware Spice Rack
The Trueware Spice Rack is a square-shaped spice rack with eight slots for spice jars. Each spice jar has a capacity of 100 ml, which should mean that you won't have to keep replenishing them too often. The rack is made of high-quality plastic and has a faux wooden finish to give it a premium look. This spice rack can swivel 360 degrees so you can find the desired spice jar with ease. It only weighs 100 grams and is quite compact, meaning it won't take up a lot of space in your kitchen.
Owlstone Exim Spice Rack
The Owlstone Exim Spice Rack is ideal for those who experiment with various spices and herbs, as it holds 16 transparent jars at a time. The rack itself swivels 360 degrees so that you can locate the jar you want and pluck it out of the rack. Each jar is made of BPA-free food-grade plastic and holds up to 80 ml of spices. They have a rotating lid with two holes that dispense different quantities of spice at a time. This spice rack is claimed to be unbreakable as it is made of high-quality ABS thermoplastic. It is also scratch-resistant and dishwasher safe.
Solimo Spice Rack
The Solimo Spice Rack holds 12 spice jars that have a capacity of 120 ml each, making them rather sizable when compared to most spice racks in the market. The rack itself revolves easily so that you can find the spice you need. It is made with food-grade, BPA-free plastic and is therefore shatterproof (both the rack and the jars are made of ABS plastic). The lids on the spice jar can be twisted to open them. Each lid has a plastic sifter inserted in the body, allowing you to fill the jar properly. This spice rack is dishwasher friendly.
Pramukh Fashion Multipurpose Spice Rack
The Pramukh Fashion Multipurpose Spice Rack is made with ABS plastic, which makes it durable, dishwasher safe, and transparent. This three-layer spice rack fits 18 spice jars and has a revolving base for easy access anytime. The spice jars have a unique triangular shape and tight lids that open to reveal two dispenser holes. It has a large storage capacity owing to the number of jars it accommodates and their size. All parts of this spice rack are detachable, so you can clean them anytime.