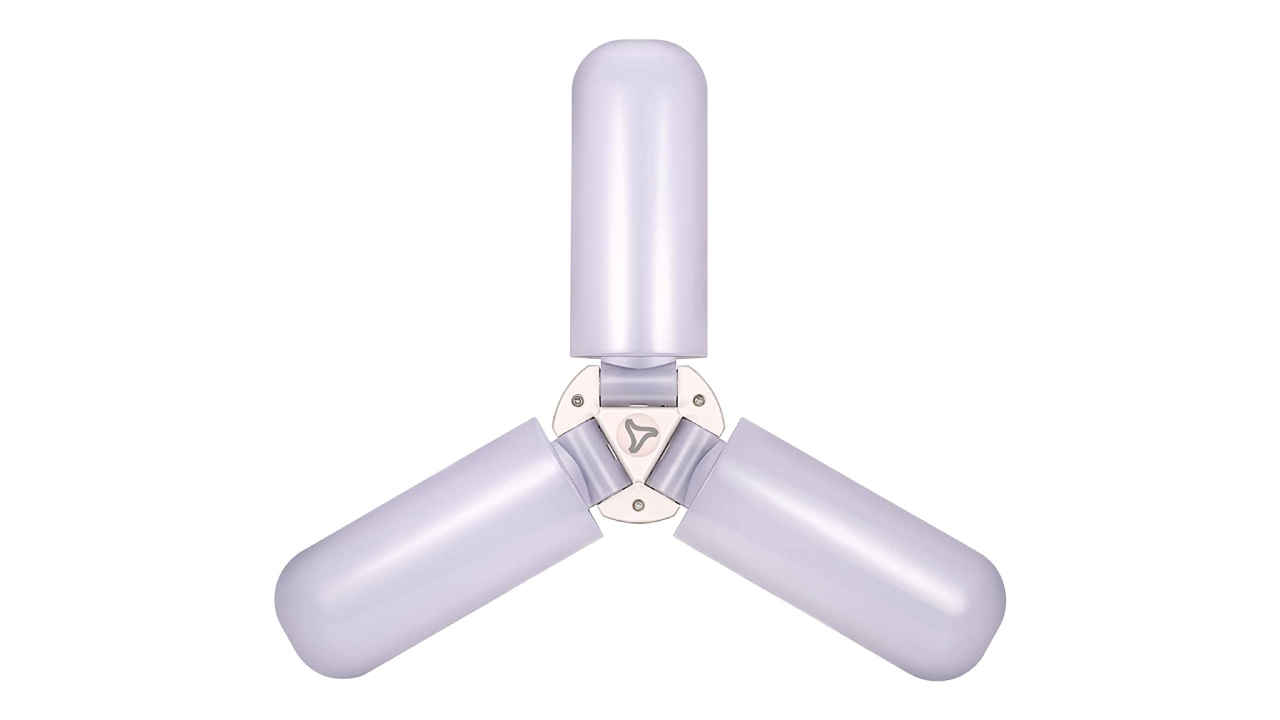 Be it home decor or clothes, we all love it when others compliment our choice. Even though there is a wide range of paints and wallpapers that one can choose from, picking the right lighting can make all the difference. While the colour does matter, picking a unique design can also give a complete makeover to your room, and these foldable fan-shaped LEDs can serve this purpose quite well. So read on to know more about these LEDs and how they can enhance the charm of your space.
Pick Ur Needs® B22 Foldable LED
This LED bulb by Pick Ur Needs has a unique fan-shaped design that serves the purpose of lighting up your room without compromising on the style quotient. Designed like mango folds, it has 5 LEDs in the form of fan blades along with a central LED. The best part is that their position can be adjusted as per the requirement to light up your room in the desired manner. The light can be installed in your backyard, guest room, or elsewhere as this 60W light equipment can provide optimum lighting in a wider area without consuming outrageous amounts of power. It can fit into B22 bulb holders, which are very common in Indian homes. Its body is made of good quality plastic which provides it with a sturdy build, thus making it a great replacement for traditional bulbs and tubes.
Syska FAB-4001 LED
Every time there is a discussion about energy-efficient lights, Syska is mentioned as the company has proved to be instrumental in revolutionising the industry. The Syska FAB-4001 LED is a fan-shaped light that can be folded to change the lighting as per your needs. It can either be spread out or folded to increase or decrease the area to be lit up. It can be fit into traditional B-22 holders, which means it can be installed without professional expertise with ease. The company claims that the bulb is made of good quality materials that are environment-friendly (mercury and lead-free). It does not emit harmful UV rays, thus ensuring everyone's safety. The LED consumes 40 watts of power, emits cool and natural light, and has a colour temperature of 6500 Kelvin, making it ideal for indoor lighting. Last but not least, it can last for up to 15,000 hours and has a CRI of over 70 (as claimed by Syska).
VIZAG OPTIMIZE Ceiling Light
This ceiling light features 4 blade LEDs and one in the centre. The light draws 36 watts of power, measures 10 × 10 × 10 centimetres in dimensions, and weighs 250 grams. It can last more than 30,000 hours (as per tests conducted by the company), so you won't have to worry about replacing it frequently. It is relatively easy to install (compatible with B22 holders) and is ideal for spaces like closets, cabinets, corridors, bathrooms, and workshops. It can save up to 80% more energy than old incandescent lights and provides you with comfortable, glare-free lighting. It has a build-in heat dispersion feature that helps the LEDs dissipate heat quickly, and this helps with increasing their lifetime. Moreover, you can fold the light, and its lampshade ensures high light transmittance, uniform illumination and minimal flickering.
Plum Flower Lamp
Yet another unique light by Pick Ur Needs, this foldable LED light has a flower-like shape that gives it an antique look that can blend well with classical, modern and minimalistic interiors. It features five adjustable LED heads that are ultra-bright and can light up your home while saving up to 85% energy! It has a quick and safe heat conduction mechanism that ensures uniform heat dissipation and is shock-proof. It helps in increasing the life of the lamps, so you have to replace them less often. It has an average lifetime of 35,000 hours and can spread light over 270 degrees for widespread lighting. You can also adjust the light blades making this product a good fit for garages and workspace.