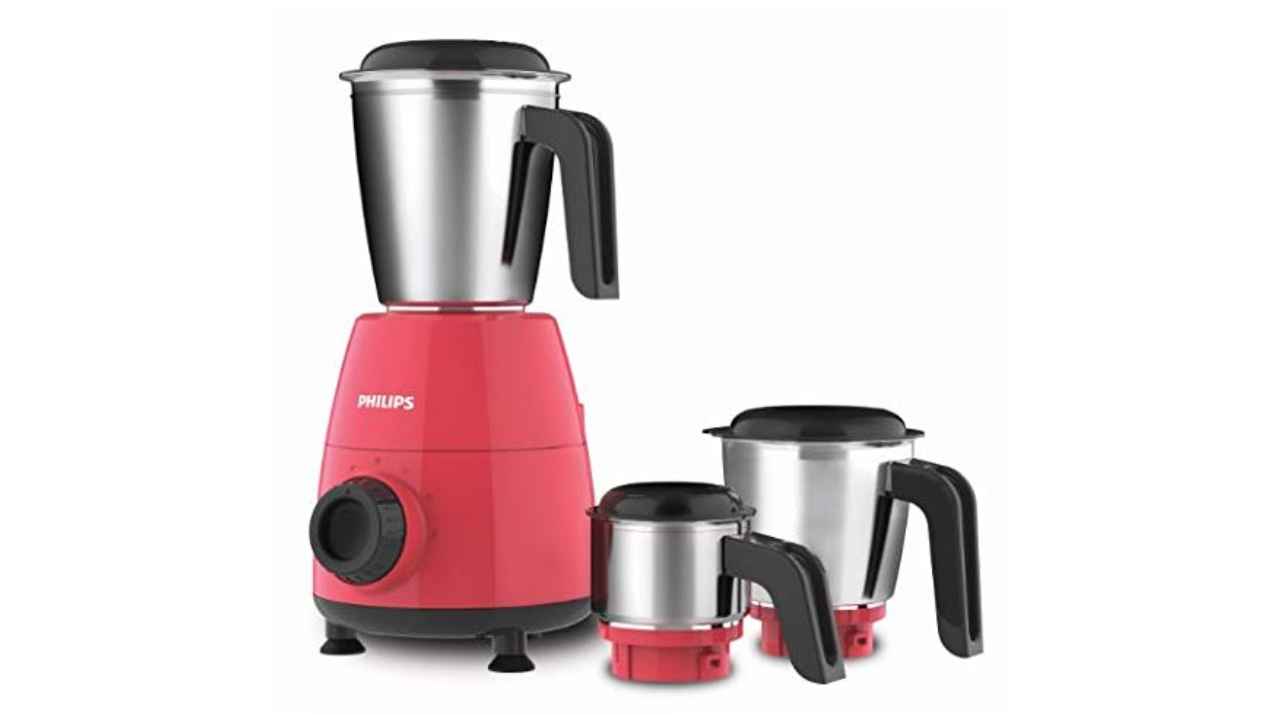 The right mixer grinder doesn't always have to be the most powerful one with a very high capacity motor. If you don't need a lot of power and your mixing-grinding needs are basic, there are many advantages in going for a 500W mixer grinder. For example, you'll have to spend less at the outset, not to mention you'll save a bit on your electricity bills as well. If you focus on a model with all the accessories you need, then you can even get better value for your money. You can also get a comparatively, quieter operation with these models. So, to help you get one, we've shortlisted some mixer-grinders available on Amazon based on their specs and features.
Amazon Brand – Solimo 500W Mixer Grinder
The stainless steel build of the Solimo 500W mixer grinder ensures durability and ease of cleaning. The model also emphasises safety, as exemplified by its ISI certified three-pin plug and food-grade materials. The mixer comes with multifunctional blades that can be used with the three included jars to achieve a variety of results. The capacities available on the jars are 0.4L, 1L and 1.25L, which also helps you give your ingredients the treatment they need. For aesthetic purposes, the white exterior can add a hint of class to any kitchen shelf you store it on.
Havells ASPRO
To give you a greater degree of control, the Havells ASPRO comes with three levels of power control and a pulse mode for even finer manipulation of its performance. The base of the model comes with an anti-slip vacuum grip that keeps it from slipping or moving when the machine is running. The jar design features flow-breakers for better results. The model also incorporates reliable materials in its build with an ABS Body and break-resistant polycarbonate jar dome cover and lid. The motor can push itself to 21000 RPM at no load, signifying that it is capable of delivering good performance even when loaded.
Eveready MG500i LX Mixer Grinder
The MG500i comes with jars with curved handles enabling you to place them on and remove them from the machine easily. The jar covers are designed for a secure fit, and you need not worry about any accidental spills. The mixer grinder comes with suction-based anti-skid feet that prevent skidding and slipping. The complementary blue and white colours on the exterior make the MG500i a stylish product. You can choose between three speeds and an incher functionality to regulate the mixer grinder's power and performance. The overload protection feature on the model keeps it safe from unsafe temperatures under heavier loads.
Philips HL7505/02 500-Watt Mixer Grinder
The Philips mixer grinder uses food-grade material for its jars, which also make it rust-resistant. This dual-layer of safety protects the appliance and your food at the same time. The lids of its jars ensure zero spillage, thanks to specially designed gaskets. The model is also compact and, hence, convenient to store in your kitchen. The same build also keeps it steady during heavy usage. The combination of the high grip handle and a uniquely designed locking system keeps the jars in place. The doughnut-shaped knob to operate the machine is an interesting choice and makes it ergonomic.
Bajaj Rex Mixer Grinder
The 20000 RPM mixing speed of the Bajaj Mixer Grinder aims to deliver perfectly mixed and well-grounded results. It features a 2 in 1 Blade design for increased efficiency. The high-quality ABS plastic used on the model lends it a visual appeal along with making it rust-resistant. With three jars ranging from 0.4L to 1.2L and three-blade speeds, you can process the ingredients as per your need. The 500W motor promises to deliver enough power for the toughest ingredients. Its skid-proof feet can keep it stable under high load.
Cookwell Bullet Mixer Grinder
The compact build of the Cookwell Bullet mixer grinder is one of its defining characteristics. It features blending, mixing, juicing, grinding, and chopping capabilities, saving you the need to keep multiple appliances in your kitchen for these objectives. It has a combination of five jars and three blades to fulfil all your requirements. The model also gives you the option to pick between two types of lids – one standard and one portable. The latter is excellent for drinking juices and smoothies straight out of the jar. With a high RPM of 22000, you can get perfectly blended smoothies whenever you need them. Another useful addition is the Cream Blade for frothy mixes.