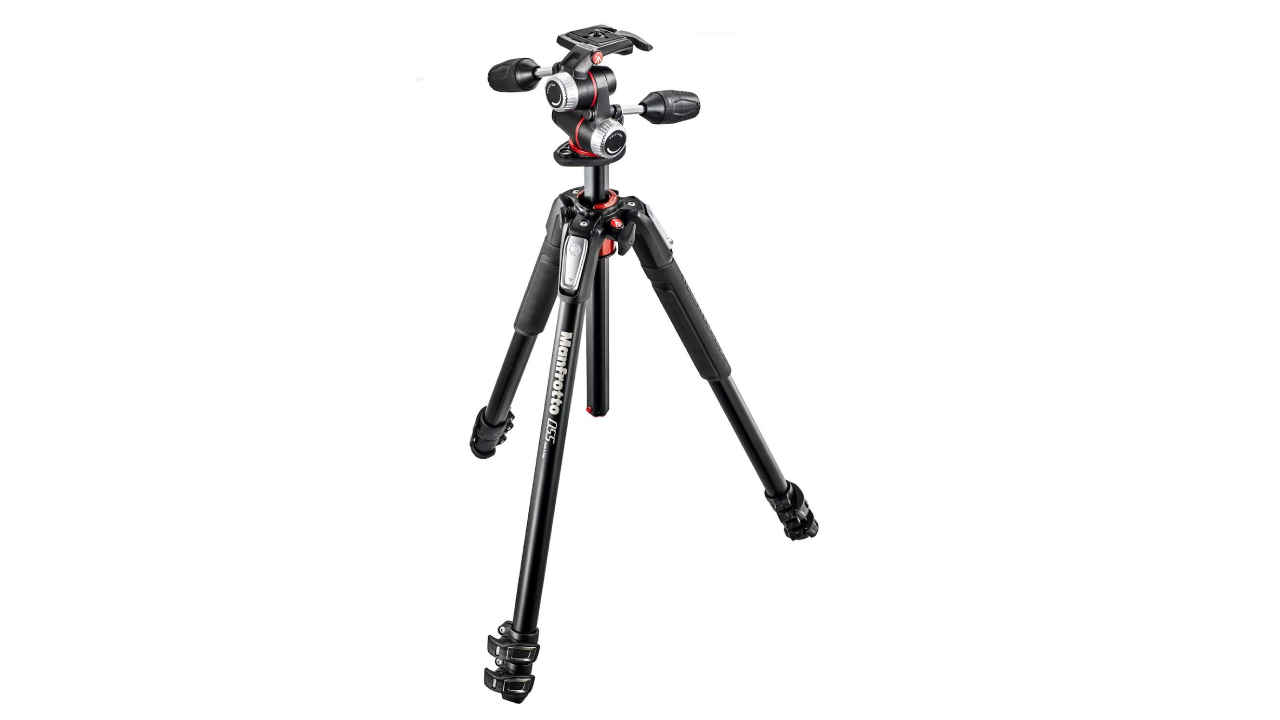 Irrespective of whether you are a professional or a beginner photographer, a tripod is one unavoidable accessory that you should have to click sharp pictures of good quality. No matter how great you are at hand-held photography, you cannot match the stability that a tripod provides and this alone should be a good enough reason for you to get one. A tripod is very important for wedding photography, landscape photography, portrait shots, fashion shoots and pretty much all the different genres of photography. You should look for a tripod that has an easy lock and grip system, premium build quality and additional ergonomic features that makes it apt for professional use. However, a lower-priced tripod should be good enough for a beginner. Check out the following list of tripods available on Amazon and identify the one that resonates the most with your needs!
AmazonBasics 50-Inch Lightweight Tripod
If you are looking to just try your hand at photography, then investing in a low-end but reliable tripod makes the most sense. The AmazonBasics 50-Inch Lightweight Tripod should be an ideal choice for you as it is one of the most affordable tripods in the market with all the basic features. The tripod is made of lightweight aluminium, weighing in at around 400 grams. It is ideal for slow-motion videos, landscape and portrait photography, but be wary of using it to support heavy and big lenses. It comes with 3-section lock-lever legs for easy height adjustment. The quick-release plates make it easy for you to get those smooth transitions between shots. You will also get a zipper carry bag with this tripod.
Manfrotto MK055XPRO3 Tripod
If you're looking for a tripod that can handle heavy lenses and deliver stability, then you can't go wrong with this one. This premium aluminium 3-section tripod boasts of a quick-release plate and 3-way head that aid in an extensive range of photography and video applications. The 3.49kg tripod can handle up to 8kg weight, and you can easily switch from vertical to a horizontal position, thanks to the 90-degree centre column placed in the upper casting. The Quick Power Lock levers block and unblock each leg section, allowing a single-handed opening for your convenience and greater stability. The free-rotating bubble level is built at the centre column's top for easy access in all settings. Its minimum height is 3.5-inch, and the maximum is 72.1-inch.
Digitek Professional Aluminium Tripod
Here is a multifunctional tripod that also works as a monopod from Digitek. This professional aluminium tripod comes with a multipurpose head that enables you to indulge in low-level shooting, panning and other functions. You get a maximum height of 4.95-ft with this strong tripod that can bear up to 7kg of load, according to Digitek. The adjustable legs allow you to hold the camera at extremely low angles as well, giving you the option to get macro shots on a tripod stand, which is not possible with a number of tripods. The overall weight of the tripod stands at 1.47kg, making it quite lightweight and easy to carry around. The heavy-duty build quality makes it ideal for even adventure tours where you are on the road for a long time.
DIGITEK DPTR 605 VD (72 Inch) Heavy Duty Tripod
This feature-packed tripod by DIGITEK is one of the best heavy-duty tripods you can lay your hands on. It comes with a 2-way adjustable pan-head, and is made of premium aluminium but weighs only 4.4kg and can support up to 20kg of weight. It has a maximum operating height of six-feet and has a collapsible design, including a rotatable handle and contractible legs. You can capture creative pictures with its wide range of user-friendly features including the handy tilt motion and 360-degree swivel function. In addition, it's height adjustable, the clip lock provides rigidity and the multipurpose quick release head allows for easy transition. The bubblehead can detect and adjust the horizontal position to ensure that the tripod is level on an uneven ground also.
AmazonBasics 60-Inch Tripod
If you are on the lookout for a decent tripod without breaking the bank, then this one by AmazonBasics might be right for you. This lightweight tripod is compatible with most cameras, GoPro devices, smartphone adapters and scopes. The tripod's legs can be extended from 20 to 48-inch. The inbuilt level between the legs and at the top ensures stability. The 1.23kg tripod boasts of two inbuilt bubble view levels and a 3-way head which allows tilt and swivel motions so you can capture every moment perfectly. The quick-release mounting plate ensures a fast transition between shots. It is easy to set up the tripod, and its zipped carrying case makes it convenient to store and carry everywhere!
Vanguard VEO 3+ 263 Tripod
The list would have been incomplete without mentioning this all-in-one tripod by Vanguard. The VEO 3+ tripod is an easy-to-operate, aluminium, all-in-one tripod. The 2.6-kg tripod has a multi-angle central column (MACC) system which allows 360-degree movement and can be used as a multi-mount when paired with the VEO+ MA1 adapter. All three models boast a leg that can act as a monopod, detachable spiked feet for better stability and VEO BH-160 ball head compatible with Arca. The tripod has quick-twist leg locks and Computer Numeric Control (CNC) technology for increased stability. The three adjustable leg angles (23°, 50°, 80°) make it a great option for all kinds of photoshoots. All the parts treated using advanced processes ensure longer lifetime.