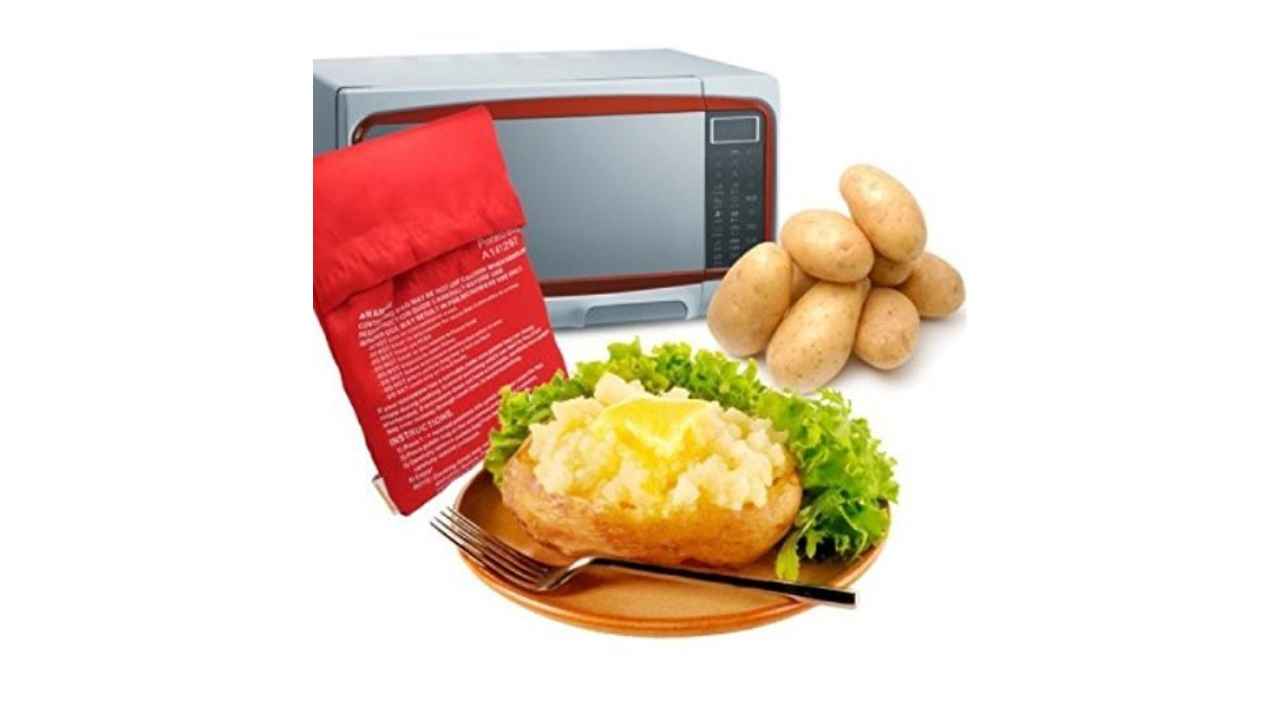 If you have recently purchased a microwave but don't feel you can use it in the best way possible, this article might prove to be useful. You might need some additional kitchen tools to help you create mouth-watering delicacies without being forced to deal with overcooked food or messy kitchen platforms! We have curated a list of some of the most efficient microwave/oven accessories that every modern kitchen should have.
Tupperware Aluminium Steamer
This high-quality multipurpose steamer made of aluminium is a must-have accessory for every microwave owner. It comes with two stackable tiers that allow you to cook two dishes simultaneously, making the cooking process quicker and simpler! This ergonomically designed aluminium steamer is made of premium quality material and is safe to use. The steamer even has markings that indicate the water level to prevent food from sitting in excessive water and getting soggy. The smart venting system helps release the excess steam to prevent overcooking of food. While the cooking time may vary depending on the wattage of your microwave and the quantity of the food, this steamer can help you prepare yummy healthy dishes! So if you want to enjoy some steamed momos and other delicacies while avoiding fried food, then this steamer can prove to be your best friend!
Vishisht Microwave Cooker Bag
This potato cooker bag from Vishisht lets you enjoy perfectly cooked, moist and delicious baked potatoes with tender skin and fluffy insides within six minutes (as claimed by the company). Its unique insulation design helps create a steam pocket with the right moisture, thereby cooking potatoes to perfection. It can help you prepare a scrumptious meal in a matter of minutes while saving time and energy. It can accommodate four full-sized potatoes in one go. The bag is made from polyester fibre cloth, making it safe to use and reusable (you can wash it after use). The bag comes in vibrant colours and is easy to hang after washing. So get ready to enjoy boiled corn, potatoes, and other delicacies in a jiffy by bringing home this multipurpose bag.
Plantex Microwave Oven Fix Stand
This microwave oven stand from Plantex is made from high-grade Gi metal perforated sheet and has a six-layered powder coating. It's resistant to corrosion, so you won't have to worry about dealing with a rusted stand after using it for a few months. The stand can support microwaves with a capacity of up to 30L without being damaged (as mentioned by the company). It can be useful as it keeps the microwave elevated, making it convenient to clean the kitchen platform. It also saves the microwave from damage in case of accidental spills. The stand is quite easy to assemble and has a robust design which makes it durable and reliable. The legs are covered with rubber stoppers which prevent it from slipping and ensure a firm grip on the surface while enabling you to use the microwave without bending down too much.
AmazonBasics Bakeware Set
Baking is usually one of the primary reasons for buying a microwave. But for a new baker or cook, the process is not that easy. A good quality bakeware set can make the entire experience smoother. This bakeware set offers an assortment of essentials needed for baking so that you can create yummy cakes, bread and cupcakes without any trouble! This 6-piece nonstick bakeware set comes with a loaf pan, two cake pans, a 12 cup muffin pan, a roast pan and a baking sheet. These are made of heavyweight carbon steel, which ensures even heating. It also has a non-stick coating that helps prevent food from sticking to the surface, so you won't have trouble cleaning the tools after baking. The set is compatible with OTGs with a capacity of 32 litres (or more) and can handle temperatures up to 500 degrees Fahrenheit (as claimed by the company).