The perfect way to turn your iPhone into a true handheld gaming device, the GameBone by the Australian iPhone developer 22Moo was a product that was almost vapourware, but is now on its way into the real world. Slip it around your iPhone, and get four buttons and a d-pad to game your way through iLife.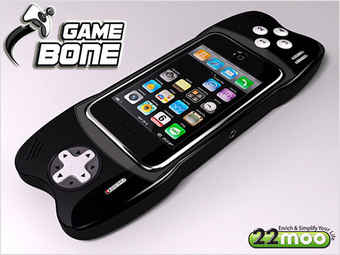 New clip-on version of GameBone
Featuring an 2000mAh battery, start/select buttons, an LED as battery indicator, omni-directional microphone, 3.5mm headphone jack, built-in stereo speakers, and is different from the previous GameBone concept, and is directly affixed onto the handset instead of being connected by Bluetooth.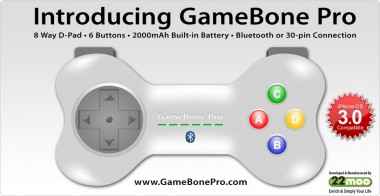 Older, wireless Bluetooth controller version of GameBone
GameBone is currently not supported at present by any games, however, they have released their API and SDK for developers to get started. Major developer Manomio has already said it will be providing support for the GameBone in their upcoming and recent game and application releases, such as Flashback, Commodore 64 emulator app, and an upcoming Amiga emulator app.
22Moo will release the GameBone in Q4 2010, and will be perfect for those gamers and developers who want the advantage of physical input as an alternative to the regular virtual joystick controls.