After a lengthy wait, the Season 6 update for Fortnite Battle Royale is finally here. As expected, the update brings with it a slew of gameplay changes like new outfits, pets, along with changes to the map and more.
One of the most notable changes to the map is the new floating island that is now located above the Loot Lake. According to the video shared by Epic Games, the island is created by 'Kevin the Cube', the large purple cube that landed on the map a few weeks back. The cube slowly made its way to Loot Lake, where it melted and turned the lake purple and bouncy. The update also brings with it a new consumable called Shadow Stones. The stones grant players with temporary powers like invisibility and the ability to phase through walls.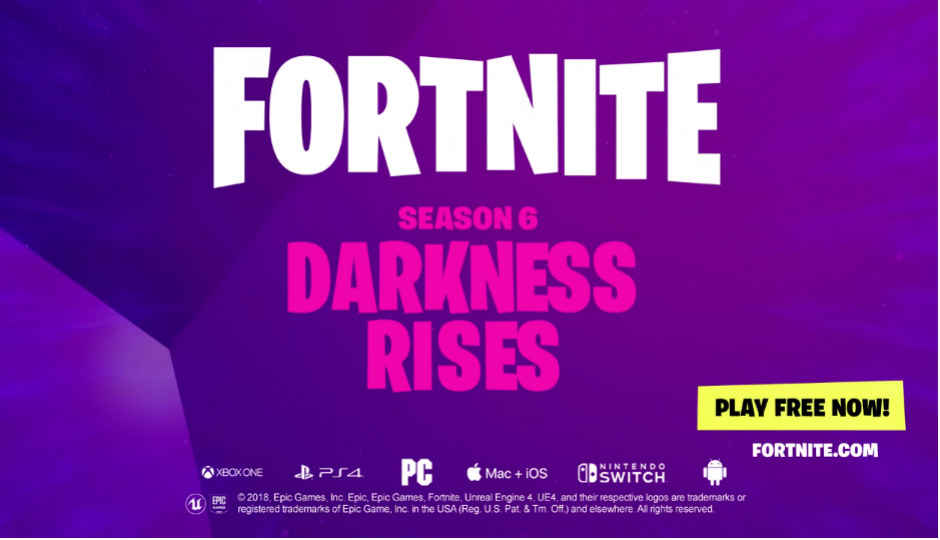 The update also brings Battle Pass for Season 6 and the developer notes that it offers over 100 rewards and is available for 950 VBucks, which is the in-game currency. With the pass, players can level up and earn up to 100 rewards worth over 25,000 VBucks. In addition to this, levelling up the Battle Pass also lets players unlock three new pets, namely Bonse, Scales and Camo. These pets are passive and will not affect the gameplay itself, but will react to different situations. Further, the pass also enables players to access Weekly Challenges for levelling up and earning rewards faster. It also brings two new exclusive outfits, namely Calamity and DJ Yonder.
While most of the updates for Fortnite Battle Royale seem to be working without a hitch, however, there was one that went through unintentionally. First noticed by Twitter users @Agony, it seems like the new 'Calamity' skin showcases exaggerated breast physics when performing the 'jubilation' emote. Kotaku notes that this animation can be seen only for that particular emote and that Epic Games is already working on a fix. "This is unintended, embarrassing, and it was careless for us to let this ship," a spokesperson from Epic Games told the publication. "We are working now to fix this as soon as possible."
The Season 6 update comes just a few days after Sony finally relented on its stance against cross-platform play. The company now allows Fortnite players on the PS4 to play with/against Xbox One and Nintendo Switch games. While support is only in open beta right now, it does point towards more games offering cross-platform play.
Tags:
Fortnite battle Royale Season 6
Fortnite Battle Royale update
Fortnite Battle Royale
Fortnite