It was quite strange of Valve to visit this year's annual Consumer Electronics Show held in Las Vegas, however this year marks Valve's attempts to send gamers in the world of Steam Machines and SteamOS.
Valve's Gabe Newell took the center stage at Valve's CES 2014 event and made them official, revealing specs for their gaming rigs including the likes of Alienware, CyberPower, Gigabyte, iBuyPower and more. In all, there are 13 machines in total, within a price bracket that varies from $500 to $6000 a piece. Each machine has some basic specs, with even the cheapest offering could take on the likes of PS4 and Xbox One.
"The PC platform is successful because we all benefit from each other's accomplishments. "Today we're taking the next step. All of these partner developers are here and are interested in talking to you about your PC moving into the living room," said Newell.
Here's rundown of what was unveiled at Valve's press conference.
Alienware (Price to be announced)
Dell revealed their Steam machine at Valve's event however did not let out a lot of information on what is under the machine's hood. We can see a trademark black basic box, showing off Alienware and Steam logos illuminating along with a pair of front facing USB ports. Not much has been revealed as to what's inside, but the fact that Alienware has traditionally been super powered machine, its safe to say it will come super loaded along with a lot of multiple options.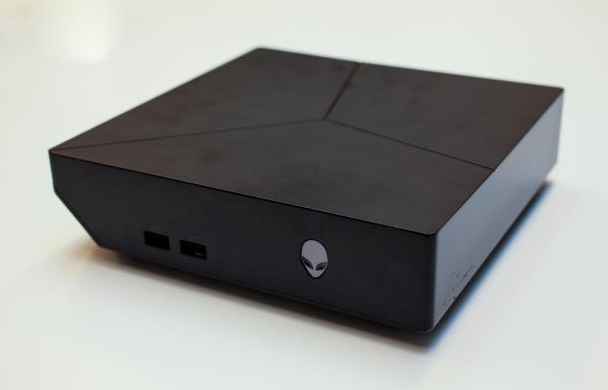 Alternate ($1339)
Alternate looks like a simple cubical box, but does packs some punch. Alternate's Steam Machine features an Intel Core i5 4570, an Nvidia GTX 760 GPU coupled with 16GB of RAM along with 1TB, via a hybrid solid state drive.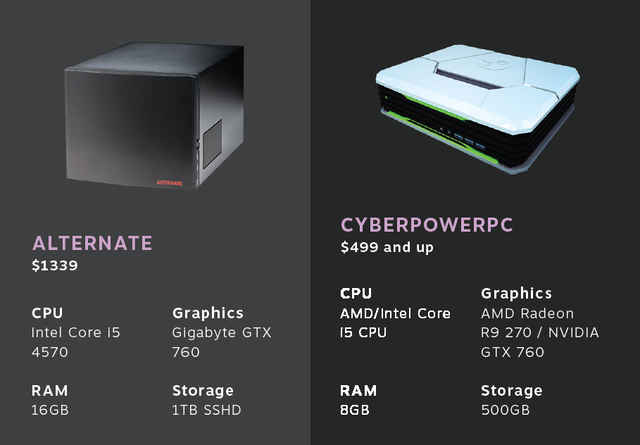 CyberPower PC
Price :TBA
Cyber Power's Steam rig might remind you of the first generation of Xbox consoles. It packs a 3.9Ghz A6 CPU from AMD, a 2GB Radeon R9 270 GPU bundled with 8GB of RAM along with 500 GB of internal storage. For those of you who are not into AMD peripherals, CyberPowerPC is also offering an Intel based architecture with a 3.5Ghz Core i3 coupled with a GeForce GTX 760 instead along with lot of other configurations that a customer can opt for. The device will start shipping in the second half of the year.
Digital Storm "Bolt II" ($2854)
Another Steam machine that made its debut ahead of Valve's event. The Bolt II is powered by an Intel Core i7 4770K, a GTX 780 Ti processor coupled with over 16GB of RAM. It also includes a traditional one-two HDD/SDD combo i.e 1TB of storage on the traditional disc and 120GB on the solid state drive.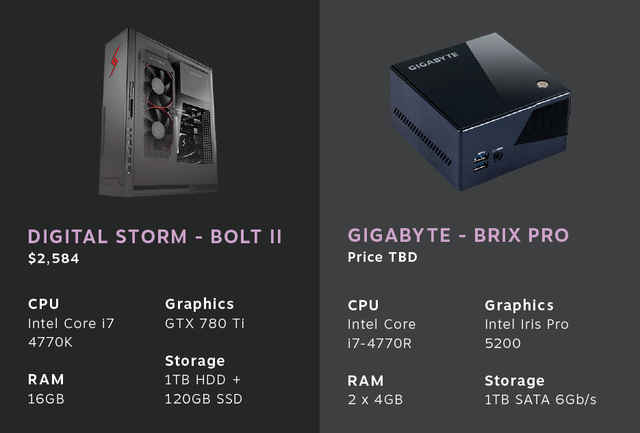 Gigabyte "Brix Pro" (Price: TBD)
This weird looking box features an Intel Core i7 CPU, sources indicate it as having integrated graphics, specifically the Intel Iris Pro 5200. It also sports 16GB RAM along with a 1TB SATA HDD.
iBuyPower - $499 and up
Like so many other Steam machine developers, iBuyPower also offers customers customisable options, so the company did not mention any specific type of processor. CPU's from both Intel and AMD will be available, along with a graphics card from AMD. The box has an 8GB RAM and over 500GB storage. Moreover, this machine looks pretty slick much like you see with next gen consoles.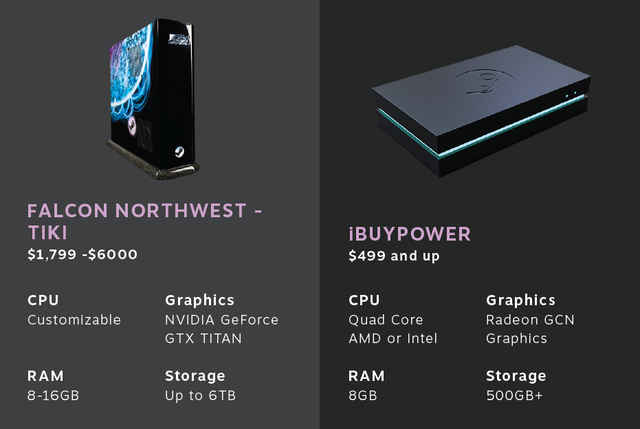 Falcon Northwest "Tiki" ($1,799 - $6,000)
Falcon's northwest Tiki 's Steam version looks exactly similar to the currently available Tiki, except for the SteamOS and a Steam controller. In terms of specs, there are a lot of options, up to GTX Titan in terms of GPU, 6TB of storage coupled with up to 16GB of RAM.
Materiel.net ($1,098)
Material is offering a box just like your next gen consoles, just a tad more powerful than what the next gen consoles are offering. It features an Intel Core i5 CPU, an NVIDIA GTX 760 GPU, 8GB of RAM and 1TB of storage, along with big enough power upgrades at a very good price.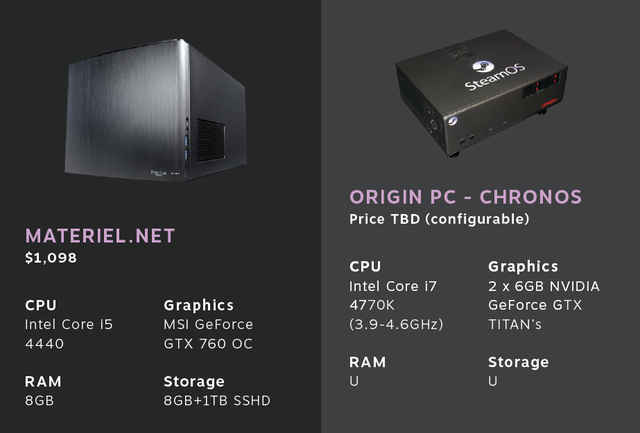 Origin PC "Chronos" (Price: TBD)
Origin Steam Machine are offering gigantic PC setup with an Intel Core i7, NVIDIA GTX Titan GPUs, 32GB of RAM and 14TB of storage (with swappable drives). We can figure why the price has not been announced yet.
Next "Spa" (Price: TBD)
Now the Next's Steam is more or less just like the PS4 and Xbox One, comes with an Intel Core i5, an NVIDIA GT 760 GPU, 8GB of RAM and 1TB storage. There is no information regarding its price however going by the specs on offer, it seems it'll be priced just below $1000.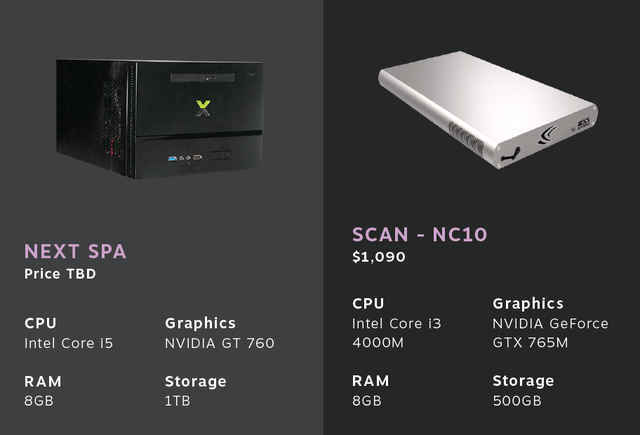 Scan "NC10" ($1,090)
This flat slab of a Steam Machine is a mixed bag with high end NVIDIA GTX 765M GPU and a low end (Intel Core i3 CPU). It comes with 8GB of RAM and 500GB of HDD storage points to the fact that this is a rig mostly for game streaming.
Webhallen ($1,499)
Now this is high end Steam Machine with an Intel Core i7 CPU, an NVIDIA GTX 780 GPU, 16GB of RAM, and a 1TB SSHD. It might have double the power what the next gens offer, but double the price might make it hard to sell.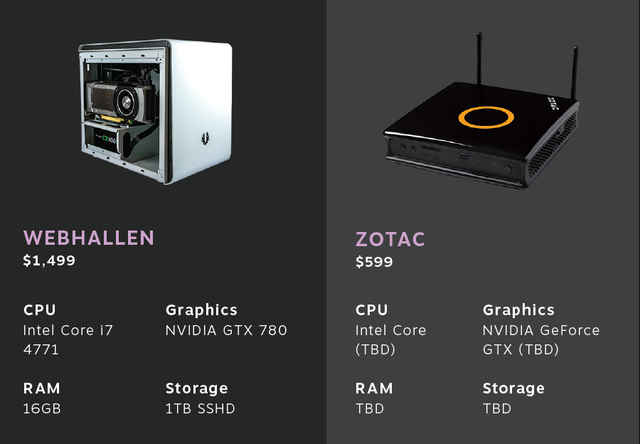 Zotac ($599)
Zotac's got a tiny compact box, that features an unnamed Intel Core CPU, an NVIDIA GTX GPU. There is no information regarding the RAM neither, however from the looks of it, it does look like a power packed rig that matches up with next gen consoles, as the price is quite close to price what next gens have on offer.
Source: Engadget