The UK-exclusive collector's edition for Batman: Arkham origins has been unveiled. Priced at £79.99, apart from a copy of the game, the box includes an 80 page art book, metal game case, the Deathstroke challenge pack, and a "1st Appearance" Batman skin.But the real deal is the 12-inch Batman and Joker 'bromance' statue.
The collector's edition is scheduled for a launch on October 25 for £80, and will only be available via Amazon UK. The PS3 version,Arkham Origins' CE includes the Knightfall pack.Unfortunately, the Wii U owners will be deprived of a collector's edition, including the multiplayer option. The same goes for the PC.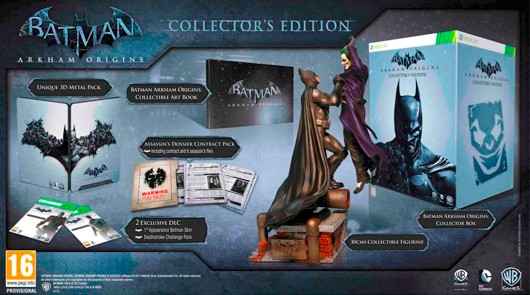 The game is expected to be one of the most exciting titles which comes at a very pivotal moment of time for the gaming industry. Hopefully, the games captures the Batman DNA like its predecessors Asylum or City did.The game is set before the events of Batman: Arkham Asylum and Batman: Arkham City, which follows the "young and unrefined" Batman, who embarks onto becoming the Dark Knight, eventually meeting new characters and forming key relationships, the game is definitely an exciting prospect.
The US version of the collector's edition will be launched next week and we hope that the collector's edition goes global.
Source: Joystiq