Highlights:
An 11-year old kid has reportedly appealed to the Maharashtra Govt to ban PUBG.
The letter stems from the kid's belief that the game promotes "violence, murder, aggression, looting, gaming addiction and cyber bullying."

PlayerUnknown's Battlegrounds is becoming synonymous with battle royale genre of games, at least in India. The mobile version of the game is also doing well with over 30 million daily active players, however, there are instances where the title is considered addictive and a distraction for students. It was recently banned from primary schools in Gujarat and now, India Today reports that an 11-year old kid named Ahad has requested the Maharashtra Government to ban the famous online multiplayer game as it promotes barbarousness and cyber bullying. The letter sent by him is said to be an "appeal to forthwith ban online game PlayerUnknown's Battlegrounds [PUBG] as it promotes immoral conduct such as violence, murder, aggression, looting, gaming addiction and cyber bullying".
Ahad's appeal further states that if the game is not banned, "I will be compelled to seek appropriate legal [civil and criminal] proceeding as per law; naturally at your cost and consequences." As per the report, the letter was marked to seven prominent personalities in the government including Maharashtra's Chief Minister Devendra Fadnavis, MEITY minister Ravi Shankar Prasad, Maharashtra education minister Vinod Tawde, among others. Apparently, Ahad is considering filing a Public Interest Litigation (PIL) in the Bombay High Court since he has not received any reply for his appeal yet.
Ahad's concerns of PUBG being addictive might have some weight since we have come across reports that some people were severely affected as they played the game for several hours continuously. However, as the saying goes, too much of anything is bad for you and this goes not only for PUBG but for almost everything. Additionally, we would like to know if Ahad is 11 years old, why did his parents allow him to play a game that is rated for a 16+ audience? Many of you might not know but PUBG Mobile is rated playable for anyone who is of age 16 and above and this is clearly mentioned on the title's Google Play store page. The game does contain violence but most action-adventure shooter games are the same.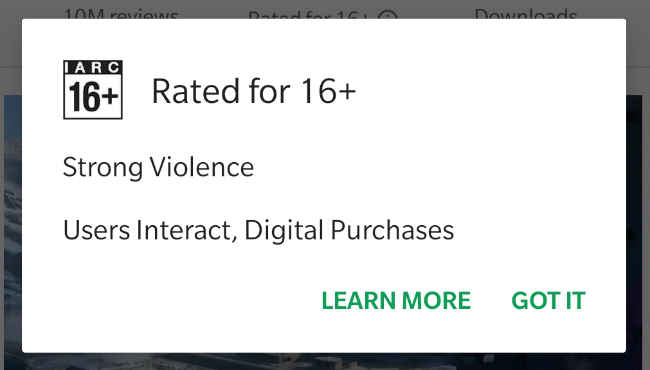 PUBG Mobile age rating on the Google Play Store
The battle royale game is so well known that the Prime Minister of India recently referred to it in the context of being addictive. In an event called "Pariksha pe Charcha 2.0" (Discussions on Exams 2.0), the mother of a class-IX student said that her son is so inclined towards online gaming that it is affecting his studies. She asked the PM for a solution for this to which Modi replied, "Ye PUBG wala hai kya?" (Is he one of the PUBG players?). As soon as he said the words, the crowd at the event burst out into applause.
As we mentioned earlier, PUBG is banned in primary schools in Gujarat as the state government's primary education department issued a circular asking district authorities to implement a ban on the game. The circular is said to have been issued after Gujarat State Commission for Protection of Child Rights made a recommendation to do so as children were supposedly getting addicted to the game and it was "adversely affecting their studies". Earlier, the Jammu and Kashmir Students Association asked the state's governor to ban PUBG Mobile for the same reason and because it was said to be highly addictive and the reason for poor performance of students in Class X and XII exams.
We would like to point out that PUBG, on mobile devices, is rated for players of age 16 and above. On PC, Xbox One, and PS4 has ESRB rating of Teen, which is generally suitable for ages 13 and up.
Related Reads:
"PUBG Wala hai kya?" asks PM Modi addressing online gaming during Pariksha Pe Charcha event
PUBG Mobile ban sought in J&K as Students Association deems it more addictive than drugs
PUBG Mobile 0.11.0 Beta update goes live, introduces RE2: Sunset zombie mode, new weather for Vikendi and more