Player Unknown Battlegrounds is one of most popular battle royale games and there are a fair amount of cheats who would try to get an unfair advantage to get that chicken dinner. However, the company has been actively banning such people to level the playing field, 13 million to be exact. A Reddit user, sjk045, arrived at this number by scrounging through 69 Bluehole posts on the company's Official Korean PUBG Cafe website. The company has been posting the usernames of all the banned players weekly since June 16, 2017, and till now there have been a total of 69 weekly bans.
The Redditor says that as per the data, this is the first week where the number of cheaters have dropped below 100,000 since the 25th week. However, considering that number of active players has also dropped below one million in about a year, the ratio of players to cheaters that are being banned does not bode well for the PUBG community as banned players could simply be repurchasing the game and logging in with a new user ID. PUBG is so popular that some of its items are sold off for real money, similar to Dota 2. To bank on this, some users employ aimbots, speed hacks, and other techniques to quickly rank up.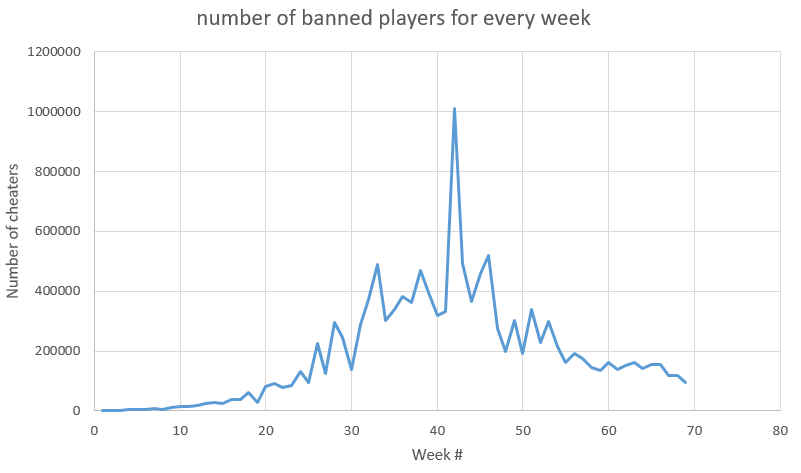 PlayerUnknown's Battlegrounds on the PC was recently updated to version 22 on its test servers. The new update brings a host of new features, alongside the customary bug fixes. Most notable new feature is a ranking system and a new 'wheel menu' UI option that will enable users to quickly access items in their inventory. Update 22 is currently available on the test server, and should make its way to other players sometime later. The new ranking system will also help ensure evenly matched players being sent in together in a match. There will be a total of eight ranks, which will be assigned based on 'Rank Points'. In order to earn their first rank, players will need to play 10 provisional matches. Further, rank promotion or demotion is decided by total rank points. The Statistics page will now feature rank KDA, Avg. damage, etc. more clearly. It will also display up to 100 ranks. You can read more about the new update here.