Western Digital's new TV Mini Media Player allows you to watch video files (Divx, Xvid, RealVideo, AVI) from your PC or laptop on your TV in HD
According to research firm Parks Associates, the average consumer household currently has approximately 298 GB of digital media, which will reach approximately 898 GB of digital media by 2012. These large personal digital libraries are all but trapped on users' computers. In order to play their content on their TV, consumers have struggled with clumsy solutions such as copying onto multiple CDs and DVDs or connecting their PCs to their TVs via wires or complicated home networking solutions.
Western Digital's new Mini Media Player might be the affordable and mess-free solution you are looking for.
"The new WD TV Mini Media Player unlocks the content from their PCs and storage devices and makes it simple for people to enjoy their media on their home theater system, without the need to spend time configuring a complicated device or transcoding files to make them compatible," said Dale Pistilli, vice president of marketing for WD's Branded Products Group.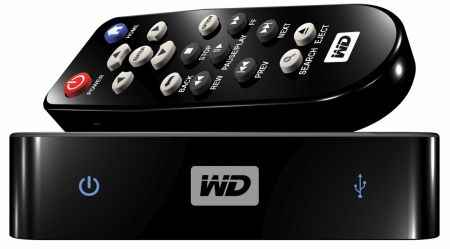 The new iteration of the popular device now enables playback of RealVideo content and provides a more affordable way for consumers to play their stored digital content in up to 1080i HD resolution directly on their HD television.
"The popularity of the RealVideo format and its compatibility with the WD TV Mini Media Player makes it an excellent solution for consumers who wish to enjoy their RealVideo content on their TVs," said Scott Nelson, director of business development for RealNetworks.
The WD TV Mini Media Player connects to a user's TV or home theater and plays digital movies, music and photos stored on USB drives such as the best-selling WD My Passport portable drive. As with other WD TV models, it supports playback of digital media on most USB mass storage devices such as digital camcorders and digital cameras.
The 'Mini' is meant to highlight the new compact design, which is small and portable enough that users can easily take it with them when they travel and play their digital media anywhere on any TV.
Features of the WD TV Mini Media Player include:
Play video, music and photos on your TV in up to 1080i HD resolution
Supports widest variety of file formats including RealMedia Variable Bitrate (RMVB)
Rich HD 1080i advanced navigation and user interface
DVD-like navigation with chapter support, trick modes and subtitles
Expandable: buy more storage, delete fewer movies
Photo slideshow with unique transitions and music on your HD TV
Thumbnail support including photo thumbnails and music album art
Ability to preview your video during navigation (480 and 720 mode only)
Video, music and photo auto-play for user's digital signage solution
Subtitle support including multi-language subtitle support for video playback
Picture Transfer Protocol to view or backup content from your digital image device
Compatible with USB Camcorders and USB mass storage devices
Component and composite video output
Digital optical audio output via SPDIF
Ultra-compact design making it perfectly portable for travel
The new WD TV Mini Media Player retails at Rs 6,000 with a 1-year warranty.