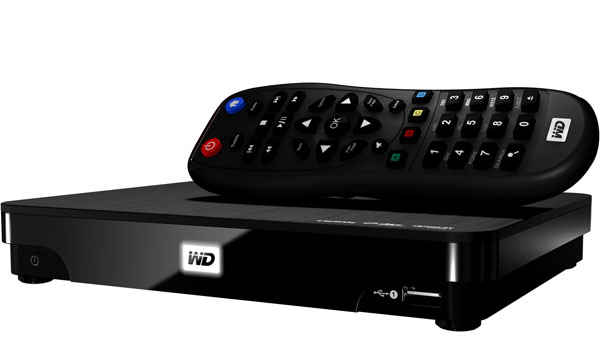 Western Digital introduced its latest HD media player - the WD TV Live Hub Media Centre - today in Mumbai. The Live Hub media player will be available in the Indian market by the end of December 2010 and will be priced at Rs. 9,999.
The Live Hub media centre is a full-HD 1080p media player which houses a 1 TB network hard drive within it. It has features like integrated media server, integrated iTunes media server,video feeds via the internet, social networking integration in the form of Facebook and Flickr apps among other features.
Live Hub TV also allows you to connect devices like DSLR, compact cameras, external drives, camcorders via the USB port. "With the WD TV Live Hub media centre, consumers can take their home entertainment experience to the next level, streaming personal content to multiple rooms at the same time," said Khwaja Saifuddin, senior director sales (Middle East, Africa and South Asia), Western Digital.
The user interface of the Live Hub is quite presentable with an option of personalising the screen background image. Facebook integration was quite unique which allows users to update status, upload photos, view their wall, get the latest newsfeed, in-short do everything that you normally can on a Facebook app. You might need a wireless keyboard if you will use Facebook on the Live Hub as the remote will not do justice. You can also view photos remotely on your iPhones via a WD Photo app - which is presently only available for the iPhone - provided the Live Hub is powered on.
Earlier in the day, WD showcased its roadmap for the upcoming year. It included an updated line up of internal hard drives from 250 GB all the way to 3TB having a SATA 3.0 ie 6Gbps interface. WD stressed on the Caviar Green - the eco-friendly segment of hard drives to be available in the 2.5TB and 3TB capacities.
When asked if WD was planning to come out with any hybrid hard drives in the near future, Daniel Mauerhofer, senior public relations manager, WD said, "We are working on that technology, but our research showed that there wasn't a great demand for such drives. As of now it is not a volumes market."
WD TV Live Hub Media Centre Specifications
Interface : Gigabit Ethernet, USB 2.0, HDMI
Composite A/V, Component Video, Optical audio
Capacity : 1 TB
Dimensions : 198 x 154 x 32 mm
File format support
Video : AVI (Xvid, AVC, MPEG1/2/4), MPG/MPEG, VOB, MKV (h.264, x.264, AVC, MPEG1/2/4, VC-1), TS/TP/M2T (MPEG1/2/4, AVC, VC-1), MP4/MOV (MPEG4, h.264), M2TS, WMV9
Photo : JPEG, GIF, TIF/TIFF, BMP, PNG
Audio : MP3, WAV/PCM/LPCM, WMA, AAC, FLAC, MKA, AIF/AIFF, OGG, Dolby Digital, DTS
Playlist : PLS, M3U, WPL
Subtitle : SRT, ASS, SSA, SUB, SMI