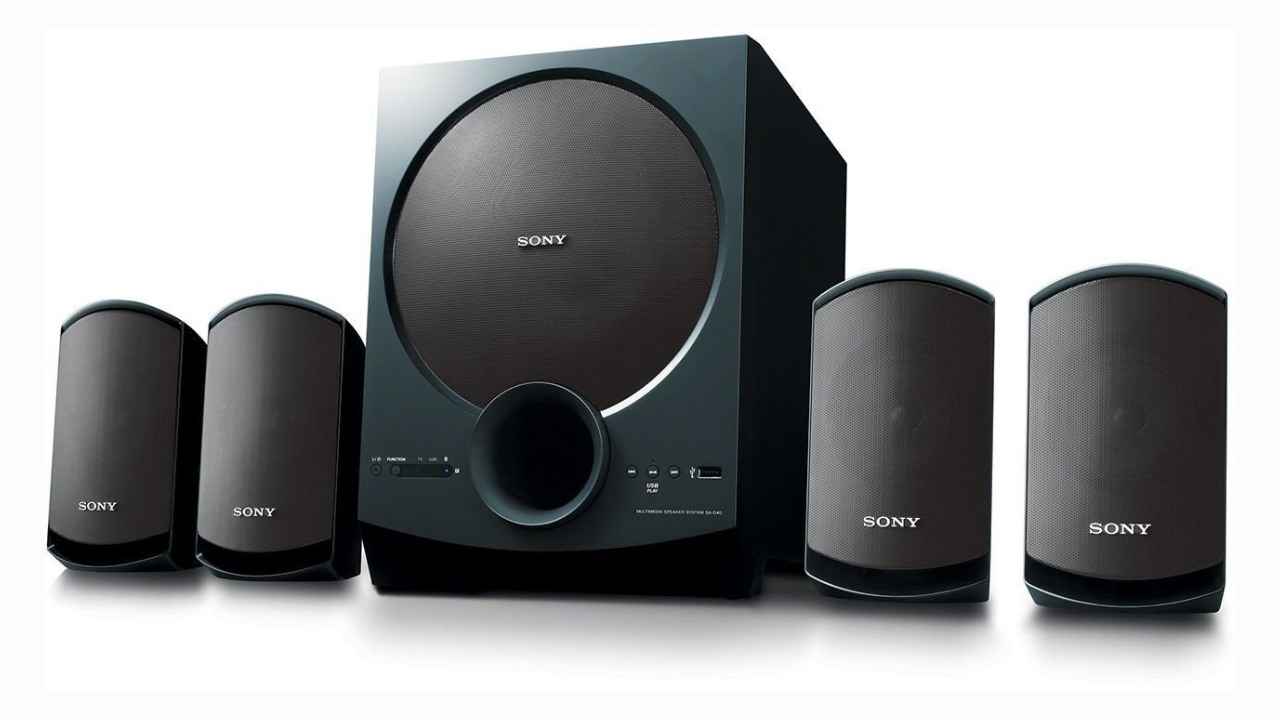 Getting a theatre-like movie viewing experience at home is no longer a far fetched dream. With so many pocket-friendly surround sound 4.1 channel speakers to choose from, it is easy to upgrade your music, movie, gaming or media centre. 4.1 channel speakers come with 4 small speakers which you can place around your house and control with a single unit or even your mobile device. If you place them in different parts of the room, you can get an immersive experience no matter the content you choose to stream on it. The next time you have a watch party at your place, be sure to get one of these out. So, here are some of the best 4.1 channel speakers which you can find on Amazon.
Sony SA-D40 4.1 Channel Multimedia Speaker System with Bluetooth
The Sony SA-D40s come with Bluetooth functionality. Once you're done setting up your 4 speakers in different parts of the room, simply connect your mobile device or laptop to the subwoofer and enjoy bass and amplified sound quality. Connectivity options on these 4.1 channel speakers include Bluetooth and USB, which is plug and play. The speakers have a sound and bass output of up to 80W, which is good enough for getting the most out of your movies, games or music. The speakers also have a stylish glossy finish, which should add to the aesthetic of your room.
Zebronics Zeb-Pristine
Here is a 4.1 channel speaker which works with your phone or mobile device in multiple ways- you can hook up your phone via an AUX cable for high-quality audio or Bluetooth for added convenience during parties. The 4.1 channel speakers also support USB play and microSD cards, which makes it easy to mix and match your favourite tunes, no matter where they are stored. The main unit comes with RGB lighting for style, an LED display to show key information and an array of controls, which makes it easy to set-up and control. The Zebronics Zeb-Pristine claims to work best when hooked up to a PC, or a TV, for an optimal movie or gaming experiences. The speakers also come with in-built FM radio, which is a niche feature.
Philips SPA8180B
These are 4.1 channel speakers which are built with a home theatre system in mind. The speakers come with a handy remote control. If you've got the speakers wired up, you can remotely control key functions such as source, sound, levels and bass. Once you've placed the speakers around your room, you can fine-tune the level of sound coming out of each of the different units to ensure the best surround sound system. If you've already set up a media centre with a gaming console and a TV, then the Philips SPA8180B is something you can invest in to elevate your multimedia consuming experience.
Havit HV-SF5410U
These are a set of 4.1 channel speakers which are not only pocket friendly but also stylish. They have orange accents which make them stand out in your room. The 4 satellite speakers can give you a sound output of up to 10W while the subwoofer is capable of producing sounds up to 22W, which should be enough to fill your room with the media that you're watching. The speakers come with source support for TVs, PCs, gaming consoles, micoSD cards, which is more than enough for the average media watcher. The speaker also comes with Bluetooth support which makes it a great pick for parties and small gatherings.