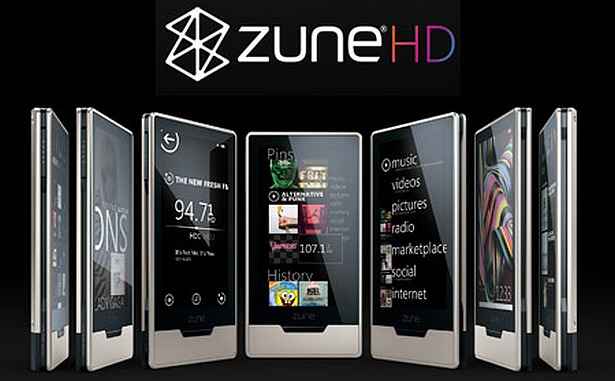 Microsoft has announced that it will stop development on the Zune HD Player, with no future models envisioned – though existing models will continue to be sold. The reason it has given for the move is that the Zune HD Player had insufficient demand.
The Zune Player was introduced in 2006, and created quite a buzz with its snappy and well-thought out interface, as well as its value-for-money Zune Pass. With the release of the Zune HD Player in 2009, the device's OLED screen and HD radio capabilities enticed even more subscribers of the platform. The following however was nothing compared the popularity of the iPod, which unfortunately (for Microsoft) was an exceptional and unbeatable yardstick of product success. Bet Microsoft is happy about the Kinect smashing the iPod and iPhone records to become the world's fastest selling consumer electronics device.
Going forward, sources close to Microsoft reportedly informed Bloomberg that the company will concentrate on improving the Zune interface/software and Zune Pass for the Windows Phone 7 platform. Microsoft has been working towards convergence for its WP7 platform for a while, and along with Xbox 360 integration on the mobile platform, further Zune integration could lead to no harm. The official Microsoft stance reflects the veracity of these sources, stating:
"We have nothing to announce about another Zune device – but most recently have introduced Zune HD to Canada via the Zune Originals store and remain committed to supporting our devices in North America. We are thrilled by the consumer excitement for Zune across many new platforms, including Windows Phone 7 and Xbox 360. Our long-term strategy focuses on the strength of the entire Zune ecosystem across Microsoft platforms."
Reasons for the platform's, or more specifically – the player's – decline are numerous, and many proponents and critics of Zune have different takes on the issue. Many proponents are still sticking by their guns, claiming the Zune HD is better in terms of hardware and software than the iPod, but limitations like it being a Windows-only device are hard to overlook. The player also supported only a limited number of applications, most unlike Apple and its App Store.
[RELATED_ARTICLE]Proponents also feel that a lack of a singular and strong marketing focus was the primary reason for the lukewarm market reception, especially since Apple was promoting its iOS devices and iTunes platform like crazy in the same period. Everyone however, critics and fans alike, agree that the Zune Pass is possibly the single-most attractive aspect of the platform. The fact that it didn't work outside the United States (iTunes is global) didn't help spread the word though.
Unlike the withdrawal of the Kin phones, the Zune HD Player will still be stocked on some shelves, however, those eager for a next-gen Zune player should stop holding their breath, and say a little prayer for the player.