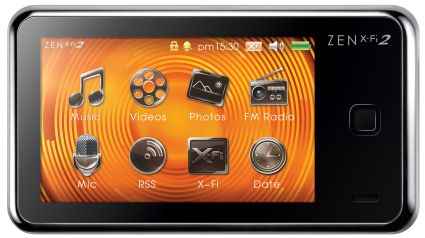 If the iPod Touch is too expensive for you, Creative's got just the solution with its latest portable media player in the Indian market, the touchscreen
Zen X-Fi2
.
"Creative Zen X-Fi has already been well received in the market," said Raj Rathi, Founder and CEO of Cyberstar Infocom Ltd., which has brought the new device here. "With the Zen X-Fi2 media player, Creative proves its commitment in providing the best to the users each time, and we are extremely happy to be part of the launch of this astounding piece of entertainer."
Sporting an ultra slim exterior with an elegant look, the Creative Zen X-Fi2 media player features a 3-inch TFT LCD touchscreen with a beautiful, intuitive interface for easy navigation, plus multi-format support including iTunes Plus and FLAC (lossless) files.
It also offers video-out capability for viewing videos and photos on a TV through an optional cable. The player also features a microSD card slot for expanded memory.
"To achieve a sleeker design, we've incorporated a microSD slot compared to the larger SD slot on the Zen X-Fi. The ZEN X-Fi2 is also substantially slimmer than the ZEN X-Fi, plus the overall feel of the player in your hand is improved by its curved design," said Joseph Liow, Vice President, Personal Digital Entertainment Products of Creative Technology Ltd and General Manager of Creative Labs Asia.
Users can experience music in pristine crystal clear quality and detail through the power of X-Fi audio technology. X-Fi Crystalizer intelligently restores lost detail, enhances the digital audio content to amazing clarity and delivers the most acoustically natural headphone audio available from a media player. With X-Fi Expand, users can enjoy the most natural sound staging available in headphone audio today. The built-in X-Fi technology intelligently moves a conventional left/right earphone stereo source away from the ears, virtually expanding it for an audio experience with a breathtakingly realistic depth of field.
With expanded multi-format support, the Creative ZEN X-Fi2 enables users to access their music and audio in MP3, WMA, AAC, Audible 4 and FLAC, and video files in WMV9, MPEG4-SP, DivX 4/5 and XviD formats. Users do not have to worry about file incompatibility or troublesome file conversions just to access favourite music, photos or videos.
Here's a brief summary of the salient features:
Dimensions: 102 x 57 x 11.6mm
Weight: 75gms
Screen: A vibrant 3-inch TFT Touch Screen LCD with 262,000 colour support for an excellent viewing experience with videos and album art
Flexibility to arrange the main menu icons according to preference
Audio formats: MP3, WMA(DRM9), Audible4, AAC, FLAC
Video formats: WMV9, MPEG4-SP, DivX** 4/5, XviD
Photo formats: JPEG, BMP
Video/Audio Out: PAL or NTSC in stereo (via A/V cable sold separately)
RSS: Display RSS content feeds offline (Sync via PC/laptop connected to Internet)
Expansion slot: microSD memory card slot
Built-in speaker
Built-in microphone for voice recording
Built-in FM radio with 32 presets
Clock / Alarm / Calendar / Task / Contacts Functions (Sync with Microsoft Outlook via PC/laptop)
The Creative Zen X-Fi2 is available in three capacities in India, and comes bundled with the EP-630 in-ear headphones:
8GB – Rs. 7,000
16GB – Rs. 9,500
32GB – Rs. 12,000