If Brian White, a market analyst is to be believed, Apple is readying a full-fledged television, dubbed the 'iTV', and an 'iRing' motion controller for launch later this year. White, an analyst for Topeka Capital Markets, published the report after meeting with Apple suppliers and (we assume) downing a couple of bottles of vodka. According to White, the iRing will serve as a replacement for a regular remote control and help users control the iTV through motion.

Apple Insider, who got a hold of White's report, also pointed out that Apple may also be considering a 9.7-inch mini iTV that will function as a secondary display for the iTV. This will let users view content from the larger iTV on the smaller display within a radius of 200 metres and one mini iTV will come bundled with the iTV, but users will be able to pair three additional mini iTVs. White adds that along with the rumoured (and much closer to reality) iWatch, the iTV and the mini iTV will let Apple create a new ecosystem focused on the user's home.

White claims that Apple is planning to launch the basic iTV at $1,500 (Rs. 81,500 approx.) and that price can go up to $2,500 (Rs. 1,35,850 approx.), depending on the number of mini iTVs bundled with the main iTV. White expects the Apple iTV to sport a 60-inch display but also admits that a 50 or 55-inch iTV could also be a possibility.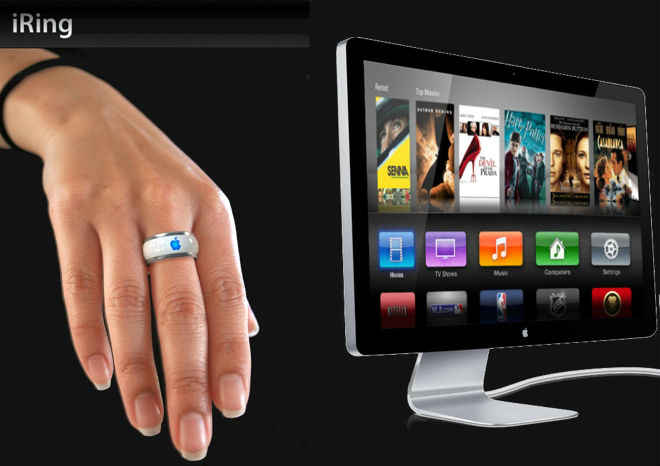 While, we do believe that entering the Television segment would be a common sense move by Apple, the idea of an iRing motion controller and an iPad replicant working as a mini iTV sound far-fetched. In an age where motion controls are dying a slow death after being touted as the next big thing, after the massive success of the Nintendo Wii, it would be a strange move for Apple to introduce another motion control accessory for users to risk losing.

However, Apple does have a history of surprising us with new products and if the iTV and iRing combo do turn out to be more fact than fiction, then we will owe Brian White a drink.

Preferably vodka.

Source: Apple Insider
Image Source: iRing concept by Yanko Design