Stories of iPods spontaneously exploding have been making the rounds for a few years now. The latest case of a bursting iPod Touch, however, throws a light on Apple's tactics to cover up what could potentially be a major hazard to the public.
Ken Stanborough, 47, from Liverpool, dropped his 11-year-old daughter Ellie's iPod Touch last month.
"It made a hissing noise," he told The Times. "I could feel it getting hotter in my hand, and I thought I could see vapour". Stanborough said he threw the device out of his back door, where "within 30 seconds there was a pop, a big puff of smoke and it went 10 feet in the air".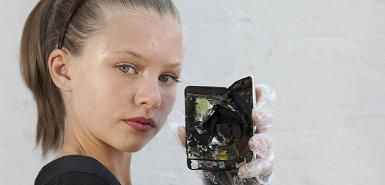 Ellie Stanborough, 11, with what remains of her iPod.
"It made a hissing noise and went pop."
Credit: Steve Morgan/The Times
Upon contacting Apple, he received a letter from the company where they denied liability, but offered a refund under the condition that Stanborough agreed to "keep the terms and existence of this settlement agreement completely confidential", and that any breach of confidentiality "may result in Apple seeking injunctive relief, damages and legal costs against the defaulting persons or parties".
"I thought it was a very disturbing letter," said Stanborough, who did not sign it, fearing litigation even if he, his wife or his daughter were to inadvertently mention the exploding iPod to anyone. "We didn't ask for compensation, we just asked for our money back."
A COVER- UP OF 800 PAGES OF OVERHEATING IPOD DOCUMENTS!
A week ago, Amy Clancy of US-based KIRO 7 News learnt that the Consumer Product Safety Commission has over 800 pages of documents which reveal, for the very first time, a comprehensive look that shows, on a number of occasions, iPods have suddenly burst into flames, started to smoke, and even burned their owners.
However, Clancy claims that Apple lawyers tried to put a wrench in her 7-month-long investigation by filing exemption after exemption.
One of the burn victims listed in the documents is 15-year-old Haylie Mooney of Portland, Oregon, who remembers her hot iPod feeling like it was the inside of an oven.
Her mother, Tami Mooney, called Apple to complain. She claims she got the run-around: "I was so frustrated because frankly, they didn't care. They didn't care that my child was burned. They didn't care about the possibilities that other children were burned. I asked them, has this been happening? Is this new? And they said, we haven't heard of this one yet."
But by then, Federal records show that Apple did already know it had problems with its iPod batteries causing fires and burns.
Stanborough and Mooney are not the only victims of an overheating iPod. Both the KIRO7 and the Times Online articles list many other cases, which are worth taking a look at.
Come on, Jobs, we expected more from you...