Amazon Echo Plus is the successor to original Echo announced three years ago and it will act as a smart home hub. The new Echo offers smaller and compact form factor while Echo Spot is a tiny smart alarm clock with Alexa support.
Amazon is updating its Echo lineup with the launch of a bunch of new Echo-branded hardware. The new Echo Plus, the second-generation Echo, and the tiny Echo Spot bring an all-new design, enhanced audio and new Alexa capabilities. The new Echo range joins the already expansive range including Amazon Echo Show with a speaker with a display and Echo Look, one with a camera.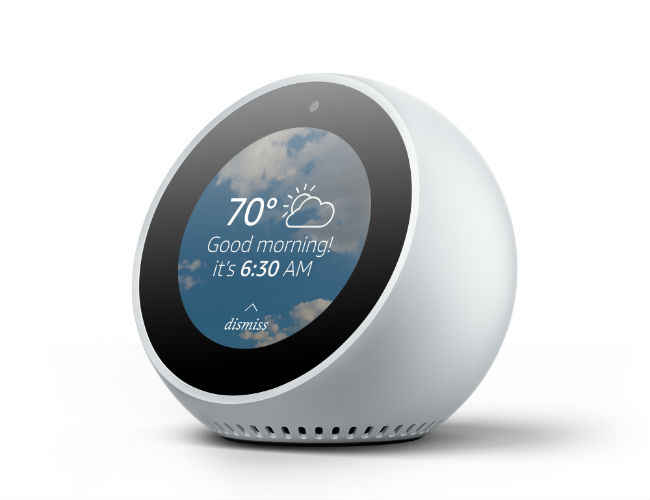 Amazon Echo Spot: The Echo Spot is undoubtedly the most interesting of the bunch of new hardware announced by the company. In terms of design, the Echo Spot seems like a baby product of Echo Dot and Echo Show. It has a smaller design with a circular screen where Alexa can show things to its users. Amazon says the $130 Echo Spot is designed like a smart alarm clock that can be set on a nightstand or desk.
The Echo Spot is also capable of turning your lights on and off or watch a video flash briefing. Other features include ability to show commute time, weather update or calendar appointments. The Echo Spot connects to external speakers via cable or Bluetooth and comes with new microphone array supporting Amazon's second generation far field technology. The Echo Spot goes on sale starting December.
Amazon Echo Plus: The new Echo Plus is the successor to original Echo, which was launched nearly three years ago. The Echo Plus sports a tubular design similar to the first-generation Echo but comes with second-generation far field voice recognition support and new speaker architecture. The big new feature is the ability that allows Echo Plus to double up as smart home hub.
With the built-in smart home hub, Echo Plus can easily connect with compatible smart home devices. The Echo Plus users can also says "Alexa, discover my devices" to automatically discover and setup compatible smart home devices like lights, plugs, locks and switches. The set-up also works with a variety of ZigBee products and Alexa can support series of customisable actions. The Echo Plus comes bundled with a Philips Hue smart light bulb and it is priced at $149. The Echo Plus goes on sale from October 31 and will be available in black, white and silver colour variants.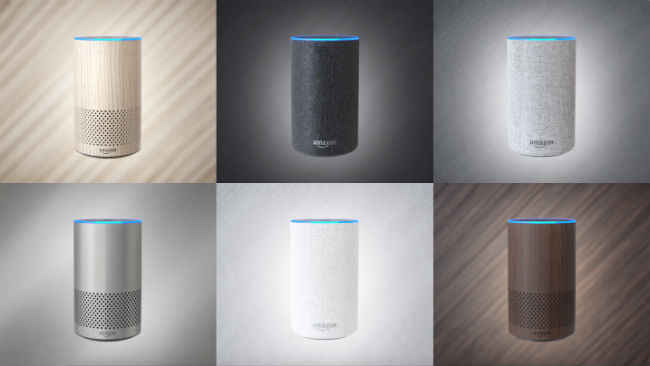 Amazon Echo: The smaller second-generation Echo comes with a new compact design and can be purchased with different finish like charcoal, sandstone or walnut. The new Echo is smaller than original Echo but packs new speaker architecture for enhanced audio and far field voice recognition.
The new Echo is priced at $99 but Amazon is also selling three packs of Echo with multi-room audio support for $249. The second generation Echo will be available from October 31.
Apart from new Echo, Echo Plus and Echo Spot, Amazon also introduced Echo Connect and Echo Buttons, which act as accessories to existing Echo speakers. The $35 Echo Connect turns any Echo into a hands-free speakerphone and users can make phone calls by using Alexa voice feature. Echo Buttons, on the other hand, are aimed to deliver new experiences while gaming friends and family using Alexa. The buttons illuminate and can be used as a trigger for a variety of multiplayer and interactive games. Echo Buttons will come in a two-pack and are priced at $20 and Amazon says it will introduce new skills including Trivial Pursuit from Hasbro, Sounds Fun with Mike Epps, Buzzer Beater Basketball Trivia with Karl-Anthony Towns, Fourth Down Football Trivia with Philip Rivers, Full Count Baseball Trivia with Buster Posey from Ground Control, as well as Beat the Intro from Musicplode during the holiday season.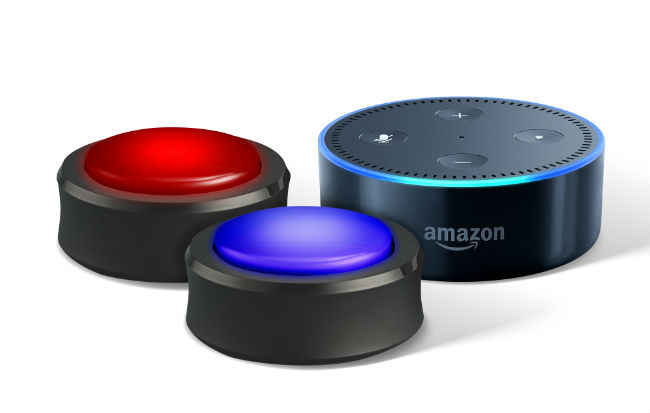 Amazon is the undisputed leader in the smart speaker segment and with the launch of new Echo devices, the Seattle-based e-commerce company is doubling down on its stronghold. Amazon is expected to debut its Alexa-enabled speakers in India later this year.