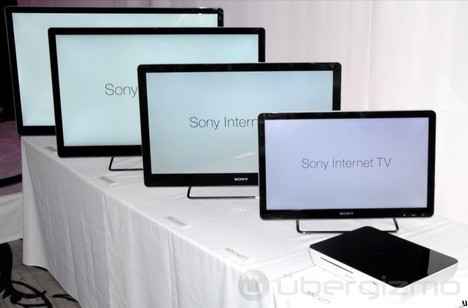 Sony's Google TV television range, or Sony Internet TV (SIT), has finally been announced officially, with prices, sizes, features and other details all in tow. Much cheaper than earlier rumoured, Sony's premium to embed Google TV into television sets seems minimal.
NSX-24GT1 - $599
NSX-32GT1 - $799
NSX-40GT1 - $999
NSX-46GT1 - $1399
All of the Sony Internet TV sets are edge-lit LED LCD, except the 24-inch model, which is CFFL. An integrated web-cam seems to be an obvious missing feature. Sony intends to provide simultaneous web surfing and TV, with what it calls "Dual View." Sony Internet Television will also enable users to search programs, the web, DVR, applications, etc., from a single place. You will also be able to access your PC content with a DLNA connection. We've already seen Sony's button-loving QWERTY remote control, and now we learn that it is an RF learning (i.e. universal) remote. The ability to controlling the television with an Android smartphone will also be coming soon.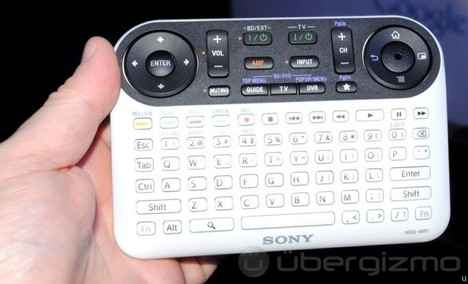 Sony's Google TV sets are powered by Android and an Intel Atom processor, and feature Wi-Fi connectivity and USB ports built-in. You will not be able to use regular Android apps from the Android Market on the television, but who knows, a jailbreak may fix that. In the meanwhile, special Android Sony Internet TV apps will be available on a special marketplace sometime next year, after developers get used to the Google TV SDK. There are plenty of pre-loaded apps for now, from Napster to CNBC to Pandora to YouTube to Twitter and Sony's video-on-demand service.
[RELATED_ARTICLE]A Sony Internet TV compatible Blu-ray player will also be available. Pre-orders are open for the televisions now, while they are expected in stores in the U.S. by October 24th.
By announcing it will be the only TV vendor for Google TV this year, Sony basically confirmed other television manufacturers will make their appearance by next year, which of course, will only drop prices and up the offering.