Ever got frustrated with the storage full messages on Google Drive? Well, you might be in for a breather as Google and WhatsApp have come to an agreement according to which WhatsApp backups against Google Drive storage limit won't be counted. In simpler words, this means that WhatsApp users can now backup unlimited data, including chats, photos, audio files and videos, without having to worry about the space crunch on their Drive account. Earlier, WhatsApp backups on Google Drive essentially ate up a lot of space.
In a mail attributed to one of our team members, Google Drive said, "Due to a new agreement between WhatsApp and Google, WhatsApp backups will no longer count against Google Drive storage quota. However, any WhatsApp backups that have not been updated in more than a year will automatically be removed from storage." It seems Google has sent the mail to all people who are users of Google Drive app.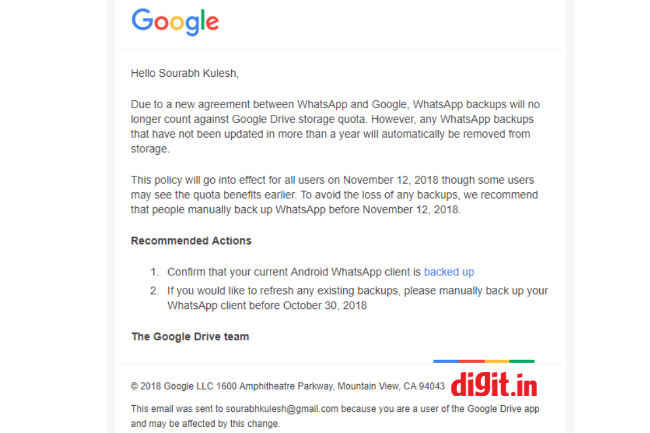 The policy will go into effect for all users on November 12 though some users may see the quota benefits earlier. To avoid the loss of any backups, the Google Drive Team recommended people to manually backup WhatsApp before the date. To manually backup your data, make sure you have Google Drive activated on your phone. Then go to Menu > Settings > Chats > Chat backup and tap "Back Up" to backup your data on Google Drive.
This move will benefit those who usually get loads of messages and multimedia files on WhatsApp. Google gives 15GB of free Drive storage when you sign up for an account. Users can also buy 100GB space for Rs 130 per month and 1TB for Rs 650 per month.
WhatsApp has a total od 1.5 billion users, of which 200 million are in India.