Highlights:
WhatsApp is being updated with new group privacy and invite features.
Users can now choose who can add them to groups.
They will get invites to join a group that will expire in three days.

WhatsApp is officially getting some new privacy settings in India ahead of the General Elections 2019. The online chat app is now rolling out a new privacy setting and an invite system for the app, which is aimed at giving users more control over who can add them to a group. The new privacy setting can be enabled from the app's settings by navigating to the Account section, then by entering Groups option under Privacy tab. Users can now select who can add them to a group by selecting from three options, "Nobody," "My Contacts," or "Everyone."
When a user selects the 'Nobody' option, they will request for being added to a group and they will need to approve it every time. Choosing 'My Contacts' means that the user can be added to groups only by people who are added to their contacts. When you select one of these two options, the person inviting you will be prompted to send a private invite to join their group. The invite will expire in three days if one doesn't accept it. "With these new features, users will have more control over the group messages they receive. These new privacy settings will begin rolling out to some users starting today and will be available worldwide in the coming weeks to those using the latest version of WhatsApp," States WhatsApp's media release.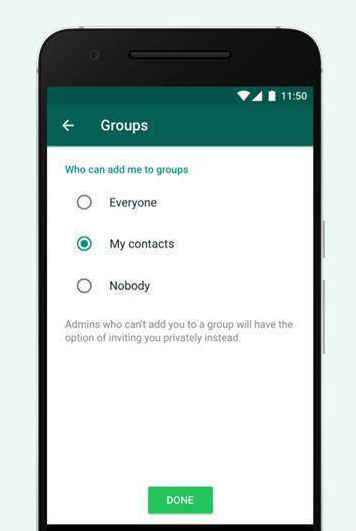 WhatApp also recently launched a tip line to fight misinformation and fake news circulating on the platform during Lok Sabha Elections 2019. The new tip line number is +91-9643-000-888 and can be added to contacts by WhatsApp users and can be used to verify text messages, videos and photos circulating on the platform with regards to the 2019 Lok Sabha elections. The new tip line has been launched in partnership with PROTO, who will use texts, images and videos reported by users to create a database of rumors. It will also study misinformation during elections for Checkpoint - a research project commissioned and technically assisted by WhatsApp.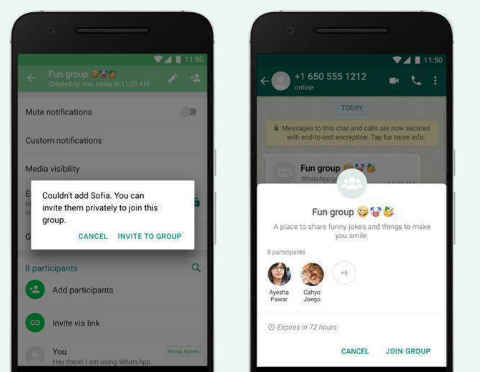 Related Reads:
WhatsApp reportedly working on invitation system for groups, rolls out revamped settings UI for beta users
WhatsApp launches tip line to fight misinformation and fake news circulating on the platform during Lok Sabha Elections 2019