WhatsApp has introduced a new feature, that replaces the standard (and somewhat boring) text-based status on the instant messaging platform with more expressive images or videos for your contacts to see. The feature was being tested since a while and was available to many users in Europe. As of now, it has been rolled out globally on Android, iOS and Windows.
The feature, rumoured for a while, is very similar to Instagram Stories, which in turn is an honest copy of Snapchat's stories. One advantage of it being a borrowed feature is that most users already know how to use it and have started posting Status updates in the new format already. The feature works almost identically across all platforms, with a new Status tab replacing the contacts tab. In the Status tab, you can see the updates from your contacts who have updated a Status in the last 24 hours, a la Stories on other platforms.
WhatsApp has also confirmed that just like the chats on the messaging platform, the status updates will also be end to end encrypted. Also, to ensure that the privacy of the Status is in your control, you also have privacy settings for the Status which lets you choose who can see your status, with the options being 'Contacts', 'Only share with' and 'My contacts except', which are pretty self-explanatory.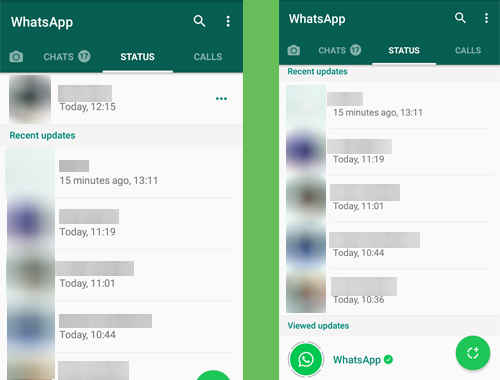 The Android version of the app also has a camera button now, which lets you quickly post a Status. The dotted circle with a '+' also does the same.
Among the people who can see your status, everyone can post a reply to it by tapping the button below it while viewing it. The reply will be sent as a private message, which is different from comments on Facebook and Instagram.
As we see it, this will be picked up by a lot of users as WhatsApp itself is a popular platform. But another me-too feature might also prove to be pretty confusing to most users for several reasons. We've tried to cover some below:
People already barely chat on WhatsApp, which has become a place to forward jokes, pictures and videos. With Status, this tendency might increase, and people might just start using it like Instagram or Twitter, constantly pushing out updates but not really conversing.
The first message you see when you check the Status tab is from WhatsApp, which is not one of your contacts. This shows that WhatsApp does have the ability to push Status from third-parties, which opens the door to advertisers.
The privacy settings are not customisable per Status update and apply to all Status updates.
There is no longer a way to let your contacts know whether you're available to chat or not, which used to be an option with the text-based updates. Not that many people were using it for that purpose, but it is a loss nonetheless.
Overall, the compulsion to check Stories and updates from your contacts across multiple platforms will now increase to another new level, with WhatsApp being ubiquitous among today's smartphone users.
What do you think about this new feature? Is it good to have the same capabilities across all social media platforms? Or is it a bit too much now that you have multiple platforms with disappearing messages? Let us know your thoughts.