With hopes of providing businesses an efficient method to communicate with their clients and customers, WhatsApp has officially announced its business messaging service called WhatsApp Business. In their blog post, WhatsApp said that this service is meant to authenticate businesses and is aimed at companies that are using WhatsApp accounts. The service is integrated with the regular app and will feature distinct business contacts with a verified "tick" badge. The business contacts will also display their addresses and other extra information.
WhatsApp started authenticating businesses recently via a closed pilot program which places a green badge next to a business contact. It indicates that the business is verified by WhatsApp. WhatsApp also said that it is building and testing new features for small companies via a free WhatsApp Business app and is developing an enterprise solution for bigger businesses who operate on a large scale with a global base of customers like airlines, e-commerce sites, and banks. WhatsApp says that "These businesses will be able to use our solutions to provide customers with useful notifications like flight times, delivery confirmations, and other updates."
Book My Show (BMS) is the first business that was launched on WhatsApp Business. We tried contacting BMS via WhatsApp and received an automated response saying that the service is not fully functional yet. The BMS Phone Number which can be contacted via WhatsApp and shows the verified badge was found at the BMS website.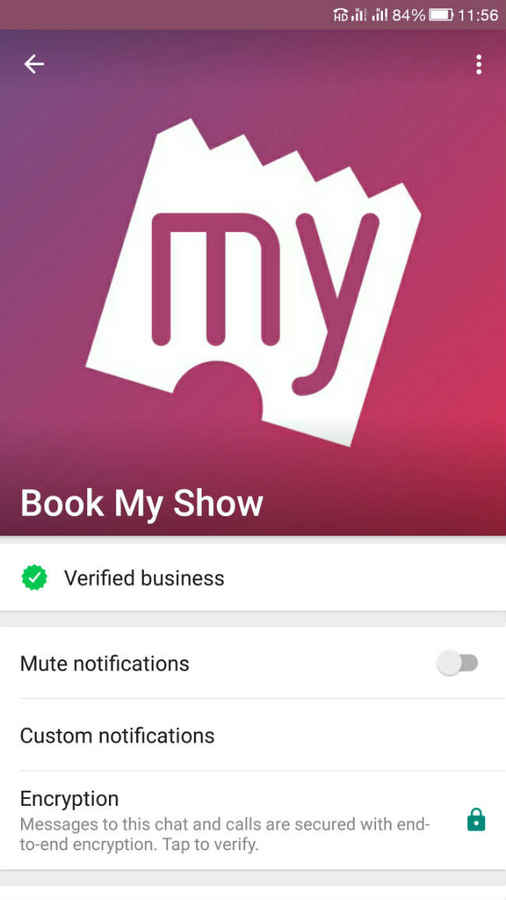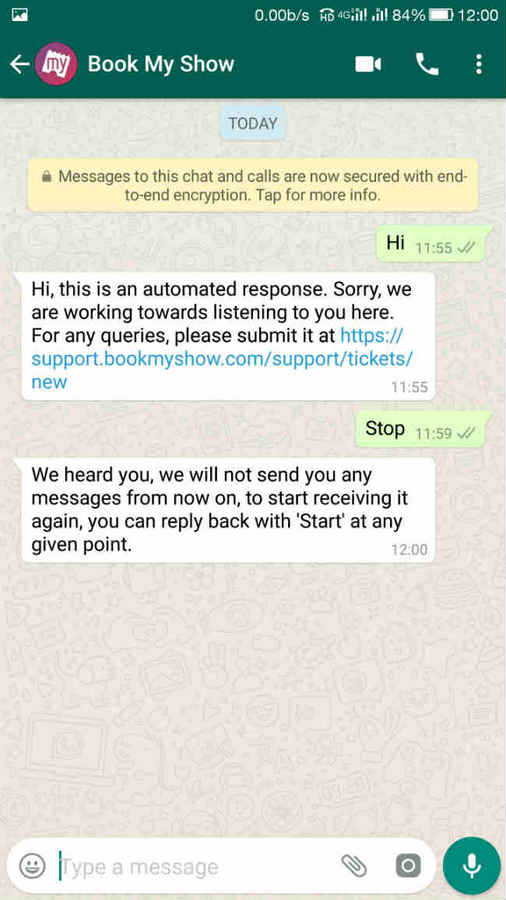 A FAQ on the blog said, "WhatsApp will also let you know when you start talking to a business via yellow messages inside a chat. There is no way to delete these messages from the chat. If you already have a business's phone number saved in your address book, the name you will see is the name you have saved in your address book. If you'd like to stop a business from contacting you, you can block them."
In an interview with Wall Street Journal, WhatsApp COO Matt Idema said, "We do intend on charging businesses in the future." He further said, "WhatsApp has simplified communication for people around the world. Now, we want to apply this same approach to bringing businesses onto WhatsApp in ways that create value for people. We're looking forward to making it possible for people to connect with businesses in a fast and personal way, and giving businesses the tools to make that easier to do."
WhatsApp started back in 2009 and was acquired by Facebook in 2014 for a whopping $22 Billion. In a recent report, WhatsApp was said to be planning to implement UPI-based digital payment, using which business and customers could make transactions easily.