The new feature is being rolled out with the Android app version number 2.18.355 but is not yet available for iOS.
WhatsApp is rolling out a new feature that will enable users to reply privately to other participants in a group. The new feature is currently available for beta participants and with the app version 2.18.355. Those who have the updated version will be able to long press a message in any group and select the option from the overflow menu that's on the upper right corner. Tapping on the Private Reply option, after selecting someone's message in a group, takes you directly to the sender's personal chat window. The message that was selected will open as a reply and one can go ahead to send a message. This new feature can be expected to be made available for everyone soon.
WhatsApp recently also added Stickers and it is enabled with the 2.18.329 version on Android and the version 2.18.100 on iOS. One can access Stickers from beside the Gif and Emoji tab and there is also a Stickers store from where more sticker packs can be downloaded to the app. Stickers can also be starred and added to favourites for faster access and when more than one sticker is sent, they can be deleted or forwarded and similar to images, are also grouped together.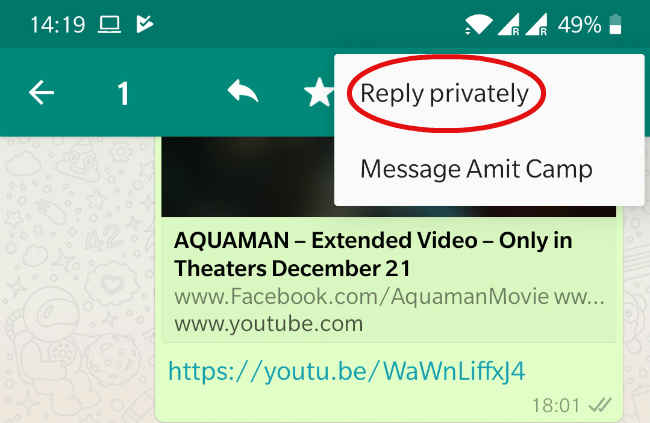 WhatsApp was also reportedly working on a new security feature for its iOS app. It could soon introduce both Touch ID and Face ID to lock and unlock the messaging app. It is said to be currently in an early alpha stage of testing and needs many improvements before being made available to everyone. As per the report, some iOS users can see the new feature with the latest version of WhatsApp on their iPhones but it won't be enabled since the feature is under development.
Facebook also recently added some new features to Instagram, enabling users to video chat concurrently with six people in DMs. The video chat feature was initially rolled out for the image sharing social media platform in June this year and is available in Direct Messages inbox. There is also Picture-in-Picture (PiP) mode support that enables a user to keep using the app while on a video chat. You can learn more about video group calling on Instagram here.