Whatsapp, possibly the most popular cross platform messaging app, has added the voice messaging feature to the offering. This announcement was made by Co-Founder and CEO Jan Koum, while speaking with AllThingsD. He also confirmed that the service has now crossed 300 million active users.
By the sounds of it, the procedure of sending a voice message seems fairly simple. Record a message within the app, and the moment you let go of the recording button, the message is immediately sent to the user. In case you are unsure about what you said, swipe left, and the message is immediately removed from the conversation. "The number of taps matters. People want to send a message and be on their way," Koum said. "We're not going to come out with a big gaming platform launch. All these little details are so important. I'll spend six months obsessing over how it works on every platform.", he added.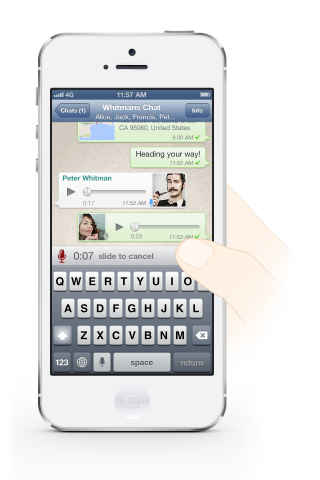 What is possibly the most admirable aspect of this development is that the feature will be available on the iPhone, Android, BlackBerry, Windows Phone and the older Nokia devices, simultaneously. You can check the respective app store to download the update on your device.
Source: AllThingsD