Want to modernise your banking loan application?
Build an application that analyses credit risk with #IBMCloud Pak for Data on #RedHat #OpenShift
Click here to know more
Advertisements
The beta version of VLC media player has finally landed in the Google Play store. The VLC for Android app, also being known as Neon, supports select Android devices that are powered by ARMv7 CPUs – which means some entry-level Android phones may be left out. According to reports, the VideoLAN Organization will be rolling out more variants to support other devices.
"VLC is a free and open source cross-platform multimedia player that plays most multimedia files as well as discs, devices, and network streaming protocols. This is a BETA version of the port to the Android platform. It is intended for power users and hackers. This version is NOT stable and is slower than the final version," says VLC team on the Google Play store.
click to enlarge
screenshots of the VLC for Android
Speaking of features, VLC for Android plays most local video and audio files, as well as network streams, similar to what you get in the desktop version of VLC. The app also features a media library for media files and lets you browse folders directly. It also has support for mult-track audio and subtitles. The app supports auto-rotation, aspect-ratio adjustements and gestures to control volume. Moreover, the app has a widget for audio control, and supports audio headsets control.
That being said, since VLC for Android is in beta phase, a number of features will be missing out. Users might face issues with audio, while Hardware decoding works only with a limited set of hardware. However, the final version will have a different UI and improved performance, says the VLC team.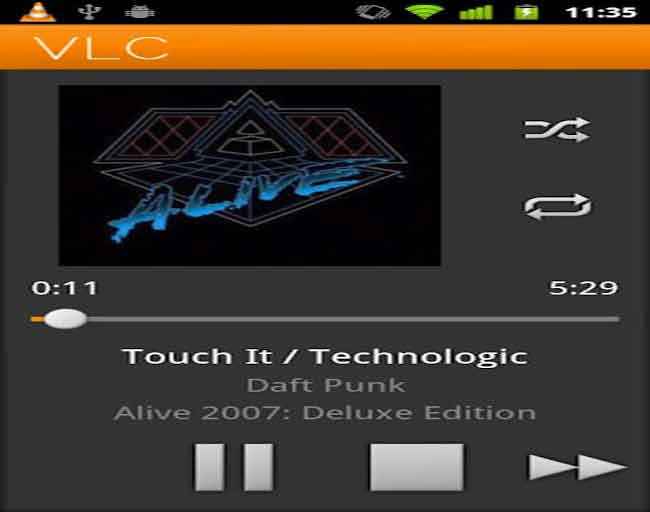 The VLC for Android app is compatible with OS versions 2.1 Eclair and up. Download the VLC for Android app here.
Also read,